B&B Accommodation - Hotel Accommodation - Stay in a Castle
Places - Transport - Outdoor Activities - Photos - Other Castles
Eilean Donan Castle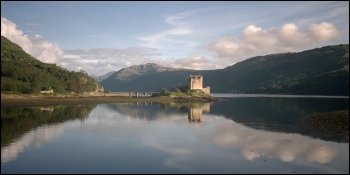 Part of the Chatelaine's Scottish castles site
by Joanne Mackenzie-Winters
Practical Info - Online Guided Tour
Detailed History - Photos - Books & Videos
Local accommodation - Weddings
Link to the Official web site for Eilean Donan Castle

Practical information
Eilean Donan Castle is situated in Loch Duich near Dornie about 8 miles from Kyle of Lochalsh on the A87 road on the west coast of Scotland near the Isle of Skye. Loch Long and Loch Alsh are close by. The castle can easily be reached on a day trip from Inverness or Fort William either by car or using the coach service to/from Skye.

The castle is open daily from 1 February to late October (from 10am until 6pm) and from late October to December (from 10am until 4pm). Last admiission is 1 hour before closing. Admission charges apply. Under 5s are free.
To access the castle during opening times, tickets must be bought in the visitor centre. Tickets are collected at the gate at the start of the bridge. However, when the interior of the castle is not open, it is usually possible to walk over the bridge and around the outside for free.

As well as housing the ticket office, the visitor centre also has a gift shop, toilets and a cafe with meals and snacks. The cafe is open daily mid March - late October. The gift shop is open daily February - December
Since the castle is an old building, access for disabled people would be quite difficult (there are lots of stone steps and small doors).
Double check opening times by telephone 01599 555202.

Meals and accommodation are available in the nearby village of Dornie all year round. A selection of local accommodation is given below.
Weddings

You can get married at Eilean Donan Castle, renew your vows there or just have a blessing ceremony.

Make sure you book award-winning Spud the Piper
Winner of the 2005 VOWS Awards
in the category for Wedding Music & Entertainment


Photo Copyright Mike Phimister
Minibus tours:

Scottish Tours offers a coach day trip from Inverness to the Isle of Skye with a visit to the Castle.
The Hebridean Explorer offers a day trip from Inverness to Eilean Donan Castle and then on to Portree and the Trotternish mountains in the north of Skye. For small groups of up to 8 people. Contact John Macdonald - Tel: 07943 863292 or 01456 450595.

ClansandCastles.com can take you on a customised guided private tour of Scottish Castles such as Eilean Donan. Must be booked in advance. Self drive tours can also be arranged by them.

Scotland Made Easy can plan a customised itinerary for a self-drive tour to suit your interests, budget and time available. Recommended accommodation is usually in 4 star B&Bs. Optional 'specials' during your tour include a night in a castle, church, lighthouse, country mansion, etc. (Please note that accommodation is not available inside Eilean Donan Castle).

Celia Ffitch-Stewart is a fully insured driver-guide with Mercedes limousine for private tailor-made guided tours. Half day, full day or extended tours. Services can include itinerary planning and accommodation reservations. Meet your clan chief, trace your roots, stay in a castle. Themes to suit your interests can be arranged. Airport collection (Edinburgh, Aberdeen or Inverness). Also available for weddings. Member of HOSTGA (Highlands of Scotland Tour Guide Association).

Please note that photography and videography are not allowed inside the castle rooms, as is common in virtually all furnished historic homes in the UK.

Introduction

Historically, the castle, like most in these parts, has had a rather chequered past. Originally built in 1220 by Alexander II as a defence against the Vikings, it subsequently became a stronghold of the Mackenzies of Kintail (later the Earls of Seaforth) who installed the MacRaes as hereditory keepers. Then in 1719, it was destroyed whilst acting as a garrison for Spanish troops fighting for the Jacobite cause on behalf of the 5th Earl of Seaforth. Restoration work was only started two hundred years later and not completed until 1932. A detailed history of the castle is given on my Eilean Donan History page which links to a drawing and plan of the castle made over 100 years ago by MacGibbon and Ross.

This century it has become one of Scotland most photographed castles thanks to its picturesque setting on an islet in Loch Duich by the main road to Kyle of Lochalsh (gateway to the Isle of Skye).

In 1984 it featured in the movie Highlander with Christopher Lambert and Sean Connery. Upstairs there are 3 b/w photographs taken of the set during filming. Other movies have featured the castle (see below) since it is so picturesque.

Guided tour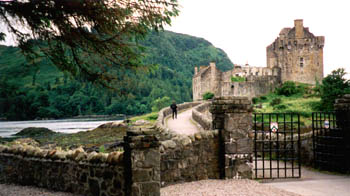 Visitors pass through the ornate gate and walk along the stone causeway
which leads to the islet on which the castle is built.
At the end of the bridge you are faced with the heptagonal and now impenetrable building which was once the main entrance (in the days when there was no bridge across to the island). It is thought that this unique, oddly-shaped part of the castle might have been built in the 16th century to protect the well which it encompasses, as well as to strengthen an existing entrance in the wall behind it. After passing through this gateway, you would have crossed a small wooden bridge across the well, then entered a funnel-shaped courtyard with upper defences, before finally reaching the main castle. The guards could easily have prevented your passage by withdrawing the wooden bridge across the well.
The more modern entrance was chosen to be an arch in the south wall and over its portcullis is a Gaelic inscription which translates as:
As long as there is a MacRae inside
There will never be a Fraser outside
The tour of the castle commences with a small exhibition detailing the history of the castle with models of its layout over the centuries. There is also a display which shows the bombardment of the castle by English warships. (Toilets are available near here).
From here visitors then pass into the courtyard.

Here is the famous Murchison Stone which bears the following (slightly factually incorrect) inscription:
'This stone was lifted onto a wall in Glen Utulan by John Murchison of Auchtertyre (one of the Four John's of Scotland) who was killed in the Battle of Sherrifmuir 1715. John Murchison was the great-grandfather of Sir Roderick Murchison. The stone was later conveyed to Ardelve by Ducald Matheson, merchant of Ardelve, son of John Matheson and Isabella Murchison. The stone was removed from Ardelve to Eilean Donan Castle in July 1932 by Lt.-Col. John MacRae-Gilstrap, son of Duncan MacRae of Conchra and his wife Grace Stewart.'
The guidebook relates that when the MacRaes returned from winning a Clan battle, they would bring their captives to the castle and hold them prisoner on the high battlements for several days. Subsequently they used to throw them into the loch. If any of them succeeded in swimming ashore, they were allowed to go free.

Climb the stone steps to enter the main rooms of the castle keep. With walls over four metres thick and a barrel-vaulted ceiling, the Billeting Room contains numerous paintings and weapons, plus various items of furniture and china. Take a look in the alcove at the painting of the MacRaes dancing on the lead roof of the castle the night before the Battle of Sherrifmuir in November 1715. Many MacRaes were killed that day and, it is said, 58 widows were made in Kintail. The painting, probably done in the late 19th century, is a somewhat inaccurate portrayal of true events as it was unlikely that there were ever a roof and tower like that at the time.

Upstairs, the Banqueting Hall displays flags, shields, trophies, portraits and other clan memorabilia including a lock of hair from Bonnie Prince Charlie. The timber beams across the ceiling in this room were gifted by Canadian Macraes and are made from Douglas fir trees from British Columbia. Notice the 16th century hand-wrought iron yett (gate) in the corner. It was found in the freshwater well in 1893. The stone-lined well provided a constant supply of drinking water, which couldn't be contaminated by seawater or poisoned by any enemies during a siege as it was was sunk to a depth of 32 feet through the rock according to the guidebook.

Amuse yourself with some of the paintings if you wish - take the one of Lt.-Col. John MacRae-Gilstrap at the far end of the dining table - focus your eyes on his left shoe and walk past the painting - you will see that his toe is always pointing at you wherever you stand! His eyes will also follow you around the room...

Also in the Banqueting Hall, you can go up a few steps and walk into the pulpit (also used as the piper's gallery) which overlooks the dining table. Look for the font in the wall of this room too while you are there (it is down on the left when you are standing up in the pulpit). You will also see the ornate MacRae family tree on the wall (reproduced on the back of the old guidebook).

From the Banqueting Hall, visitors can climb the spiral stone staircase to an upper floor which has only been on display since 1995 even though the castle has been open to the public since 1955. Here you will discover six bedrooms bearing the names: Loch Alsh, Loch Long, Eilean Donan, Ballimore, Loch Duich and Conchra. Decorations here include family photographs and historical prints. Look out for the many nooks and crannies including window seats, each with its own tiny little cupboard or two built into the wall. There is also a narrow passage which leads from one bedroom along an outside wall to the main corridor.

You then leave this floor via a solid wooden door carved with the date 1912. A panel on it lists some of the Constables of the Castle as follows (although some dates may be incorrect):
Colin Fitzgerald 1263
Kenneth 1304
Duncan Macaulay of Loch Broom 1427
Malcolm MacIan Charrich McRa 1509
Christopher McRa 1511-1539
John Dubh Matheson of Fernaic killed 1539
Duncan McRa 1539
Sir John Murchison 1539
Christopher McRa 1580
Kenneth Murchison
Farquhar McRa 1618-1651
Major John MacRae-Gilstrap of Ballimore 1912-

From the reference books, it would appear that Iain (John) Dubh Matheson of Fernaic took the position in 1539 but was killed the same year and so Duncan McRa was appointed as temporary constable. Sir John Murchison then took over later the same year. Although the name of Kenneth Murchison is carved on the door, I am not sure who he is. The Reverend Murdo Murchison was apparently constable from 1614 to 1618 until the Reverend Farquhar McRa (Minister of Kintail) took the position in 1618, and it may be that these names of Kenneth and Murdo have been confused over the years.

Follow the stairs down and you can see the most impressive recent addition to the tour - the kitchen. This has been recreated to show the scene of the butler, cook and lady of the house (Ella MacRae-Gilstrap) geting ready for a dinner party in the 1930s. Everywhere is strewn with perfectly prepared food - even a whole salmon on a silver platter. The atmosphere is enhanced by the fact that kitchen noises are piped through into the room. If you look closely you can see the cat under the table. Somewhere there are also mice - but I didn't spot any on my last visit. In the scullery, the maid (another lifesize model) is washing the dishes and you can hear the noise of her clanking the pans. Game hangs in the larder to the side.
| | |
| --- | --- |
| Visitors have access to walk around some of the battlements, and before leaving the castle interior, you can see the old portcullis. Afterwards you can return for another look around the courtyard, or exit via the main castle entrance (mind your head!). Don't forget to take a walk around the perimeter of the castle and if the tide is out, go down to the slipway and rocks to see the building from a different angle. | |
| | |
| --- | --- |
| | Set in a type of alcove around the corner from the castle entrance is the MacRae Roll of Honour. Flanked by two guns which have recently been painted grey, this huge bronze plaque lists all the MacRaes who died in World War I. Including Canadians and Australians there are over 500 names. It is a replica of the memorial in Flanders in memory of Lieutenant Colonel John McCrae. |
More on the MacRaes can be found via Clan MacRae UK web site, Leslie A. McRae's site and Ron MacRae's page.

A detailed history of the castle is given on my Eilean Donan History page.

All my photos of the Castle:
external views -- courtyard scenes -- the bridge


Photo © Gordon C. Harrison
click here to buy this picture

Taking photos

There are several vantage points for taking photos of the castle. The area around the car park is the obvious one. Another good spot can be found by standing halfway along the bridge which carries the main road by-passing Dornie. When the weather and tide are right, you can capture the castle's reflection here. If you continue to the end of the road bridge, then turn left and walk down past the outdoor clothing & equipment shop (914 Outdoor), you will find yourself in an excellent position to appreciate the castle from a different angle (you can see this live online thanks to their interactive web cam).
| | |
| --- | --- |
| For a more unusual view, take the road towards the village of Dornie. You will see a tiny road to the right signposted as Carr Brae scenic viewpoint. This leads you up the hillside from where you can look down on the castle and see as far as the mountains on the Isle of Skye. The road continues along the hillside and eventually joins up with the main road at Inverinate. | click to zoom in |
If you don't have your own boat and want to see the castle from the other side, then you need to do a bit of driving to get around to the opposite side of the loch. When approaching from the south along the A87 road, take the left turn just before Shiel Bridge - it's signposted Rattagan and Glenelg (where there's a ferry to Skye). Follow the road down the loch side, drive over the cattle grid and then take the first available right towards the village of Rattagan. Later you will pass Letterfearn and ultimately get to the end of the road. From this side of Loch Duich, you can get a totally different perspective on the castle.

Films / Movies

In 1935, Eilean Donan Castle apparently featured in the movie called The Ghost Goes West (directed by Rene Clair and starring Robert Donat, Jean Parker and Elsa Lanchester). The plot of the film is that a rich American buys the castle and ships it piece by piece back to the States where it is reconstructed - only then does the new owner find that a ghost has gone with it. More information can be found on the Internet Movie Database which includes a link where you can buy the video online. I haven't yet seen the film myself so I don't know if it's any good.

Eilean Donan is said to have its own ghosts. One is a Spanish soldier killed in the battle when the castle was destroyed in 1719. He is said to have been seen carrying his head under his arm in the room which now holds the introductory exhibition (formerly used as the gift shop). The other ghost is reported to be a certain Lady Mary who haunts one of the bedrooms.
The 1952 version of Robert Louis Stevenson's The Master of Ballantrae (starring Errol Flynn) featured Eilean Donan Castle as 'Ballantrae'. There are many scenes of people riding in and out of Eilean Donan, but the interior shots appear to have been done in a studio and not inside the real castle.

The castle was more recently used in the movie Highlander of course.

The castle also featured in the 1995 movie called Loch Ness starring Ted Danson where it was used in a few brief shots in place of Urquhart Castle (which is the real castle on Loch Ness).

In January 1999 filming took place at Dornie for the 19th James Bond movie 'The World is Not Enough'. The exterior of the castle is used in the movie as 'Castle Thane', the Scottish Highland HQ of MI6.

Today it is one of the most picturesque castles in Scotland (here are my photos to prove it) and definitely my favourite!

The Mediaeval Castles of Skye and Lochalsh
New edition of Roger Miket's excellent historical book, with illustrations by the late David L. Roberts. Published by Birlinn in 2007.
Includes detailed history of Eilean Donan Castle, plus Duntulm, Dunvegan, Caisteal Maol, Caisteal Camus, Caisteal Uisdean, Dun Sgathaich, Brochel Castle (Raasay).
Available from Amazon.co.uk
Notes

In compiling these pages I have used the castle's guidebooks: the new one (first published in 1999) and the old one which was written by John MacRae and published by J. Arthur Dixon in 1978.

Architects MacGibbon and Ross visited here over 100 years ago and I have reproduced their impressions of the castle including their drawing and plan (before it was restored). Click here to view this short file.

Where to stay
Contact: Mary Drummond
The Schoolhouse
Caroline Street
Dornie
Ross-shire IV40 8EH

Tel: 01599 555 482
Fax: 01599 555 737
Email: info@schoolhousedornie.com

THE SCHOOLHOUSE
Former school renovated to provide good value for money accommodation
available on a nightly basis at room-only rates.
Just 400 metres from Eilean Donan Castle.
2 minutes walk from local shop, hotel/restaurant, bar.
Relaxed and peaceful setting overlooking Loch Duich.
Great base for exploring Skye and the West Highlands.
Only 8 miles from the Skye Bridge at Kyle of Lochalsh.

3 bedrooms (2 double & 1 twin).
Each bedroom has ensuite bath or shower and WC,
TV, hairdryer, tea/coffee facilities, fresh towels and linen.
Modern kitchen/dining area with gas hobs, microwave, fridge, etc.
Private lochside garden.
Gallery with paintings, cards and gifts plus tearoom.

Double / Twin room: £70 - 80 per room per night (2 adults)
Winter offer: £65 per room per night
valid until 31 March 2014
Cereals & tea/coffee supplied for breakfast.
No smoking. Wi-Fi access.
Credit cards accepted.


Contact: Paula Piper
Shiel Bridge
Glenshiel
Tel: 0118 9462214
Email: paulapiper@hotmail.com
WOODLANDS
Situated at the head of Glenshiel in the shadow of the Five Sisters of Kintail.
Luxury large holiday cottage to rent at youth hostel prices.
Sleeps 10 - 12.
Spectacular mountain views. 21 Munros close by.
The Five Sisters and Saddle can be accessed directly from the house.
Well placed for touring Skye, Plockton, Applecross, Fort William,
Glencoe, Glen Affric, Knoydart, Torridon, Glenelg.

2 double bedrooms and 3 twin bedrooms.
4 bath and/or shower rooms.
Sofa bed for 2 in the lounge.
Spacious lounge with open fire,
TV, VCR, CD player, games, films and books.
Large kitchen/dining room with cooker, microwave,
fridge/freezer, washing machine, dryer, dishwasher, etc.
Pool table and dart board in an outbuilding.

Prices from £600 per week
including bed linen, central heating and electricity.
2 dogs welcome.
Ask about low season short breaks.
Shop, take-away, bar and restaurant all within walking distance

Contact: Celia Munro
Glomach House
Allt na Chruinn
Glenshiel IV40 8HN
Tel: 01599 511222
Fax: 01599 511382
Email: glomachhouse@hotmail.com

GLOMACH HOUSE
Scottish Tourist Board 4 Star B&B
On shores of Loch Duich. Near the junction to road to Glenelg (Skye ferry).
Only 10 minutes from Eilean Donan Castle.
Set in a small crofting village
in the shadow of the famous mountains the Five Sisters of Kintail.
Porpoises, seals & otters are often seen by guests from the breakfast table!

3 bedrooms: 2 double & 1 twin.
All ensuite, with TV, hairdryer, etc.
Gaelic spoken. Log fire. Laundry facilities.
B&B prices from £35 - £40 per person.
Ideal base for walking and Munro bagging.
For a small fee, a car service can be provided to the start of your walk/climb.
Wedding car hire also available.

CROFT COTTAGE
Scottish Tourist Board 4 Star Self Catering
Located in the same village as the B&B above.
Superb open views across Loch Duich.

Fully refurbished bungalow on site of original croft cottage.
Sleeps up to 4 (1 double and 1 double/twin). Bathroom with shower.
Lounge with flat screen TV with DVD Player & Sky Box,
CD player, coal fire, telephone.
Kitchen with oven, hob, fridge freezer,
microwave, washing machine, dishwasher.
Prices from £350 per week.
Towels and linen provided. WiFi broadband.
Sorry no pets. Oil central heating.


Elspeth & Geoff Underhill
Birchwood, Achmore, Stromeferry
Ross-Shire IV53 8UT
Tel: +44 (0)1599 577211

Email:

GLENVIEW COTTAGE
Modern cottage with uninterrupted scenic views.
Picturesque valley surrounded by pine forests.
In Achmore near Strome Ferry on Loch Carron.
Ideal for exploring Skye and Wester Ross.
Plockton: 7 miles. Eilean Donan Castle: 5 miles.
Kyle of Lochalsh and Skye Bridge: 11 miles. Inverness: 75 miles.

Bedrooms: 2 double and 1 twin.
Bathroom with bath and shower.
Kitchen with cooker, microwave, washing machine, etc,
Lounge with Sky TV and DVD player.
Disabled and wheelchair-friendly facilities.
No smoking. Open all year.

Prices from £222 per week including electricity.
Towels and bed linen provided.
1 well behaved pet welcome.
Online availability calendar.


Booking Hotline: 0870 336 2827
Cottages in Kintail & Lochalsh
Wide choice of self catering properties ranging from 1 to 8 bedrooms.
Locations including Dornie, Glenelg, Kyle of Lochalsh, Plockton
Web site with virtual tours and instant online booking.
Short breaks and late deals often available.
Click here for online brochure
Miscellaneous accommodation listings:
There are lots of little B&Bs around Dornie, also a few hotels.

Conchra House is a 3 star guest house with 6 rooms. Tel: 01599 555233.
Donan House is the nearest B&B to the castle. Stunning views. Contact Jim & Dot Bryson - tel 01599555304. Donanhouse@aol.com
Dornie Hotel at 8/10 Francis Street, Dornie. Situated away from the main road, just out of sight of the castle I think, but you could easily go for a short stroll and see it. Rooms: 2 single, 4 double, 3 twin, 3 family. STB rating: 3 stars. Open all year. Tel: 01599 555 205.
Loch Duich Hotel at Ardelve, Dornie. Rooms: 5 double, 3 twin, 1 family and 2 single. Bar meals served all day from noon to 9pm. Sunday night is music night with many Celtic musicians 9.15pm - 11.30pm. Tel: 01599 555 213 / Fax: 01599 555 214.
Grianan House offers bed and breakfast overlooking Loch Duich at Inverinate. Eilean Donan Castle 5 miles. Contact Janet Ellis. Tel: 01599 511440.
Sealladh Mara at Ardelve, near Dornie, is a family 3 star B&B with 3 rooms. Contact Mrs Phyllis Peterkin. Tel: 01599 555296.
Sgurr Uran is a traditional 2-storey stone cottage on the shores of Loch Long, 15 minutes walk from Dornie village centre, and 20 minutes walk from Eilean Donan Castle. Sleeps 4 people in 2 bedrooms.
Shepherd's Cottage B&B has 2 ensuite rooms (double & twin) Located 2 miles north of Eilean Donan Castle and 5 miles from Kyle of Lochalsh. Contact Graham and Alison West. Tel: 01599 555268.
Tigh Tasgaidh in Dornie is only about 500 metres from Eilean Donan Castle. Luxury self catering wing sleeping 4 people with 1 double bedroom, 1 twin bedroom, lounge, kitchen/dining room. B&B is available for 2 people in a separate first floor suite with 1 double bedroom and sitting room. Open March 1st to November 30th. Contact Louise Canning. Tel: 01599 555242.

You can get meals at the local hotels. Also try The Clachan Bar & Restaurant in Dornie (tel: 01599 555 366).

There is a holiday cottage for rent within the castle grounds. Sleeps 4.

Luxury static caravan with views of Eilean Donan Castle and Loch Duich. Situated at Lower Ardelve. Fully equipped to a high standard with 2 bedrooms (1 ensuite), central heating and double glazing. Sleeps up to six. Contact Martyn Cooper. Tel: 01463 792739.

Woodlands is a luxury large holiday cottage to rent at youth hostel prices. At the head of Glenshiel in the shadow of the Five Sisters of Kintail with spectacular mountain views. Sleeps 10 - 12 in 5 bedrooms, 4 bathrooms, kitchen, lounge.

Achnateird (2 bedrooms) and Lochside House (4 bedrooms) in the village of Letterfearn on the shores of Loch Duich, overlooking Eilean Donan Castle.

Loch Duich Cottage overlooks the loch at Inverinate. Self catering with 3 bedrooms.

The Ratagan Youth Hostel (SYHA) at Glenshiel has accommodation for 44 people, and views of the Five Sisters of Kintail. It is 8 miles from Eilean Donan Castle and 18 miles from Kyle of Lochalsh. Tel: 01599 511243. Reservations: 0870 155 32 55. More info on the SYHA site...

Related pages on this site include:
Eilean Donan Castle Detailed History
Scottish Castles - ClansandCastles.com
Travel info on the nearby Isle of Skye
This web guide is produced by Joanne Mackenzie-Winters
Email: joanne@scotland-info.co.uk
This page was given the following award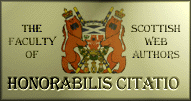 The Chatelaine's Scottish Castles web site copyright Joanne Mackenzie-Winters 1997-2013
Part of The Internet Guide to Scotland
Not to be reproduced without permission