Duart Castle
Isle of Mull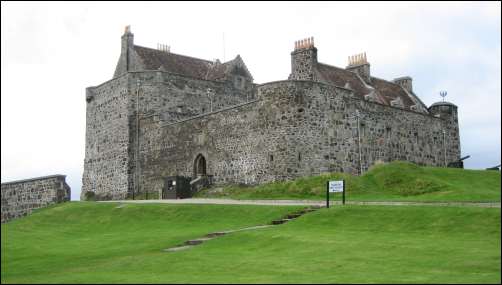 Duart Castle is situated on the east coast of the Isle of Mull near Torosay Castle. The name Duart comes from the Gaelic words "Dubh Ard" (black point).
For 2015, the castle will be open from 1 April until mid October. Free parking and entry to the grounds. Limited disabled access. Telephone: 01680 812309

Gift shop and tea-room (pictured here).
Free parking and entry to the grounds.
Limited disabled access due to the numerous stairs (including spiral staircases).
Weddings can be arranged here.
| | |
| --- | --- |
| This castle dates from the 13th century and was probably built for the MacDougalls. In the late 14th century, it became the seat of the MacLean Clan when the tower house was added. The family left the castle in the latter part of the 17th century when they retreated to the Treshnish Isles. Subsequently, Government troops took the castle and held it for some years. | |
For over a hundred years it lay in ruin until it was bought and restored in 1911/12 by Sir Fitzroy MacLean. Duart Castle now houses much MacLean memorabilia. You can visit the kitchen, Banqueting Hall, the Sea Room and various bedrooms.

Upstairs via spiral staircase is the story of the MacLean chiefs and you can also walk out onto the battlements. Prisoners (models really) from the Spanish Armada are kept in the dungeon.
Artefacts have been found on the wreck of a Cromwellian warship which sank in Duart Bay in 1653. The Swan was lost (possibly in a storm) whilst on a mission to attack Duart Castle and the pro-Royalist Macleans. Identified 4 years ago, the wreck lies in 42 ft of water and changes in the silt have now made it possible for divers to recover various items. In August 1996 the binnacle (including the ship's compass) was sent to a laboratory at the National Museum of Scotland.
Also visit maclean.org.
If you would like to make this a day excursion from the mainland, the CalMac ferry/bus ticket enables you to travel by ferry from Oban and board the bus to visit Duart Castle without taking your own car. Tel: 01680 812309. You can get your tickets from the Caledonian Macbrayne ferry office in Oban.

Across the bay, you can glimpse Torosay Castle in the trees.

Photos copyright The Internet Guide to Scotland 2008.
The castle was used as a location in the 1999 movie Entrapment starring Sean Connery and Catherine Zeta-Jones.
Visit the official Duart Castle web site at duartcastle.com