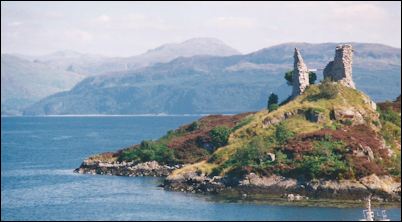 © The Internet Guide to Scotland
Near the main car park in Kyleakin, take the gravel path up to the cross on the hillock as it is a viewpoint where you will get some good photos (this one was taken in August 1999 when the heather was in full bloom).
It is thought that a Norwegian princess started the first toll here - by stretching a chain across the strait and stopping boats getting through without paying. Known as Saucy Mary, she is reflected with her name in the village today! Tradition says that she built Caisteal Maol when she was married to one of the MacKinnon chiefs. It is known to have been built around 1490-1500 and was at one time called Dunakin (Hakon's fort). Bits of the castle collapsed in 1949 and 1989 but the remaining walls have now been secured to prevent further collapse.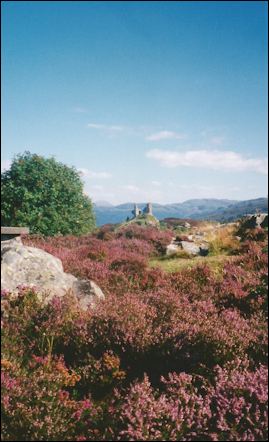 © The Internet Guide to Scotland