Scottish Island off the Argyll coast near Oban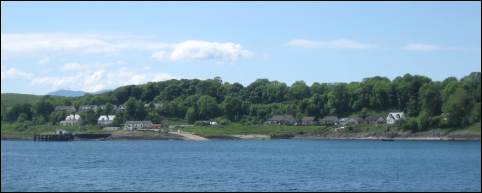 Historic Castles - Ancient Monuments - Wild Flowers & Birds
Views of Mull - Morvern - Lochaber
Easy to reach by boat from Oban, Lismore is a lovely location to get away from it all.

With a population of around 160, this friendly island still has many Gaelic speakers and is ideal for a quiet, relaxing holiday surrounded by beautiful scenery.
Just 12 miles long and 1.5 miles at its widest point, Lismore is ideal for cycling and offers many interesting walks with spectacular views of the sea and mountains.

The name Lismore comes from the Gaelic lios-mór meaning 'Great Garden'. With its fertile soil, the island is blessed with an abundance of wild flowers and bird life. It is estimated that there are nearly 300 different types of plant here and 130 species of birds (including buzzards, herons and skylarks).

Lismore has many stories to tell all the way from prehistoric times through to the Clearances and World War II.
The Lismore Historical Society opened the Gaelic Heritage Museum (Ionad Naomh Moluag) in March 2007. This purpose-built building houses an exhibition and a cafe with balcony. Open daily April - October. WiFi access. Tel: 01631 760030.

This is adjacent to Tigh Iseabal Dhaidh which is a traditional late 19th century cottage. Open daily April - October. Tel: 01631 760257.
There are numerous ancient historical remains on the island including many Bronze Age cairns and Iron Age duns. Tirfuir Broch - which can be seen from Balnagown Croft - is one of the best preserved galleried Pictish brochs in the country. Evidence of earlier occupation was uncovered at Balnagown when a Neolithic stone axe-head was found dating from 3500 B.C.


View from Balnagown Croft towards Tirfuir Broch (on the right)
with Ben Nevis in the background

View of shoreline from Castle Coeffin
Castle Coeffin - a ruined 13th century hall-house and courtyard probably built by the MacDougalls of Lorn, but later passed to the Campbells. The name is said to come from Caifen, a Viking prince whose sister was said to haunt the castle until her remains were returned to Norway to be buried by her lover's side.

Achadun Castle ('The Bishop's Castle) - this 13th castle was held by the Bishops of Argyll until the 16th century. Part of their original cathedral is now the local parish church.

Bernera - tiny tidal island off the coast near Achadun Castle.

Barr Mor - the island's highest hill (400 feet) allows superb panoramic views of mountains and lochs on the mainland, as well as views over the Firth of Lorn to the island of Mull.
| | |
| --- | --- |
| Lismore Parish Church (also known as the Cathedral of the Isles) is built from parts of the island's original cathedral which was burnt down during the Reformation. The churchyard has some fine Medieval tombstones and is reputed to be the burial place of Saint Moluag who reached Lismore from Ireland in 561 A.D. and set up what became an important monastic centre. | |

Wild Iris by Castle Coeffin

An Sàilein ('the creek' in Gaelic) - abandoned kilns and cottages at the old limestone quarry.

Lady's Rock (near Lismore Lighthouse at the very south of the island at the entrance to the Sound of Mull) was the place where Maclean of Duart decide to maroon his wife in 1527. Unfortunately for him, by the time he went to announce her 'death' to the Earl of Argyll, she had already been rescued by local fishermen.
PRACTICAL INFO:

Lismore Bike Hire on the island - tel: 07376 425996.
Explore Lismore - tours and taxi service - tel: 01631 760 291.
Lismore Stores and Post Office open daily except Sundays. Free WiFi access available.
Boat trips to see seals operate from the pier at Port Appin.

Visit the island's web site: IsleOfLismore.com for more info.

Car Ferry:
To Achnacroish from Oban twice a day from Monday - Saturday. Crossing time: 50 minutes (timetables).

Passenger Ferry:
To Point from Port Appin every hour. Crossing time: 6 minutes. To reach this ferry, leave the A828 road between Ballachulish and Connel at Appin, where there is a signpost indicating Port Appin and Lismore Ferry.

Oban
Mileages to Oban:
Glasgow (95 miles), Edinburgh (125 miles), Fort William (50 miles), Inverness (115 miles).

By Train:
Daily rail service between Glasgow/Edinburgh and Oban (visit trainline for tickets and timetables).

By Coach:
Daily Scottish CityLink service between Glasgow/Edinburgh and Oban, also Oban - Fort William (change there for connections to Inverness). Online coach timetables.

The Internet Guide to Scotland provides detailed sightseeing and transport information covering Oban, Mull & Iona, Fort William, etc.
Text and photos copyright © 2001-2019 Ina MacColl and The Internet Guide to Scotland
Not to be reproduced without permission
www.scotland-info.co.uk/lismore