Inverness Castle
Inverness Castle was built on the site of an earlier fortress in 1835 and sits on a low cliff overlooking the River Ness and the cathedral on the opposite bank.

It is thought that 11th-century castle which featured in Shakepeare's play Macbeth (even though there is no historical evidence to suggest that it was where Duncan I was murdered) was in fact located to the east of the present castle. Originally built of wood, it was replaced by a fortress of stone on Castle Hill. Apparently there have been sightings of the ghost of King Duncan walking along the banks of the River Ness in full regalia. Today Inverness Castle houses the Sherriff's Court.


View northwards from the top of the tower viewpoint
You have the chance to visit part of the castle tower to see panoramic views of the river and city. From April to October the tower is open from 11am to 6pm daily (extended to 10am to 7pm in June, July and August). September to October open daily 11am-6pm. November 2017 - March 2018 open Friday, Saturday, Sunday and Monday from 11.30am to 4pm. It costs £5 for adults and £3 for children to visit the tower and access the viewing platform. There are 95 steps to the top. You are given a map with info about the landmarks and historic buildings you can see. Looking norwards over the River Ness you can see Ben Wyvis on the horizon, and Kessock Bridge over to the Black Isle, as well as the Moray Firth to the east.
This new visitor attraction includes a video about the history of Inverness (with some drone footage from the top), and 2 animations (about the Brahan Seer and St Columba). There's also a wee gift shop.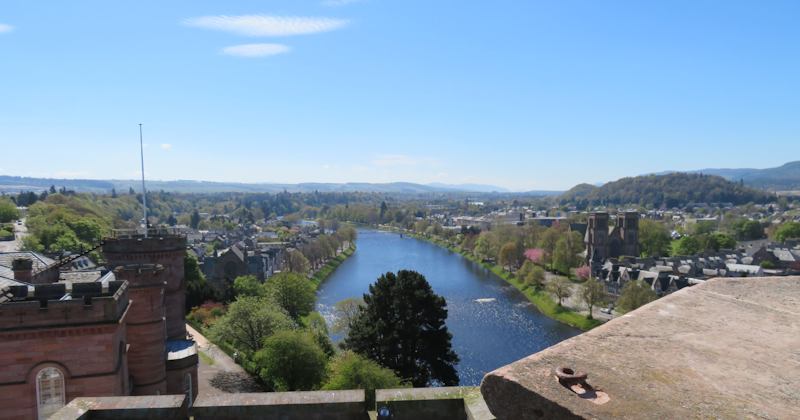 Looking over the River Ness from the tower viewpoint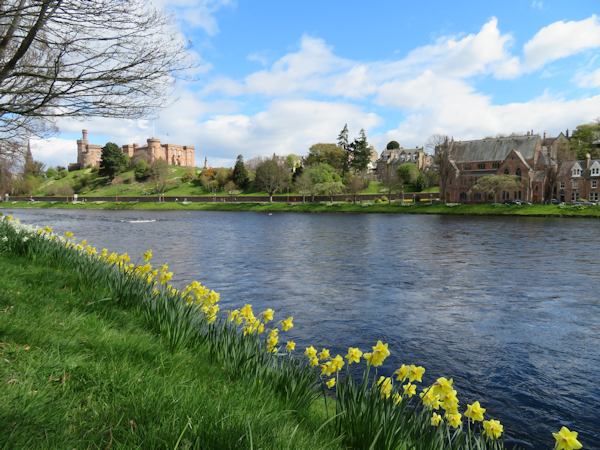 Inverness Castle and the River Ness, spring 2017
Take Castle Street which winds its way up around the rear of the castle and past some pretty floral displays to get to the statue of Flora MacDonald.