Inverness & Loch Ness Area Sightseeing
Scottish Highlands
On this page:
Loch Ness, Drumnadrochit, Urquhart Castle, Cannich, Glen Affric, Fort Augustus
plus
Culloden, Cawdor Castle, Fort George (East of Inverness)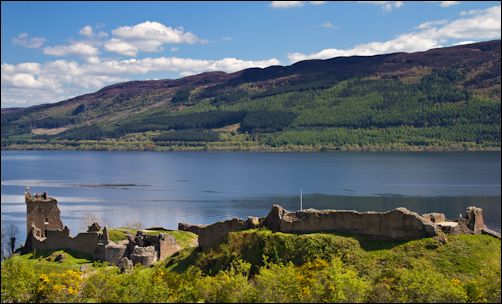 Urquhart Castle on Loch Ness © Circumnavigation | Fotolia.com
OUTDOOR ACTIVITIES
Off-road cyclists may like to try the Great Glen Cycle Route from Inverness to Fort William via Loch Ness (just over 75 miles) which has some demanding stretches. Some of the route is on the towpath of the Caledonian Canal. Contact Forest Enterprise - telephone 01397 702 184.

The Great Glen Way long distance footpath is a 70 mile hike across Scotland between Inverness in the east and Fort William in the west.
Loch Ness 360 is a new circular trail covering 81 miles/130 km starting from Inverness and including what used to be the South Loch Ness Trail. For walking on this route with baggage transfers, contact Loch Ness Travel or Gemini Walks for details.
The Caledonia Way is Route 78 of the National Cycle Network which runs all the way from Campbeltown in Argyll to Inverness (237 miles). VisitScotland has an interactive map of The Caledonia Way. The Fort William to Inverness section enables you to cycle 66 miles across the country.
The Affric Kintail Way (44 miles) is a signposted trail for walkers and mountain bikers from Drumnadrochit to Morvich by Loch Duich (Eilean Donan Castle).

You can also have an easy walk from Inverness 3 or 4 miles up the canal to the locks at Dochgarroch and then walk back on the other side.
The Great Glen Canoe Trail opened in 2012 and the web site includes info about local equipment hire.

There are many boating / sailing operators on the Caledonian Canal offering yachts and motor cruisers for hire - click here.

Experience4x4 has 40 acres of private land and can offer a 4x4 off-road Driving Experience on a Highland themed adventure course with 19 obstacles. Pay and Play with your vehicle is available on certain days. They also have an Extreme Quad Biking area. Multi-activity packages available for corporate groups or Stag and Hen groups. Situated 20 minutes south of Inverness at Loch Duntelchaig, by Farr. Tel: 07825 428227.

In Your Element can offer guided canoeing on Loch Ness and on the River Beauly (Aigas Gorge). Great Glen Canoe Trail (5 day expedition) also possible. They can also provide a wide range of outdoor activities for groups (abseiling, archery, bushcraft, canoeing, climbing, gorge walking, mountain biking, raft building, sea kayaking, team challenges). Canoe/kayak hire is available (tel: 0333 6006008).

See the outdoor activity operators list in The Internet Guide to Scotland for more companies in the area.

For outdoor enthusiasts in the area, visit the WalkHighlands page about Loch Ness and Glen Affric walks.

Horse Riding / Pony Trekking:

Borlum is a BHS approved riding centre at Drumnadrochit near Urquhart Castle on Loch Ness. Instruction, trekking and holidays. Children's Club and Gymkhanas. Riding for the Disabled. Indoor school with spectator gallery, all weather outdoor manege and jumping arena. Self catering accommodation and campsite also available. Tel: 01456 450220.
Highland Trekking and Trail Riding at Cougie, Tomich, Cannich (Glen Affric) offers rides for all abilities. Tea hut and picnic area. Hens, ducks, rabbits & guinea pigs to feed. Guided walks, boating and fishing. Long distance trekking by arrangement. Tel: 01456 415 323.
Rhoda McVey of Making Strides offers tailor-made horse-riding holidays and tuition. Tel: 07770 427502.


Image produced from the Ordnance Survey Get-a-map service.
Image reproduced with kind permission of Ordnance Survey
and Ordnance Survey of Northern Ireland.

LOCH NESS

Twenty-four miles long and a mile wide in places, it reaches a depth of some 700 feet. Loch Ness is of course famous for its legendary monster Nessie which may have been seen by Saint Columba way back when.

Loch Ness © great_photos | Fotolia.com

You can easily drive or cycle around the loch yourself or go on a bus tour (see the Inverness trips page). The complete circuit is 70 miles and can take a whole day by car if you stop at some of the places mentioned below.

The southern side of the loch is less frequented by tourists but well worth a visit for its beautiful scenery. The road has a great scenic viewpoint at 1162 feet overlooking the loch and mountains. The road passes through villages such as Whitebridge, Foyers (waterfall), Inverfarigaig (forest walks) and Dores. For food and drink, The Dores Inn (tel: 01463 751203) is recommended, 8 miles south of Inverness. At Foyers, Camerons Tea Room and Farm Shop (tel: 01456 486572) is worth a visit.
There is a wide variety of accommodation around Loch Ness - including cottages, lodges & chalets and Bed and Breakfasts.

Boat trips can be taken from the northern end, the middle or the southern end of Loch Ness.
| | |
| --- | --- |
| For 40 years, Jacobite has helped visitors to experience the mysteries and myths of the world famous Loch Ness. They operate cruises and coach tours with a choice of options lasting from 1 to 7 hours. Depending on the option you select, there are departures from Inverness Bus Station, Tomnahurich Bridge (2 miles from Inverness city centre), Dochgarroch Lock (5 miles outside Inverness) and Clansman Harbour (4 miles from Drumnadrochit, 10 miles from Inverness). All vessels have free WiFi. Scottish Tourist Board 5 Stars. Tel: 01463 233999. | Jacobite Rebel photo © Loch Ness by Jacobite |
AN TALLA
Opened in 2019, An Talla (Gathering Place) is a cafe and luxury gift shop on the banks of the Caledonian Canal at Dochgarroch, just 4 miles outside of Inverness on the A82 to Loch Ness. Tel: 01463 572323. This is a new venture from the company which runs the Jacobite cruises.

ABRIACHAN
Look out for the sign pointing up the hill to Abriachan Nurseries - 9 miles south of Inverness on the A82 Loch Ness road (between Lochend and Drumnadrochit). High quality range of rare and unusual plants. R.H.S. partners and members of Scotland's Garden Scheme. Open daily from February to November. Tel: 01463 861 232.
Nearby is the start of the Abriachan Forest Walk where you can also see a bird hide and the replica of a Bronze Age Hut.
DRUMNADROCHIT (15 miles south of Inverness)
Drumnadrochit Village Green is nicely decorated with floral displays. Have a browse around and a cake or ice cream at Drum Farm Courtyard. Enjoy a meal at Fiddlers restaurant (telephone: 01456 450223). Opposite here is the post office and grocery. There's also a Scotmid supermarket in Drumnadrochit.
The Loch Ness Travel Hub has travel info, crafts, souvenirs and e-bikes for hire. They can also arrange baggage transfer if you are on walking/cycling trails in the area, or book tickets for cruises on Loch Ness with local boat operators.

The Glenurquhart Highland Games are held here in August.


Nessie © The Internet Guide to Scotland 2014
Between Drumnadrochit and Urquhart Castle is Borlum Farm which is a BHS approved riding centre, together with self catering accommodation and campsite. Tel: 01456 450220.

For additional information about Drumnadrochit and area, take a look at VisitDrumnadrochit.com.

© The Internet Guide to Scotland 2014

LOCH NESS MONSTER
Established in Drumnadrochit in 1980 as the first ever exhibition based on Loch Ness, The Loch Ness Centre re-opens on 10 June 2023 under new management with new immersive exhibitions, as well as shop, hotel, restaurant/bar, cafe, etc. VisitScotland 5 star visitor attraction. Open all year. Disabled facilities. Wheelchair friendly. Advance ticket purchase available online. Tel: 01456 450 573.
The exhibition was originally designed by Adrian Shine of the Loch Ness Project whose web site includes details of the scientific research and exploration of Loch Ness. (The Loch Ness Centre has now been refurbished by Continuum Attractions).
Also in the village is the Nessieland which features a multi-lingual documentary, children's activity playground, hotel, coffee shop/restaurant, gift shop, etc. Open all year. Tel: 01456 450342.
URQUHART CASTLE
(2 miles south of Drumnadrochit)
Picturesque ruins on the shore of Loch Ness.
Although the castle is owned by The National Trust for Scotland, access is via the excellent visitor centre run by Historic Environment Scotland which includes an exhibition, film show, shop and restaurant. Admission charges apply.
Due to Covid-19, tickets must be pre-booked online.
The castle is open daily 1 April to 30 September 9.30 am to 6pm; and also daily 1 October to 31 October 9.30 am to 5pm, and 1 November - 31 March 9.30 am to 4.30pm. Tel: 01456 450551.
For disabled access, check with Historic Environment Scotland.

Urquhart Castle © The Internet Guide to Scotland 2014
CORRIMONY CHAMBERED CAIRN (8 miles west of Drumnadrochit)
Situated in Glen Urquhart, this chambered cairn is surrounded by a circle of 11 standing stones in a field. Historic Environment Scotland. Free access. Open all year.

| | |
| --- | --- |
| © The Internet Guide to Scotland 2014 | © The Internet Guide to Scotland 2014 |

Glen Affric © Corel

GLEN AFFRIC NATIONAL NATURE RESERVE (west of Drumnadrochit)
If you have time, don't miss a detour away from Loch Ness into this beautiful scenic area around Cannich for walks by Loch Affric and Loch Mullardoch.
Plodda Falls can be found 3 miles from the village of Tomich - follow the waymarked walk.
For photos and info visit the local web sites covering Glen Affric and Strathglass: glenaffric.info and glenaffric.org
Based in Glen Affric, Natural High Guiding can offer walking, mountain biking, archery, bike hire for individuals, groups and corporate events.
The Glen Affric Duathlon usually takes place in May.
Local accommodation in Glen Affric includes Shenval - an organic Bed & Breakfast where your French-speaking hosts are a toy maker and photographer, and a handloom weaver. Situated between Drumnadrochit and Cannich.
Westward Bed and Breakfast is a family run B&B in a beautiful Victorian Highland house where the comfortable rooms retain their pine linings and the guest lounge has an antique solid fuel stove.
The Slaters Arms in Cannich offers good food and drink with WiFi access, plus self catering accommodation in timber cabins. Tel: 01456 415215. Cannich is situated midway between Drumnadrochit (13 miles) and Beauly (15 miles) on the A831 road.

From Cannich, you can cut across country to Beauly via the back road.

JOHN COBB MEMORIAL (1 mile south of Urquhart Castle)
Back on the main road from Inverness to Fort Augustus, a roadside cairn was erected by the local people as a memorial to the famous racing motorist who died in 1952 whilst attempting to break the water speed record on Loch Ness.
INVERMORISTON
(13 miles south of Drumnadrochit)
Remains of a bridge built by Thomas Telford in the early 19th century. It is a quiet, leafy spot from where you can watch the fast-moving white water of the River Moriston. Starting point for some good walks.
The Glenmoriston Arms Hotel offers good food and accommodation. It has a bar with 150 single malt whiskies. Tel: 01320 351206. It's a handy place to stay overnight or just stop for a meal if you are taking the road to Kyle of Lochalsh and Skye which cuts across country from here to the west coast.
For more local info, visit the Fort Augustus and Invermoriston web site.
CHERRY ISLAND
Parking spaces, intepretative panel and woodland walk overlooking Cherry Island (the only island in Loch Ness). The tiny island features a 'crannog' which was probably built 2000 years ago and later housed a mediaeval castle.
FORT AUGUSTUS
Situated at the southern end of Loch Ness, 33 miles south of Inverness. Souvenir shops, golf course, garage, hotel, tourist office, bank, post office, cash dispenser.
Fort Augustus has free public WiFi thanks to Highland Council. Log on with your social media details or by entering your email address.

The Caledonian Canal cuts through the village on its way down to Fort William (31 miles away). The Caledonian Canal Visitor Centre gives information about the canal and has a gift shop, deli, cafe and toilets (tel: 01320 366 493). You can watch boats passing through the series of locks or go on a cruise up Loch Ness.
Bike hire (mountain bikes and electric bikes) is available from Girvans Hardware store
On the shores of Loch Ness, the Benedictine Abbey stands on the site of the fort built in 1720 by General Wade to subdue the Highlanders. It was named after the King's son, William Augustus, the Duke of Cumberland who became known as 'The Butcher' after his victory at Culloden. In the mid-18th century the Lovat family used the building as a hunting lodge and then in 1876 leased it for a peppercorn rent of 1 pound to a group of English and Scottish monks who had returned from Germany (althought the rent was never actually collected). The monks founded a monastery and later ran a boarding school here up until 1993. Subsequently they set up a heritage centre, restaurant and accommodation block, but it had to close and was sold.
The new Highland Club development of the abbey buildings now offers exclusive holiday home accommodation and residential apartments. Please note there is no access to the private gardens.
The Boathouse Restaurant is next to the abbey grounds on the lochside and is open for lunch and dinner. Facilities for diners bringing with their boats. Advance booking recommended in the summer (tel: 01320 366682).
| | |
| --- | --- |
| Another visitor attraction is The Clansman Centre. Located not far from the abbey grounds, in a reconstructed Highland Turf House close to the canal locks. You can see and hear how the clans lived in the 17th century in the museum and live exhibition. Hire a costume and have your photo taken as a Highlander. Weapons demonstrations given during live re-enactments too. Open 7 days a week 10am to 6pm during the summer season from April - October. | |
The Cruise Loch Ness can be found near the Clansmen Centre. Boat trips on Loch Ness depart from here every day (except Christmas/New Year). They have several boats including a catamaran. Toilets and bar onboard. These cruises have been awarded 5 stars by VisitScotland and most are 50 minutes long. You can see what's underneath the surface by watching the sonar display screens. Evening cruises (60 minutes) available from May to August. They also operate RIB rides (at 30 knots) from April to October (1 hour - 3 hours). Telephone 01320 366277.

The Bothy Restaurant & Bar is located in the former village smiddy by the side of the locks. Tel: 01320 366 710. Next door is the Highland Ice Cream shop.

For more information about Fort Augustus visit the the local community web site.

From Fort Augustus, you can continue on a circuit around Loch Ness back to Inverness
or drive southwards toward Invergarry where the road splits:
head west to the Isle of Skye via the Five Sisters of Kintail and Eilean Donan Castle
or continue south to Fort William

CULLODEN BATTLEFIELD (2 miles from Inverness)
This windswept heath is where Bonnie Prince Charlie's men were defeated by the Duke of Cumberland, known forever after as "The Butcher". One thousand two hundred Highlanders lost their lives here on the morning of 16th April 1746. Buried in mass graves, they are remembered through stones which bear the names of their clans. The best time to visit is when the purple heather is in flower.
You can also see Highland cattle, Shetland cows, Highland ponies and goats who enjoy grazing the moorland here.


More photos
There is a Visitor Centre with audio-visual show and exhibition (admission charge), restaurant and gift shop. The visitor centre is generally open daily in summer and open Wednesday - Sunday in winter.
Access to the battlefield itself is free.
Led by an expert guide, Battlefield tours are run at certain times booking required.
The battlefield is in the care of the National Trust for Scotland. Tel: 01463 790 607.
A Commemorative Service is usually held here each year in April on the Saturday nearest the anniversary of the battle.
Please note there is a car parking charge.

CLAVA CAIRNS (6 miles east of Inverness)
Unique set of 3 Bronze Age chambered cairns each surrounded by a stone circle in a wooded field. A most unusual place for both its atmosphere and history - well worth visiting if you are interested in ancient sites. It is signposted as a right turn off the main road just after Culloden Battlefield when you are heading towards Cawdor Castle.


Link to my photos

The Historic Environment Scotland web site explains the history.
The Highland Council's Historic Environment Record is full for historic details and photos.
Robert Pollock has an excellent guide to this site. And you can view more photos online by Phil Wright.

DALCROSS CASTLE
This L-plan castle with its decorative stone crown is located 8 miles east of Inverness on the B9006 road. It was built in 1621 by the 8th Lord Lovat and was the mustering point of the Government troops before the battle at Culloden in 1746. By the 19th century the castle had lost its roof and upper floors, but it was later restored by descendants of the earlier Macintosh lairds. It used to be open to the public until it was sold to new owners in 1996.

CASTLE STUART
This haunted castle is located a couple of miles outside of Inverness just off the A96 road to Nairn. Bonnie Prince Charlie may have slept here. Previously it offered B&B accommodation but as of 2015 it is closed for refurbishment.

CASTLE STUART GOLF
Castle Stuart Golf Links opened in 2009 and hosted the Scottish Open from 2011 to 2013. It will be the venue again in 2016. Tel: 01463 795440.

HIGHLAND AVIATION MUSEUM
Close to Inverness Airport and the former RAF Dalcross air base is the Highland Aviation Museum. Old aircraft on display include a Buccaneer, Tornado, Hawker Hunter, etc. as well as the front 54 feet of a Nimrod MR2. The indoor display covers the RAF stations at Kinloss, Lossiemouth and Dalcross. Open at weekends 10am - 4.30pm. Run by the Highland Aircraft Preservation Society. Tel: 01667 461100.


Fort George © Zoran Jovanovic | Dreamstime.com

FORT GEORGE (11 miles east of Inverness)
Fort George is close to the village of Ardersier (see historic photos). Built as the Highland garrison fortress for the Hanoverian army of George II following the Battle of Culloden, the fort stands on a headland overlooking the Black Isle. Today its mile-long rampart encloses the Highlanders Museum (featuring the Queen's Own Highlanders Collection) and a working garrison spread over an area of some 42 acres.

The site is managed by Historic Environment Scotland. Admission charge. Exhibition, visitor centre, restaurant and gift shop. Telephone 01667 462 777. Pre-booking tickets is now essential. Open daily (except Christmas and New Year).
CAWDOR CASTLE (12 miles east of Inverness)
Castle, gardens, woodland walks, golf course, cafe and gift shop. Due to open daily from 10 April to 3 October 2021. Some Covid restrictions may apply.
This is one of my personal favourites so I have created separate web pages of detailed information and photos. Well worth a visit.
You can also visit the gardens of Auchindoune House (where the Dowager Countess Cawdor lives during the tourist season). This is 30 minutes walk from the castle through the woods or a few minutes' by car. The gardens are usually open on Tuesdays and Thursdays in May, June, July and August from 10am - 4.30pm and at other times by appointment (tel: 01667 404401). There is an honesty box.
CAWDOR VILLAGE (12 miles east of Inverness)
Often overlooked by visitors is the Conservation village of Cawdor itself, a quiet place well worth walking around. There are several pretty old houses, a fountain, bowling green, tavern, school, post office and shop. Cawdor church was built in 1619 by the then Thane of Cawdor, Sir John Campbell, after he survived being shipwrecked when returning from the Isle of Islay.

CAWDOR ESTATES GUIDED WALKS
There are usually several guided walks organised during the summer - telephone 01667 404 666 for full details of this year's programme. If similar to previous years, these will include walks of between 1.5 hours and 4 hours to see varied habitats within the local woodlands, and perhaps Findhorn Valley, Loch of Boath or Findhorn Terraces.

NAIRN (16 miles east of Inverness)
Popular seaside resort with long stretches of sandy beach. More details on Nairn page....

A few miles after Nairn, Brodie Castle is another place not to miss. Due to Covid restrictions, Brodie Castle is currently not open. The grounds are open all year. Owned by The National Trust for Scotland.

Continue the sightseeing tour to Nairn, Elgin, Moray & Speyside

Accommodation