Isle of Jura


Isle of Jura (seen from Gigha) © Robert Dallas Gray | Dreamstime.com
Jura comes from the Norse words meaning Deer Island. Today over 6500 deer live on six estates on the island. In contrast, the human population is around 240.

The island is 29 miles long and 7 miles wide in places. The west is wild and virtually uninhabited, occupied only by the three Paps of Jura which are known in Gaelic as The Mountain of the Sound, The Mountain of Gold and The Sacred Mountain.

Many caves and raised beaches can be found on the west coast, but you'll have to be a good walker to reach them.

If you want to get away from it all, this is the place to come. The novelist George Orwell who stayed on the island at Barnhill during the 1940s quite rightly described it as "an extremely un-getatable place".

Wildlife lovers will be interested to know that there are over 100 species of birds (including golden eagles) on the island, together with wild goats, seals, rabbits, hares, stoats and otters.


© Jaime Pharr | Dreamstime.com
How to get to Jura

The main route on to Jura is via the small vehicle ferry from Port Askaig on the Isle of Islay. It takes just 5 minutes to cross to Feolin on the southern tip of Jura. Tel: 01496 840 681. Check the Council web site for prices and times.


Jura vehicle ferry © Highlandscape | Fotolia.com

The Jura passenger ferry (12 seater RIB) will be running daily (except Tuesdays) from 30th March - 26th September 2022. from Tayvallich (mainland Argyll) to Craighouse on Jura. Booking essential - phone 07768 450000.

The Jura Bus is operated by Garelochhead Coaches (tel: 01436 810200) and travels between Feolin Ferry to Craighouse and north up the island to Inverlussa Click here for timetables.

Jura Island Tours is run by Alex in his luxury Mercedes 16-seater mini coach. Short guided tours or full days from Craighouse or Feolin. He also operates a taxi service. Tel: 01496 820314 or 07884 024 777.


Image produced from the Ordnance Survey Get-a-map service.
Image reproduced with kind permission of Ordnance Survey and Ordnance Survey of Northern Ireland.

What to see and do on Jura

Next to the ferry terminal, Feolin Ferry House holds the largest database of information about the Isle of Jura in existence in the world.

JURA HOUSE & GARDENS
Located 5 miles from the ferry at a place called Ardfin or White Promontory. The house was built by the Campbells in the early 1800s. Previously available as self catering, it was bought by a new owner in 2010. The gardens are closed to the public and he has built an 18-hole golf course on the estate.

You can see two little islands offshore. The one on the right is Am Fraoch Eilean or Heather Island which controlled the entrance to the Sound with the now ruined Claig Castle.

The grey coloured beach is made from grains of the local quartzite. Further along, the path runs next to some of the famous Jura slate.

A longer walk will take you to The Misty Pool, waterfall, Bronze Age burial cairn and also a Neolithic chambered burial cairn thought to be 2000 years old.


Craighouse © Weetoonpics | Dreamstime.com
CRAIGHOUSE
The capital of Jura is 8 miles from the ferry. It is probably the only place on the island you will find anywhere to eat or drink. The village is home to petrol pumps, post office, gift shop, church and the Jura Hotel which has its own web site full of local information.
The Antlers is a cafe/takeway with good food. Tel: 01496 305317.

The Jura Community Shop is run by the community. If you are going to Jura and need groceries/supplies arranging in advance, just let them know.

Internet access is available at the Jura Service Point is next to the school in Craighouse. Open 10am - 1pm Monday to Friday.

Isle of Jura Distillery produces a light malt whisky. The first official distillery on Jura was built in 1810 but there is evidence that illicit distilling took place as far back as 1502. It has been expanded over the years but still occupies the same site, draws its water from the same natural source and remains the only distillery on the island. Guided tours by appointment - telephone 01496 820601. Visit isleofjura.com for more details.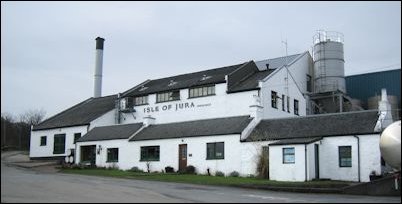 Jura Distillery © The Internet Guide to Scotland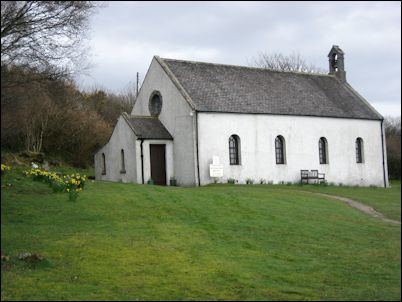 Jura Parish Church © The Internet Guide to Scotland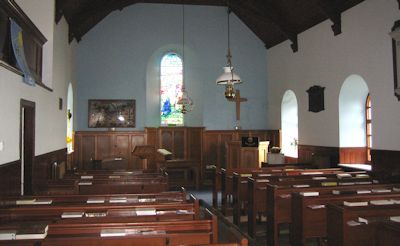 KEILS
Just north of Craighouse is the old crofters' settlement. Today most of the remaining thatched roofs on the cottages have fallen down, but you can still imagine how the people lived.

NORTHERN JURA
Ardlussa and Inverlussa: cemetery and cottages overlooking the bay.
Lussa Gin is distilled and bottled at Ardlussa. This small new venture is run by 3 women who use 15 botanicals that they can grow or gather on Jura. Distillery tours are available Monday to Friday from 10am to 4.30pm. Advance booking required for groups of more than 6 people. Contact 01496 820196.

Saint Earnan, the uncle of Saint Columba, is buried in Inverlussa graveyard, together with a lady called Mary MacCrain who apparently lived until she was 128.

The road, such as it is, stops here, but if you continue along the track (unsuitable for motorised vehicles), eventually it reaches the northern tip of Jura, where George Orwell wrote 1984 and almost lost his life in the Corryvreckan whirlpool.


Paps of Jura © Highlandscape | Fotolia.com

THE PAPS OF JURA
These mountains are not that easy to get to or to climb when you reach them. The upper slopes are mainly made of scree and lumps of quartzite. You are recommended to wear strong boots. It can easily take you the best part of a day just to reach and walk up one of the 3 mountains, but on a clear day you will be able to see for miles from the summit. They rise to around 2400-2500 feet.
Check if deer stalking is in progress (usually on days between 1 July and 20 October) by using the hillphone service, tel: 01496 820151.
HISTORIC MONUMENTS
There are several standing stones scattered about the east coast of Jura.
A Neolithic burial cairn can be found south of Strone farm.
South-east of Ardmenish, on Lowlandman's Bay is the dun known as An Dunan.
The ruins of Glengarrisdale Castle are in the north-west of the island.


© Jaime Pharr | Dreamstime.com
EVENTS

Useful Books and Maps
Islay, Jura and Colonsay: a Historical Guide
Publisher Birlinn writes: 'The story of Islay, Jura and Colonsay is one of the most fascinating amongst all the Hebrides. They have had substantial human occupation since earliest times and man has left many relics across the islands, from tools and artefacts of mesolithic times to the modern-day distilleries of Islay and Jura. From the period between survive chambered cairns, iron age forts, magnificent early crosses, enigmatic carvings, early monasteries, relics of the Lordship of the Isles, deserted townships and shielings, planned villages, corn mills, kelp kilns and lead mines and much else besides.'
This 246-page paperback guide book lists all the places of interest on the 3 islands with detailed location maps and sketches. Published in June 2001.
Available from Amazon.co.uk (commission link) and Amazon.com (commission link)
Jura
Publisher Birlinn writes: 'This is the first major work to be written on one of the largest and most important of the islands of the Hebrides. Probably the Hinba of the early church, Jura's geographic situation made it important through succeeding centuries through the Viking period and into that of the Lordship of the Isles. As Pennant's extract shows the island carried a fairly large population right through the period of Campbell domination into the era of emigration and clearance.'
This 589-page hardback is the definitive historic reference book about the island. It includes sections of old b/w photos, colour photos and portraits. Published in July 2001.
Available from Amazon.co.uk (commission link) and Amazon.com (commission link)
The Southern Hebrides and Arran (Island Walks)
Produced by famous island-hopper Hamish Haswell-Smith and Stephen Whitehorne.
A selection of 26 graded walks (easy to strenuous) on the following islands:
Arran - Islay - Jura - Colonsay and Oronsay - Kerrera - Lismore - Mull - Iona - Tiree - Coll - Bute - Gigha - Staffa
Paperback. 192 pages. Published February 2003.
Available from Amazon UK and Amazon.com (commission link)
If you intend to go hillwalking or hiking generally on the island, you will need one of these scale maps:
Jura & Colonsay Landranger map by the Ordnance Survey (official map agency of the UK)
or Jura-XT25-Superwalker map by Harvey (100% waterproof)

Accommodation

B&B accommodation:

The Isle of Jura Hotel is the island's only hotel. Located at Craighouse. 18 rooms. Open all year. Telephone: 01496 820243 / Fax: 01496 820249.
Corran House B&B is 4 miles from Craighouse, and around 10 metres from the beach. Ensuite rooms. Steve and Fiona Walton. Tel: 01496 820 374.
Ardlussa House offers dinner, B&B. Contact Andrew & Claire Fletcher - Tel: 01496 820 323.

Self-catering properties to rent on the island include:

Links

For more information about the island, visit:
Official Jura Development Trust web site
JuraInfo.com includes blog, video, photos, etc.
Islay and Jura Marketing Group
Isle of Jura Distillery
SouthernHebrides.com Jura page

Jura photos and travelogue by Armin Grewe
Photos of Jura by Colin Palmer (part of his Scottish collection)