Sightseeing & Accommodation north of Inverness
The Black Isle & Easter Ross
Cromarty & Fortrose
Beauly, Strathpeffer, Dingwall, Tain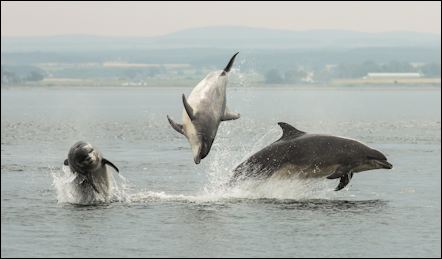 Moray Firth dolphins © Lensman300 | Fotolia.com
TOP 5 REASONS TO VISIT THE BLACK ISLE AND ROSS-SHIRE
Moray Firth Dolphins - take a boat trip or watch them from the shore at Chanonry Point
Historic towns like Cromarty (Hugh Miller's museum and courthouse) and Strathpeffer (Victorian spa town with Museum of Childhood)
Outlander connections - historic Beauly Priory and Castle Leod
Clan country - heart of the clan Mackenzie (Castle Leod)
Glen Affric - a hidden gem with lochside walks
North of Inverness is the peninsula known for some reason as The Black Isle (it is neither black nor an island). To reach the Black Isle, take the A9 northbound and cross over the Kessock Bridge. North Kessock is the first village.
There are forest walks at Ord Hill and a great view over the Moray Firth towards Inverness.

Our Local Larder is a useful directory of local food producers and suppliers on the Black Isle including restaurants and cafes.

The Moray Firth Trail has a useful web site with walking paths and maps.

Wildwoodz Paintball Park is 2 miles down the Fortrose/Cromarty A832 road from the Tore Roundabout. Tel: 01381 622220.

The Black Isle Brewery a small independent organic brewery which is open 10am - 5pm Monday to Saturday all year and and also 11am - 5pm on Sundays from April to September. You'll see the sign to turn off the A9 halfway between the Kessock Bridge and the Tore roundabout. Tel: 01463 811871.

Strathpeffer VW Campervan Hire have a range of T25 Autosleeper Trident campervans (sleeping up to 4). Tel: 01997 421195 / 07527 276894.

Based on the Black Isle Andrew's Car Private Hire is licensed for up to 6 people. Andrew McCallum covers all areas around the Black Isle, Dingwall and Inverness. Mob: 07818 697 609 / Tel: 01349 877 547.

AVOCH (13 miles from Inverness)
Grave of Sir Alexander MacKenzie. Explorer of the North West Territories of Canada, he gave his name to the MacKenzie River. Born in Stornoway on the Isle of Lewis, he came to Avoch when he retired and was buried in the old churchyard in 1820. Heritage exhibition.
Dolphin Trips Avoch provide daily boat trips in the summer from Avoch harbour. Trips are due to resume in April 2021. Telephone 01381 622383 or 07779 833951.

CHANONRY POINT
Famous place for spotting the Moray Firth dolphins from the shore. The dolphins can often be seen about 2 hours after low tide (see tide timetable).
On the opposite side of the firth is the historic military base of Fort George.
The Fortrose & Rosemarkie Golf Club is also set around Chanonry Point. The lighthouse is near the site of the burning at the stake of the Brahan Seer, famous for his prophecies in the 1700s.


Chanonry Point lighthouse © The Internet Guide to Scotland 2016

FORTROSE (14 miles from Inverness)
Red sandstone houses, ruined cathedral, golf course.


Fortrose Cathedral © David Watmough | Dreamstime.com

The Fortrose and Rosemarkie Community Council web site has more local info.

The Anderson in Union Street offers good food and drink in the restaurant and bar, and accommodation in 9 guest rooms. Tel: 01381 620 236.
Also try the IV10 cafe and deli which also opens for evening meals in High Street and the family-run Fortrose Cafe (especially good for vegans and vegetarians).

Celia Ffitch-Stewart is a fully insured driver-guide with Mercedes limousine for your tailor-made guided tour. Based in Fortrose, near Inverness. She offers half day, full day or extended tours. Airport collection (Edinburgh, Aberdeen or Inverness). Services can include itinerary planning and accommodation reservations. Meet your clan chief, trace your roots, stay in a castle, tour the distilleries. Member of HOSTGA (Highlands of Scotland Tour Guide Association).

ROSEMARKIE (15 miles from Inverness)
Groam House Museum has an excellent collection of Pictish carved stones, some of which date from the 8th century. You can make rubbings of Pictish symbols, play the reconstructed harp, watch the video about the Picts in Ross-shire, browse through the photo collection, leave the kids to watch a cartoon and visit the gift shop. Open from end March to end October, Monday to Friday 11am to 4.30pm, weekends 2pm to 4.30pm. In November, the museum is only open on Saturdays and Sundays from 2pm to 4pm. Tel: 01381 620 961.
Crofters Bistro is a nice place to eat (tel: 01381 620844).


The Rosemarkie Sea Caves have been the subject of several archaeological digs with some interesting finds. Some are more easily accessible than others (either from the beach or the cliff top paths). Fossils can also sometimes be found along the coast around here.

Rosemarkie Beach Cafe is open daily from the end of March to the end of October, then weekends over the winter. Fully wheelchair accessible. Free parking and free toilets. Free exhibition about the local area and wildlife. From here you can walk the 'Dolphin Mile' from to Chanonry Point and back and look out for bottlenose dolphins in the bay.
CROMARTY (23 miles from Inverness)
An 18th century fishing port which got somewhat left behind by the Industrial Revolution. It is the best preserved 18th century village in the Highlands. As such it has many old buildings, including Hugh Miller's thatched cottage built in 1711 and now in the care of the National Trust for Scotland.

The award-winning museum at the Cromarty Courthouse is not to be missed. You come face to face with animated figures that you can control (the first of their kind in Scotland). Why not join the jury and dress in 18th century costume? The Courtroom is open daily from 10am to 5pm from April to October and by appointment the rest of the year. Tel: 01381 600 418. Since this is an old building (it was built in 1773), disabled access is limited.
Cromarty has lots of original and quirky shops, and is also a haven for artists. Just off Shore Street, Gallery48 has a wide range of local crafts, gifts, paintings and prints. Next door is Barbel Dister's Cromarty Pottery (tel: 01381 600701) is open daily in summer, but closed on Mondays in winter (also closed all January).

The town has a bakery, grocer, antique shop, coffee shops, cash machines and hotels. The Old Brewery (established 1776) is now used for events by the Cromarty Arts Trust. The East Church (no longer in use) is open daily to visitors.

Renowned restaurant Sutor Creek (tel: 01381 600855) with its wood-fired pizza oven is near the harbour. Its sister cafe is Couperís Creek (lunches, cakes and ice cream) is in Church Street.


Nigg Ferry © The Internet Guide to Scotland 2018

The Cromarty - Nigg ferry service is on the 'Renfrew Rose' which can take 12 passengers and 2 cars. Operates daily from June to October, every half an hour. Open daily April to October, Nigg Old Church contains an interesting 8th century Pictish cross-slab.

The Cromarty lighthouse was built by an uncle of Robert Louis Stevenson in 1846.
EcoVentures offer trips in a high speed RIB to see bottlenose dolphins, seals, whales, etc. in the Cromarty Firth. Maximum 12 passengers. Bookings can be made through The Dolphin Centre at the Harbour Workshop, Victoria Place, Cromarty (by the harbour). Telephone 01381 600323.

Bike hire is available from Black Isle Bicycles (tel: 03181 600724) at the Cromarty Cheese House (located in the Old Police Station - you can see the old cell for prisoners).

For local information, check out Cromarty Live which includes details of local events.
Also visit the Cromarty Image Library and the interactive tour of Virtual Cromarty.
An energetic scramble over the rocks to the east of Cromarty will take you to the Drooping or Dripping Cave, so called because of the stalactites formed on its roof. Local legends speak of a mermaid being seen outside the cave.

The Moray Firth Trail is an interesting network of footpaths and trails which includes walks near Cromarty, Avoch, Rosemarkie, Dingwall, Strathpeffer, Tain and many other places.

BEAULY (on the main road 12 miles north-west of Inverness)
Car parking is available in the town centre which is often well decorated with floral displays in the summer months. The town has won awards in the Britain in Bloom contest on more than one occasion!

One of the local Pipe Bands plays in the Square on most Thursday evenings at 7.30pm from mid-June to mid-September - look out for posters with the dates and times. Sometimes they have Highland dancing too.
Beauly has several hotels including The Priory Hotel and the Lovat Arms in the village square, as well as B&Bs, etc. plus a campsite/holiday park.
There are several eating places, grocers, baker, butcher, ironmonger, bank, pharmacy, Co-op supermarket, gift shops, coffee shops, florist, etc. Iain Marr Antiques
Corner on the Square is a deli and eatery in Beauly. It specialises in Highland and Scottish products and has a great range of cheeses and cooked meats from local sources and continental suppliers. Phone 01463 783000.
Take a peek in Campbell's shop which sells tweeds, sweaters and gear for the fishing/hunting brigade. Established in 1858, they hold the Royal Warrant by appointment to H.M. The Queen.
The Bright Beauly Fair is in August showcasing local arts, crafts, food and drink.

Just off the High Street, you can visit the ruins of Beauly Priory built by French monks in 1230. Open daily. Free access. Owned by Historic Environment Scotland. It includes tombs of the Mackenzie family.


Beauly Priory ruins © The Internet Guide to Scotland 2018

Near the priory ruins is The Old School, Beauly which is a great gift shop spread over several rooms (fashion, homeware, jewellery, children's, music, etc.) with a whole room devoted to books (plus coffee machine and seats). Toilets available. Open 9am to 5.30pm Monday to Saturday, plus 12-5pm on Sundays. Tel: 01463 783 273.


Old School House © The Internet Guide to Scotland 2018

Beauly Gallery & Gifts and The Kirk Coffee Shop are both located in a converted 18th century kirk just 1 mile south of Beauly on the A831 (Glen Affric road). Well worth a visit! The shop has a large selection of Scottish arts, crafts and gifts, many of which are locally made. Regular exhibitions and events are held in the gallery, including demonstrations (such as painting, weaving and other crafts). Also available is a huge range of photographic equipment and cameras. The coffee shop sells home baking and snacks. Tel: 01463 783 508.

Just half a mile north of Beauly is Robertsonís The Larder - Tomich Farm Shop which has a variety of produce for sale and is open all year (Monday to Saturday 10am to 5pm and Sunday 12am to 4pm). They also have a Children's Farmyard which is open from Easter until the end of October for a small entrance fee. Tel: 01463 782181.

Aigas Field Centre offers holidays specialising in wildlife and walking for individuals and groups. Accommodation provided. Trips to Western Isles, Skye, Orkney and Shetland, and tailor-made holidays also available. The centre also provides environmental education for school children. Over 30 years experience. Featured on the Johnny Kingdom TV programme.

Aigas Golf Course (9 holes) is part of a family farm with self catering cottages set between the Aigas forest and the river Beauly (one of Scotland's famous salmon rivers). Telephone: 01463 782942. About 5 miles outside Beauly.

Glen Affric © Corel

GLEN AFFRIC NATIONAL NATURE RESERVE
From Beauly you can take the back road across country to visit Glen Affric and Strathglass (and also Drumnadrochit on Loch Ness). Don't miss a detour into this beautiful scenic area around Cannich for walks by Loch Affric and Loch Mullardoch. Plodda Falls can be found 3 miles from the village of Tomich - follow the waymarked walk.
For photos and info visit the local web sites covering Glen Affric and Strathglass: glenaffric.info and glenaffric.org
Based in Glen Affric, Natural High Guiding can offer walking, mountain biking, archery, bike hire for individuals, groups and corporate events.
The Glen Affric Duathlon usually takes place in May.
Local accommodation in Glen Affric includes Shenval - an organic Bed & Breakfast where your French-speaking hosts are a toy maker and photographer, and a handloom weaver. Situated between Drumnadrochit and Cannich.
Westward Bed and Breakfast is a family run B&B in a beautiful Victorian Highland house where the comfortable rooms retain their pine linings and the guest lounge has an antique solid fuel stove.
The Slaters Arms in Cannich offers good food and drink with WiFi access, plus self catering accommodation in timber cabins. Tel: 01456 415215. Cannich is situated midway between Drumnadrochit (13 miles) and Beauly (15 miles) on the A831 road.

From Cannich, you can cut across country to Beauly via the back road.

Between Cannich & Tomich, Kerrow House (once home to the famous author Neil Gunn) offers B&B and has various self catering accommodation in the grounds.
Tomich Holidays on Guisachan Farm offer a variety of self catering properties.

Highland Trekking and Trail Riding at Cougie, Tomich, Cannich (Glen Affric) offers rides for all abilities. Tea hut and picnic area. Hens, ducks, rabbits & guinea pigs to feed. Guided walks, boating and fishing. Long distance trekking by arrangement. Tel: 01456 415 323.

GLEN ORD DISTILLERY
Located by Muir of Ord, between Beauly and Dingwall. Open all year. The last guided tour is 1 hour before closing time. Shop, exhibition, guided tour (admission charge). Tel: 01463 872004. Visit the Glenord web site.

The Black Isle Show take place each August at Mannsfield Showground, Muir of Ord (tel: 01463 870870). This is the largest agricultural show in the North of Scotland. It attracts over 2,000 cattle, horse and sheep entries, more than 300 trade stands and over 25,000 visitors to the show each year. There is plenty to see and do, craft fair, food fair, 'On the Farm' exhibition for the kids, agricultural stands, vintage rally and sheep shearing.

Fairburn Conference and Activity Centre offers multi-activities including archery, paintball, Lazertag, aerial runway, tree climbing, abseiling, ropes course, canoeing, raft building, mountain biking, orienteering, etc. Full day or half day sessions. Weekend packages for families, couples and groups with full board, accommodation and activities. Residential School Activity Weeks. Accommodation in ensuite bedrooms or bunk bed facilities for residential groups. Also available for birthday parties, team building, weddings, etc. Located 2 miles from Marybank and 6 miles west of Muir of Ord. Tel: 01997 433397.

Hillview Park B&B at the edge of Muir of Ord has 3 ensuite bedrooms. Contact Mrs Catherine Peterkin. Tel: 1463 870787.
Chestnut Villa B&B offers luxury Bed & Breakfast accommodation in Muir of Ord. It has 3 ensuite bedrooms, including a family room for 4 people. Contact Mrs Mina Keir. Tel: 01463 870587.

DINGWALL (11 miles north-west of Inverness)
Market town whose name originates from the Norse words "Thing vollr" or "Place of the Parliament". Attractions include the museum of local history, the memorial to novelist Neil Gunn and the monument to General Sir Hector MacDonald.
Leisure centre & pool, bowling club, tennis courts, campsite.
Dingwall has free public WiFi thanks to Highland Council. Log on with your social media details or by entering your email address.
Highland Farm Cafe is a newly built eco-cafe with local gifts and produce. Situated on the north side of Dingwall. Open daily. Tel: 01349 867 475.

Built in 2017, GlenWyvis Distillery (community-owned) has been constructed up on a hillside overlooking Dingwall. You can take a virtual tour via their website.

Overlooking Dingwall is 12th century Tulloch Castle - now a hotel with restaurant (and ghost!).
Just over 3 miles south-west of Dingwall lies the site of the now demolished Brahan Castle (private estate now with holiday cottages).

The Storehouse of Fowlis with restaurant and gift shop at Evanton (south of Dingwall) is open daily. Tel: 01349 830038.

Knockbain House offers top quality B&B accommodation on a 700-acre farm just 1 mile outside Dingwall. Evening meals by arrangement. Contact David & Denise Lockett - tel: 01349 862476.
STRATHPEFFER (15 miles north-west of Inverness)
Made popular by the Victorians who came to 'take the waters' from the 5 wells, the town is now visited by tourists and has a variety of B&Bs and hotels, and several shops.
Visit the Strathpeffer village web site for local info.
The original Pump Room now includes an exhibition with video and life size models, gift shop, tourist information, and treats by The Real Sweets & Gift Company. Open daily (closed Sunday/Monday in winter).
Overlooking the pretty town square, the Strathpeffer Pavilion has been restored and hosts a varied entertainment programme, concerts, conferences, exhibitions, weddings and other functions. It also has its own restaurant (RedPoppy).

Strathpeffer © The Internet Guide to Scotland

Castle Leod © The Internet Guide to Scotland

The other main visitor attraction is the Highland Museum of Childhood located in the old railway station.

Cycle hire available from Square Wheels (Tel: 01997 421000). There is a Community centre with fitness room and golfers may enjoy the Strathpeffer golf course. Trout fishing available.

Castle Leod is the seat of the chief of the Clan Mackenzie, the Earl of Cromartie. It can be seen from the roadside on the edge of Strathpeffer just after the Eagle Stone. Guided tours are usually given on certain scheduled afternoons from April to August (contact: 01997 421 264). Private tours of the castle are also available by appointment only. The castle can be hired for weddings. It is widely considered to be the inspiration behind Diana Gabaldon's Castle Leoch in Outlander.

You will see a strong contingent of Mackenzies at the annual Strathpeffer Highland Gathering on the second Saturday in August. For information about Mackenzie events in this area, click here.
The Community Centre hosts a Village Market (usually on the first and third Saturdays of each month) from 9.30am to 12.30pm, with stalls of local produce, arts and crafts. Tel: 01997 421989.

If you go in the field off Nutwood Lane, you'll find the Pictish carved Eagle Stone. Although it has been slightly moved from its original position, it is thought that the stone may have marked the territorial boundary between the 'eagle people' (who later became the clan Munro) and the 'deer people' (who became the Mackenzies).

Linnmhor House is a refurbished Edwardian villa with 3 bedrooms offering B&B accommodation in the village (contact Rona and Michael MacKenzie - tel: 01997 420072).


Eagle Stone © The Internet Guide to Scotland
There are many local walks including one to Knock Farrel (an Iron-Age vitrified fort) and the modern Touchstone Maze (81 stones representing different types of rock from Scotland).

Rogie Falls © The Internet Guide to Scotland

CONTIN
Picturesque village where accommodation includes Coul House Hote (built in 1821 as a shooting lodge for Sir George Stuart Mackenzie). Excellent meals including afternoon teas. The garden has a fantastic Fairy Trail.

Close to Contin are The Falls of Rogie - a waterfall with suspension bridge by the side of the road to Garve & Ullapool. There are several signposted forest walks here depending on which car park you reach first (whether you are driving from Inverness or from Ullapool). Picnic site and toilets.
From here you can drive westwards across country to Ullapool & Wester Ross.

Alternatively you can head north through Strathpeffer & Dingwall towards Tain (see below) and Sutherland & Caithness.

DALMORE DISTILLERY
Dalmore Distillery produces a refined Highland malt. The distillery is located half-way between Dingwall and Tain, just off the A9 and is on the shore of the Cromarty Firth overlooking the Black Isle. Visitors are very welcome. Guided tours are available Monday to Friday and the maximum group size is 12. No children under 9 years. To book a tour telephone the distillery direct at +44 (0) 1349 882362.

PORTMAHOMACK (just to the east of Tain)
The Portmahomack Initiative Group has a great web site at portmahomack.org
Archaeologists working here have discovered the first known Pictish monastery in the Highlands. Probably built in the 8th century, it may have housed 50 people. Over a hundred pieces of carved stone have been found. There is a carved stone featuring 4 clerics and 2 fighting lions, plus carvings of a cow, bull and calf. The team from the University of York have also uncovered items ranging from the 2nd to the 16th centuries. Beneath Tarbat Old Church in Portmahomack, over 400 skeletons have been found dating from the 7th century. Information about these is contained within the Tarbat Discovery Centre (telephone 01862 871 790). Opening times are as follows. Open 10am - 5pm Monday to Saturday from Easter to September, plus Sunday afternoons June to September. Also open daily in October - afternoons only. Group visits at other times can be booked by appointment. Admission charge (free for children under 12). For detailed online info about the archaeology of this site, visit the pages by York University.


Portmahomack harbour © Elifranssens | Dreamstime.com

For B&B accommodation in Portmahomack, visit Wentworth House, a former manse set in 2 acres, situated on golf course next to the Pictish archaeological site and only 2 minutes from the beach. Contact Monica Elliott (phone 01862 871897).

SEABOARD VILLAGES
Explore these villages (Shandwick, Balintore and Hilton) along the Easter Ross coastline and follow the Sculpture Trail. There are 5 works of art celebrating Fishing, Faith, Fortitude, Folklore and the Four Corners of the Earth. This includes the Mermaid of the North which sits on a rock known as Clach Dubh (black rock in Gaelic) by the shore in Balintore. Originally made from wood and resin by Steve Hayward from Hilton in 2007, but damaged by a storm in 2012 and replaced with a bronze cast model.
The Seaboard Centre in Balintore has a cafe (open Tuesday to Saturday) and local info (tel: 01862 832 888). Annual events include the Seaboard Gala (July) and the Fisherfolk Festival (June).

Explore the Easter Ross Peninsula (local community website).

TAIN
Scotland's oldest royal burgh (with a charter dating from 1066) has many historic buildings including the acclaimed Tain Through Time Visitor Centre. In addition to the town's numerous shops and restaurants, other places to visit include Tain Silver and Tain Pottery.
MounTAIN Bikes Shop (tel: 01862 892 133)
Annual events include the Tain Gala and the Tain Highland Gathering.
For detailed local information visit the Tain community web site.
Tain has free public WiFi thanks to Highland Council. Log on with your social media details or by entering your email address.

While in the area, you may wish to visit Glenmorangie Distillery and Tain golf course (famously designed by Tom Morris).
Local accommodation includes Hamilton Cottage which offers self catering accommodation for 2 on a working farm 5 miles south of Tain (tel: 01862 863007).

External Links to Local Info
www.black-isle.info
Alness.com
Continue northwards to Dornoch on your journey into Sutherland & Caithness

Hotel Accommodation

Tulloch Castle Hotel

Tulloch Castle dates from the 12th century
and was home of the Chiefs of Clan Davidson.
Situated on the edge of the market town of Dingwall.
Breathtaking views. 15 miles north of Inverness.
4 Stars. .

Elegant candlelit restaurant. Whisky bar.
'Green Lady' ghost. Secret passage, dungeons, etc.
Reception hall with ornate ceiling, wood panelling, log fire.

Choice of 20 en-suite bedrooms (single, double, twin),
each with its own unique charm and character.
Many bedrooms have views over Dingwall & the Black Isle.
B&B prices from £65 per room.
Click here for online booking

Black Isle B&B Accommodation

Mrs Catherine Peterkin
Hillview Park
Muir Of Ord IV6 7TU
Tel: +44 (0)1463 870787
Email: Hillviewpark@aol.com

Spacious modern bungalow with lovely countryside views.
Family home with very warm Highland welcome.
Located on the edge of Muir Of Ord.
Close to the Glen Ord Distillery
12 miles west of Inverness.
1 mile north of Beauly. 10 miles from Strathpeffer.
15 miles from Drumadrochit & Loch Ness.
Ideal for touring. 4 Star quality.

3 bedrooms: 1 4-poster double, 1 twin, 1 family room.
All with ensuite bathroom, TV, hairdryer, hospitality tray.
Choice of full Scottish breakfast or continental menu.
All rooms are on the ground floor (no stairs to climb!).
Wi-fi Internet access.

B&B prices from £30 per person per night.
Plenty of off road parking. No smoking.
Instant online booking.

Pierre and Christiane Lebrun
Shenval B&B
Glenurquhart
Inverness-shire IV63 6TW
Tel / Fax: +44 (0)1456 476363
Email: info@shenval-welcome.co.uk

Friendly organic B&B with French/Spanish speaking hosts
with over 35 years B&B experience and a very strong ecotourism commitment.
Recommended by TripAdvisor, Le Guide du Routard,
La GuŪa del Trotamundos, Trotter-Schottland, Routard-Scozia.
TripAdvisor 2015 Service Excellence Winner.
TripAdvisor Certificate of Excellence 2016, 2017, 2018, 2019.

Situated in the quiet hamlet of Shenval surrounded by hills & forest.
Between Loch Ness (7 miles) and Glen Affric National Nature Reserve,
on The Affric Kintail Way.
30 minutes walk from the Corrimony prehistoric chambered cairn.
Cannich 5 miles. Beauly 15 miles. Inverness 22 miles.
Walkers, cyclists and bikers welcome.
Keen hillwalkers themselves, hosts can advise
on walks, bike trips, sightseeing, etc.

2 bedrooms (1 twin & 1 double) overlooking the garden.
Each with washbasin, shaver point, hospitality tray.
1 double with en suite shower room.
1 twin with private bathroom with bath & shower.
Hairdryers available. Free WIFI.
Sitting room with books, leaflets, maps, games.
Secure storage for bikes. Drying facilities for boots/gear.

Dining room overlooks the organic garden
which features a wide variety of wildlife,
plus the remnants of a prehistoric hut circle.

Organic home cooking a speciality with
seasonal fruit and vegetables from the garden
served along with Fairtrade food & drinks
and locally-sourced organic vegetables.
Vegetarian and special diets catered for.

2021-22 B&B prices £40 per person (2 sharing).
Single occupancy £70
No smoking. No pets.

Mrs Cathie MacLennan
Roadside Croft B&B
Wester Muckernich
Roadside Killearnan
Muir of Ord IV6 7SE
Tel: +44 (0)1349 861222
Email: cathie@roadsidecroft.co.uk

Genuine, friendly welcome at this family home.
Home baking on arrival. Baby sitting service available if required.
4 Star quality.

Set on a working farm alongside the A835 road towards to Ullapool.
Ideal touring base. Located 8 miles north of Inverness.
Muir of Ord 5 miles. Dingwall 7 miles. Beauly 8 miles.
Strathpeffer 12 miles. Culloden Battlefield 12 miles.

1 double bedroom with ensuite shower.
1 twin bedroom with private bathroom.
Bedrooms have TV, DVD player, hairdryer, tea/coffee.
Free WiFi access.
Hearty traditional Scottish breakfast.
Spacious lounge. Ample parking.

B&B prices from £30 per person (2 sharing)
Single occupancy from £35 per person.
Links