Suggested Itineraries for your vacation in Scotland
Ideas for routes to help you plan your trip
A general map of the country is given at the bottom of this page.
For travel and transport details on specific places,
see the appropriate regional pages.
Self-Drive Tours - Tour Guides - Coach Tour - Transport Tips
Here are a few suggestions I have put together for people who have limited time in Scotland and want to see as much as they can on a touring holiday. There are so many things to do and see in the country that unless you come for a year you will never see them all. I spent 14 weeks from May to September in 1993 travelling around just the Highlands and Islands and I probably only covered a fifth of the country. (If you want to read about my trip and also other people's experiences, then check out the Travellers' Tales section.)

Scotland is a wonderful country with a lot of variety to offer. It deserves as much time as you can possibly afford. There's always the temptation to try and rush to cram everything in, but this is a country which is best appreciated at a slow pace, especially in the islands. After your first trip to Scotland you will probably fall in love with the place and with any luck you will be able to visit again, so please don't try to do too much in one go, give yourselves the opportunity to slowly savour every moment. Once you have fallen under its spell, it will draw you back to its shores time after time.

Looping the country

One of the routes I suggest that people can think about takes them on a loop around Scotland heading up the central and eastern parts, then coming down the west coast. It gives a little taste of different scenery and places to visit.

Starting from Edinburgh, take the main A9 road up through Perth. There are lots of detours you can make - for example Saint Andrews and Scone Palace. The heart of Perthshire's countryside is well worth exploring if you have the time. Continuing up the main A9 you will pass Blair Castle before reaching the Highlands. There is lots to see and do around Kingussie and Aviemore (read my pages on the Cairngorm region for details).

A great base for at least a couple of nights is the Highland Capital - Inverness from where you can explore lots of places in the area including Loch Ness (of course!) and Cawdor Castle.
Nor'West Tours specialise in daily minibus tours from Inverness - great value for money. Escorted and unescorted tours to Orkney also available.

Not to be ignored is the Aberdeen and Grampian region of north-east Scotland famous for its Castle Trail and Whisky Trail, plus a wide distribution of standing stones.

If you have time, you might like to venture up in the far north of Scotland into Caithness and Sutherland which are unique wilderness areas of spectacular and varied scenery. Highly recommended if you love mountains and the great outdoors.

For a cultural experience, go to Orkney which lies just a few miles off the north-east tip of mainland Scotland and is truly rich in history. You could easily spend a week or more here and still only get a glimpse of its monuments, wildlife and scenery. There are lots of islands in the group which you can explore or just stick to the main one. If you don't have much time, you can go on a summer day trip on the coach from Inverness or John O'Groats. For a personal guided tour of the unique ancient monuments and scenery, contact GO-ORKNEY.

After exploring the Inverness region, you can cut across the country by taking the A87 from Loch Ness, heading past Loch Cluanie and into Kintail. Here you will see the picturesque Eilean Donan Castle at Dornie. A few miles down the road you reach Kyle of Lochalsh. If you have time carry on a bit further and visit the village of Plockton used in the TV series Hamish Macbeth.

From Kyle of Lochalsh you can cross the bridge over the sea to Skye (alternatively you can get a small ferry from Glenelg - you will see the signs to get there on your way to Eilean Donan). The Isle of Skye is well known for its mountains and castles. It will give you a good taste of the Hebrides.

From Skye you can take the ferry over to the beautiful Western Isles. These really deserve 2 weeks of your time and are a whole trip in themselves to visit Harris, Lewis, the Uists and Barra. If you do have the opportunity and money to see them, please try and spend at least 4 days there to do them justice. You can get a day trip from Skye on the ferry and coach which will give you a glimpse of the islands' magic. If you don't get to stay there on your first trip to Scotland, with any luck you will be so impressed by the places you do see that you will plan another trip and then include the Western Isles. They are a real 'get away from it all' destination and my favourite part of the country (but then my family came from here so I would say that wouldn't I?!). You can return to the mainland either via Skye or on the Lochboisdale ferry to Oban or from Stornoway over to Ullapool.

If you only have a short time available, then after visiting Skye, you can get the ferry from Armadale in the south of the island over to Mallaig on the mainland. From there you can get a boat trip to the Small Isles of Eigg, Rum, Canna and Muck which is a great cruise. Mallaig is at the end of the Road to the Isles and as you travel back along it to Fort William you will see some spectacular scenery. The railway line which for the most part follows the road is known as one of the most scenic lines in Scotland.

If you have time there are of course lots of wonderful detours you can make - for example into the remote wilderness areas of Moidart (home to Castle Tioram) and Ardnamurchan.

But if time doesn't allow for this, you will be heading straight into Fort William home of Scotland's highest mountain - Ben Nevis. Heading south, make sure you visit the beautiful hills of Glen Coe near Ballachulish. From here you have two choices. Ether head inland and down through the Trossachs back to Glasgow or Edinburgh. Alternatively keep to the coast and drive down to Oban. From there you can explore the wondrous isles of Mull and Iona - this can be done on a coach trip if you want to experience in a day a taste of what they are like (remember to add them to your list of places to see on your next visit to Scotland!) Fingal's Cave is another excursion you can take from Mull and Iona.

For those of you who have the time, you might like to explore Argyll and Kilmartin before heading back to Glasgow or Edinburgh.
Don't forget, there's lots more to see in Scotland and this is just a glimpse of what is on offer.
Haste ye back!
Self-Drive Tours - Tour Guides - Transport Tips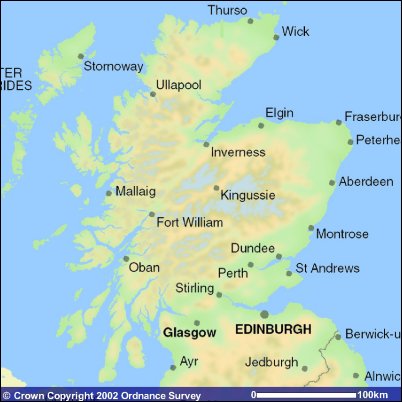 Image produced from the Ordnance Survey Get-a-map service.
Image reproduced with kind permission of Ordnance Survey
and Ordnance Survey of Northern Ireland.