Inverness Travel & Transport
Flights - Trains - Bus - Bike Hire - Taxi Tours - Weather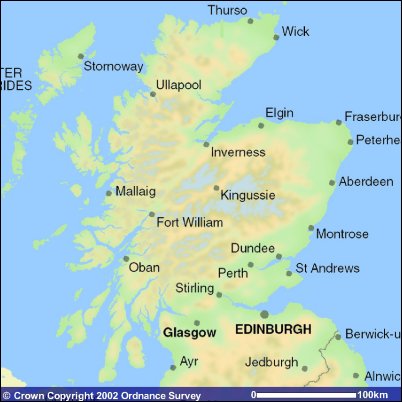 Image produced from the Ordnance Survey Get-a-map service.
Image reproduced with kind permission of Ordnance Survey
and Ordnance Survey of Northern Ireland.
Rabbie's Tours Of Scotland offers a wide selection of guided trips from Inverness using 16-passenger mini-coaches.
Visit Loch Ness, Outlander locations, Culloden Battlefield, Skye and Eilean Donan Castle on day tours from Inverness.
3-day tours also available to Orkney, the Outer Hebrides and the North Coast 500.

By air:
Invernes Airport is 8 miles east of the city. Taxis and car hire are available at the airport. Wireless Internet access. Stagecoach bus number 11 is a dedicated shuttle bus service between Inverness city centre and Inverness airport and Nairn.
The following airlines offer regular scheduled flights to other airports in the UK and Europe:

Destinations include London Heathrow, London Gatwick, Bristol, Birmingham, Manchester, Newcastle, Belfast City, Dublin, as well as Benbecula, Kirkwall (Orkney), Stornoway, Sumburgh (Shetland).

There are also flights to/from Amsterdam and Jersey.

By train:
Scotrail operates the 4 lines from Inverness railway station:

Savings within Scotland can be made with TravelPass & Rover tickets. For example the Highland Rover allows 4 days unlimited travel out of 8 consecutive days on Highland rail lines plus the Inverness-Fort William-Oban Citylink bus service. The Freedom of Scotland Travelpass allowing unlimited travel throughout the country on trains plus Cal Mac ferries and some bus services is available for 4 days travel out of 8 consecutive days (or for 8 days out of 15). For more details and prices see the special tickets page on the Scotrail web site. The Highland Caledonian Sleeper train operates from London to Inverness.

For further details about UK trains, visit trainline for timetables and online booking.

By Bus and Coach:

Click here for Day trips from Inverness by coach to surrounding areas (Loch Ness, Skye, etc.).

For day trips to Inverness & area from Edinburgh by coach - click here.

Megabus is a budget bus service operating between Edinburgh, Glasgow, Dundee, Perth, Aberdeen and Inverness. Departures from Inverness bus station. MegabusGold services offer free Wifi and complimentary refreshments, as well as bunks on overnight sleepers.

The Scottish Citylink coach network operates the main routes between Inverness and other towns/cities in Scotland (e.g. Fort Augustus, Fort William, Oban, Skye, Ullapool, Wick, Aberdeen, Perth, Edinburgh, Glasgow, etc.). Departures from Inverness bus station. You may be able to benefit from the Explorer Pass which offers for unlimited travel between certain dates. Discount tickets (Smart Cards) are available for travellers over 50 and for students aged 16-25.

Stagecoach Buses operate on local routes (e.g. Inverness city centre, Strathpeffer, Beauly, Cromarty, Dingwall, etc.). These timeables can be obtained from Inverness bus station or consult travelinescotland.com

Mileages by road:

To calculate driving distances and routes from A to B, use the RAC route planner.

Vehicle rental

Campervans / Motorhomes

Personal Driver-Guide Services:

Click here for more private tour guides who operate from Inverness and the Highlands.

Taxi / Chauffeur / Limousine / Wedding Car Services:

Motorbikes:

Cycle Hire:

Cruises / Boat trips:
Click here

More about Inverness:
Inverness Sightseeing - Tours & Activities - Events
Inverness B&Bs - Inverness & Loch Ness self catering accommodation
Inverness Area Sightseeing Guide (Loch Ness, castles, etc.)
Loch Ness B&B accommodation - Loch Ness Hotels