Isle of Arran: Accommodation & Sightseeing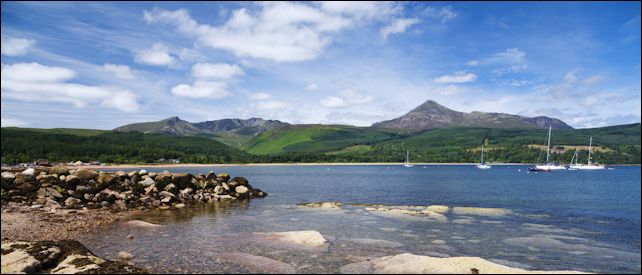 Brodick Bay & Goatfell © David Woods | Fotolia.com
TOP 5 THINGS TO DO ON THE ISLE OF ARRAN
Here are just some of the things to see and do on the Isle of Arran:
History - Machrie Moor standing stones & Castles
Wildlife - birds, seals and deer
Food and Drink - lots of local & gourmet products
Outdoor Activities - such as hill walking, tennis, sailing, pony trekking, bowling, cycling, and 7 golf courses!
Varied scenery - something for everyone
Arran is very compact with its circular coastal road and there is easy access from the mainland by ferry.

Photo copyright The Internet Guide to Scotland

Arran is a small island, 20 miles long and 56 miles round, located off the south-west coast of Scotland. Palm trees grow here in the mild climate thanks to the Gulf Stream and it has many picturesque villages.

The island is cut in half by the Highland Boundary Fault, a geological division which makes the north rugged and hilly, whereas the south is more gentle and lower lying. In fact it is often called 'Scotland in miniature' for its range and wealth of scenery. All this is within easy reach of Glasgow, making it an ideal holiday destination.

It has castles, ancient monuments, a whisky distillery, wildlife and lots of outdoor activities - something for everyone. Of the island's 4,600 inhabitants around 1,000 live in the main port Brodick (2011 census).

How to get to Arran
Two vehicle ferries run from the Scottish mainland to the Isle of Arran. Most people reach the island via Ardrossan which has a direct rail service from Glasgow.

These ferries are operated by Caledonian MacBrayne - telephone 08705 650000. The official Caledonian Macbrayne website lists the current timetables in detail.

Vehicle ferry: Ardrossan-Brodick
A large ferry leaves Ardrossan which is nearly 40 miles by road from Glasgow (allow 1 and a half hours to drive) or one hour by train. The boat takes you to Arran's main town Brodick. In the summer there are 5 or 6 daily sailings from Monday to Saturday and 4 sailings on Sundays. Fewer sailings operate over the winter (October - early April). Journey time: 55 minutes. The Caledonian MacBrayne brochure states that vehicle reservation is required but this might only be really necessary at peak times during the holidays.

Photo copyright The Internet Guide to Scotland

Vehicle ferry: Claonaig-Lochranza
A small vehicle ferry leaves Claonaig, a tiny spot on the Kintyre Peninsula (110 miles from Glasgow) and in 30 minutes takes you over to Lochranza on the northern tip of Arran. From late March - late October there are about 10 crossings every day, so you just turn up and hope to get on the next one. No vehicle reservations possible. You can get Early Bird Savers or Day Savers which work out slightly cheaper if you have a car and up to 4 passengers.
In addition, from late April to September Caledonian Macbrayne operates a summer ferry service from Ardrossan (Ayrshire) to Campbeltown. This calls at Brodick (Arran) on Saturdays only.


Image produced from the Ordnance Survey Get-a-map service.
Image reproduced with kind permission of Ordnance Survey and Ordnance Survey of Northern Ireland.

Guided Tours of Arran

Rabbie's offer award-winning 3-day guided tours to the Isle of Arran from Edinburgh or Glasgow in a 16 seat Mercedes minicoach. VisitScotland 5 Star tour operator. TripAdvisor Travellers' Choice 2018.
This tour includes 2 nights on Arran where you visit Brodick Castle, Isle of Arran Distillery and the Machrie Moor stone circles. The trip also explores Ayrshire (Culzean Castle and Robert Burns Country) where you get the ferry from Ardrossan. The return journey is via the Kintyre Peninsula and Loch Lomond.
You can join this 3-day trip to Arran from from Glasgow or from Edinburgh (click for details).

Travellers' Tips:

The island has an excellent local bus service operated from Brodick including the north circular route, the south circular route and a route across the middle along the so-called String Road. You can buy a day-ticket and hop on and off as many times as you like. Check local bus times with Strathclyde Transport - tel: 0141 332 7133 or Argyll and Bute Council - tel: 01546 604 695. Also see travelinescotland.com

Many of the islanders will pick up hitch-hikers and give you a lift.

Arran Motors operates a private hire taxi service - Mobile: 07967587481 / Tel: 01770700345 / Tel: 01770820286 (night).

Car hire is available from Arran Motors in Brodick - Tel: 01770 302 839 and in Whiting Bay - Tel: 01770 700345. Cars, people carriers and a motorhome.

Arran Tours offer tailor-made guided tours around Arran for small groups, as well as ferry transfer service, taxi, baggage forwarding for hikers. Tel: 01770 810294

Corrie Cabs - taxi service - mobile: 07517356985

My travellers' tips file may also be useful if you are planning a trip to Scotland. It covers airlines, national car hire, train information, accommodation web sites, etc.

Activities

The Isle of Arran Coastal Way follows a continuous 105-km (65 miles) path around the island which can be split into 7 different walks for day trips. Guide book available.


Goatfell © Matthew Hart | Dreamstime.com

Gemini Walks are specialists in self-guided walking holidays offering handpicked accommodation over 7 - 8 nights and reliable baggage transfer so you can do the full circle. Extra nights optional.

The seven golf courses of Arran:

The Arran Golf Pass is useful (tel 01770 860226) as it offers a discount when playing all 7 courses.

Bike hire is available from:

Arran Adventure Company (tel: 01770 302244) in Auchrannie Spa Resort, Auchrannie Road, Brodick (about 15 minutes walk from ferry terminal).
Arran Bike Hire have trail bikes to hire from The Shorehouse on Shore Road in Brodick (about 500 metres from the ferry terminal). Tel: 01770 302377 / Mobile: 07717 845755.
Brodick Cycles (tel: 01770 302 460) opposite the village hall.
Brodick Boathouse - putting green by the beach where you can hire bikes, boats and deck chairs (summer only) - tel: 01770 302868.
Mini Golf & Cycles - tel: 01770 302 272. Only 400 yards from Brodick pier.

A guide to cycle routes on the island is provided by the Arran Bike Club

The Arran Adventure Company offers a selection of outdoor activities for individuals or groups including climbing, abseiling, archery, gorge walking, mountain biking, sailing and sea kayaking expeditions. Bike hire and kayak hire available from their base in Brodick. Tel: 01770 302244.

Wild Walks on Arran is operated by qualified Mountain Leader Lucy Wallace. Guided walks (half a day or longer) for all abilities. Navigation skills courses also available.

Arran Power & Sail offer power boat trips (by RIB) from Brodick harbour. Tel: 01770 302377 / Mobile: 07717 845755.

Ocean Breeze RIB Tours offer powerboat tours around the Isle of Arran and the Firth of Clyde. Charters available. Tel: 01770 820275 / Mobile: 07771 463567.

Go Paragliding with Flying Fever Based in Kildonan. Tel: 01770 820292 / Mob: 07984356192.

Events for 2023
In addition those listed below, there are alsorts of other events taking place plus live music, etc. The local tourist office will have up-to-date details when you arrive. You can check the Events happening on Arran Facebook group for the latest and the What's on page on VisitArran.

Sightseeing
The following places can be accessed on a circular trip anticlockwise around the island.
BRODICK (on the east coast of Arran)
The name Brodick comes from the Norse words, meaning 'broad bay'. Arran means 'peaked island' in Gaelic.

The island's main town has lots of places where visitors can stay, eat and shop. You can buy fish and chips to eat on the beach, get a sandwich from the baker or buy food, drink and newspapers from the general store or the Co-op supermarket. There are also lots of hotels where you can get meals.
The Good Food Shop on Auchrannie Road sells home baking, vegetarian & health foods and has a cafe serving light meals. Open Tuesday to Saturday. Tel: 01770 302427.


Arriving in Brodick © luapeed | Fotolia.com

You can buy gifts, crafts, maps, books, cards, clothes and general hardware in various places in Brodick. You will find a branch of the Bank of Scotland here and a chemist (pharmacy), plus the main Post Office. Public telephones are located near the Post Office. Internet access is available in the library which is open Tuesdays, Thursdays, Fridays and Saturday mornings.
Also available are tennis courts, bowling green, putting green and mini-golf.
To see what Brodick looks like today, visit the Brodick webcam.


View from Brodick across the bay © S.R.Miller | Fotolia.com

Brodick's attractions include the Arran Heritage Museum (on the way to Rosaburn) which shows Arran as it was up to the 1920s, the castle and the golf course. Open daily April - October.

Seals can be spotted in Brodick Bay, not far from the main vehicle entrance to the castle and also from the Old Quay.

Also to be visited just north of Brodick is the visitor centre at Home Farm which contains ARRAN - Sense of Scotland (skincare products, fragrances, etc.) and Arran Cheese Shop.
For more foodie places, visit the web site for Taste of Arran.

Cladach Visitor Centre (just north of Brodick) includes the Wineport Bar and Bistro, Saltwater studio, Cladach Sawmill and Garden Centre, MacKenzie Leather workshop, Isle of Arran Brewery (with tours and shop), plus an entry point to Brodick Castle Gardens.
BRODICK CASTLE
This red sandstone castle nestles in dark trees at the foot of Goatfell mountain 1.5 miles out of Brodick.

The site has been occupied by a stronghold of some kind since the fifth century, when an ancient Irish tribe came over and founded the kingdom of Dalriada. It was probably destroyed and rebuilt many times during its turbulent history. In 1503 the castle and the Earldom of Arran were granted by James IV to his cousin, Lord Hamilton. That structure was demolished in 1544. Parts of the present castle date from the 1588 during the ownership of the 2nd Earl of Arran who was the guardian and regent of Queen Mary.
As the home of the Dukes of Hamilton, the castle was occupied by Cromwellian troops after the first Duke was executed during the Civil War in 1648 and the second died in battle just three years later.


Brodick Castle © David Woods | Fotolia.com
Brodick Castle eventually passed into the hands of Mary, Duchess of Montrose (daughter of the 12th Duke of Hamilton) who revitalised the gardens. Since her death in 1957 it has been owned by the National Trust for Scotland.

Inside are paintings, porcelain and furniture from the various owners. It is also home to the art collection of 18th century author William Beckford of Fonthill whose daughter married the 10th Duke of Hamilton. One of the rooms is known as 'Bruce's Room' but since the castle was all but destroyed in 1455 and 1544, it is unlikely that Robert the Bruce actually stayed in it.

The colourful gardens which feature lots of rhododendrons, include:

the walled garden,
the "Ice House" where they used to pack ice in the winter in a hole in the ground and then store it ready for the summer,
the Bavarian Summer House, a hexagonal wooden structure built in 1845 and decorated with elaborate arrangements of fir cones.

Once you are inside the castle grounds, you can also take advantage of several walking trails, including one leading up Goatfell mountain (874 metres) and another to the intriguingly named "Duchesses' Bathing Pool". There's an adventure playground for children.
The Arran Ranger Service covers the 600-acre estate and organises a variety of guided walks and events. There is a replica Bronze Age roundhouse. Tel: 0844 493 2154.

The castle is usually open daily from April to October, however renovation works in 2018 mean that only external tours are currently available. The castle itself will re-open in Easter 2019. The Country Park is open all year round every day from 9.30am until sunset. Telephone: 01770 302202. There's a licensed restaurant and souvenir shop. Wedding facilities available.
The National Trust for Scotland has more details.

Those without transport can either take the north circular bus which runs past the entrance or walk (part road and part footpath).

CORRIE (about 5 miles north of Brodick)
Heading north out of Brodick, this is the first village you reach. The Corrie Hotel serves good food. (tel: 01770 810273).
It is not advisable to venture into the local 'caves' as they are old limestone mines and unsafe. Just south of the village a track leads up to Goatfell.

SANNOX (about 7 miles north of Brodick)
A pretty village with palm trees, a very good beach and a 9-hole golf course (confusingly called the Corrie Golf Course). There are old barite mines in Glen Sannox above the village.

Popular area for hill walking. Two very good walks start from Sannox - one up Glen Sannox and down Glen Rosa, and the other round to Laggan Twine, the Cock of Arran, Lochranza, with a hitch back over the Boguillie.

North Sannox Pony Trekking - contact 01770 810 222.

Photo copyright The Internet Guide to Scotland

LOCHRANZA (14-15 miles north of Brodick)
This village on the northern tip of Arran is overlooked on several sides by hills where you may see deer. It features the picturesque ruins of a 14th century castle, a former hunting lodge of the Scottish Kings.
More photos of Lochranza Castle

There's a golf course, campsite, hotel, studio gallery, craft shop, post office.
The Lochranza Field Study and Activity Centre offers residential courses for school groups and families.
A small vehicle ferry (seasonally operated by CalMac) takes you from here over to Claonaig on the Kintyre Peninsula on the mainland opposite (journey time: 30 minutes).


Photo copyright The Internet Guide to Scotland

A whisky distillery opened by Lochcranza in 1995 - look out for the copper pagodas when you approach the village from the south. Guided tours daily between 10am and 6pm. Gift shop. Restaurant open throughout the day. Evening meals served from 7pm - 10pm (closed Monday evenings) - booking advisable. Reduced opening hours between 1 November and 31 March. Telephone 01770 830 264 or visit their web site for more details.

Photo copyright The Internet Guide to Scotland

CATACOL
The village of Catacol is home of the Twelve Apostles: a row of identical white cottages sitting on the seafront. The local hotel serves food.

WHITEFARLAND AND IMACHAR
These two places lie about halfway between Catacol and Machrie. Whitefarland has a very interesting graveyard on the left of the road, going south. Just south is Imachar, where the palm trees are really spectacular.
PIRNMILL
Picturesque small village overlooking the Kilbrannan Sound to the Kintyre Peninsula. 6 miles south of Lochranza. The village was named after a 19th century mill which produced bobbins from trees grown on the island and was powered by a waterwheel. Facilities include the Lighthouse Restaurant (tel: 01770 850240) and village shop/post office. Accommodation includes 4 star Clisham B&B (tel: 01770 850294) and Westview Cottage (self catering with 2 bedrooms).

MACHRIE BAY
The Machrie Bay Golf Course and Tearoom has a 9 hole golf course, a tennis court and a putting green. Tel: 01770 840 329.
MACHRIE MOOR STANDING STONES (on the west coast of Arran)
Not far from the road, a small ancient circle is protected by a stone wall. Continue on the footpath and you will reach the main site, three-quarters of a mile across the fields.

In 1993 I visited the two groups of small white boulders which lie to the right of the path, then further down on the left several beautifully mysterious tall, red stones. An information notice explains what little is known about them. Robert Pollock has produced an excellent guide with diagrams which details these and other circles on this site.
When I was there in May, I saw curlews.

At Auchencar Farm, Machrie, you can visit The Old Byre Showroom which sells a variety of Scottish knitwear, sheepskin rugs, tartan rugs, etc. The owners also have a holiday cottage to rent - check our their web site. Tel/Fax: 01770 840 227.


Photo copyright The Internet Guide to Scotland
BLACKWATERFOOT (on the west coast of Arran)
General store, bakery, butcher's shop, post office. Tennis courts, bowling green, Shiskine golf course, pony trekking. A leisure centre in the Kinloch Hotel including snooker, sauna, swimming pool, etc. is open to non-residents.
Self catering accommodation near Shiskine is provided at Hamilton Cottages.
| | |
| --- | --- |
| Photo copyright The Internet Guide to Scotland | The footpath to the King's Cave starts off parallel to the beach, then cuts through the golf course and along the hill top. Here is a standing stone, said to mark the grave of Fingal's daughter, and also the remains of an old fort. The path then leads down a steep cliff and across some rocks to the place where it is said that Robert the Bruce was inspired by the spider struggling up its thread. The other caves are known as his Kitchen, Cellar and Stable. Tradition says that they were also used by the legendary Fingal. Coincidentally, the cliffs have basaltic pillars which resemble those on Staffa (site of the famous Fingal's Cave). |
SLIDDERY
Near here is the start of the Ross Road which cuts across the island to Lamlash on the east coast. Part of this road runs almost alongside Sliddery Water. One theory about the derivation of the name Sliddery is that it comes from the Gaelic meaning 'field of slaughter' because it was here that a marauding band of Vikings met a sticky end, when they decided that Sliddery Water valley looked like a good place to settle. Nowadays the tiny hamlet sits on the hill above the estuary, about half a mile from the shore. A lane leads down to coastal meadows below the old cliff line and a fascinating pebble beach.

LAGG
There are various cairns here on either side of the river. You can reach one by a signposted forest footpath near the bridge which takes you along the riverbank towards the sea. Chambered cairns and a cumulus are to be found on the other side of the river.

Lagg Distillery
Opened to visitors in 2019, this new distillery at Kilmory near Lagg offers guided tours and tastings. Open daily from April to September. From October to March, the distillery is open Tuesday to Saturday. Tel: 01770 870565.

SHANNOCHIE
Alistair Hamilton recommends taking a look at Shannochie Post Office - a tiny end of a thatched house. He told me that the nearby Smithy is the highest house on the island. It has a bit missing in the middle, neatly removed by a bomb dropped by a passing aircraft during the war.
KILDONAN
Kildonan Castle, now in ruins, was used as the hunting seat of the Scottish Kings when Arran was a Crown property.
Offshore is the tiny island of Pladda around which you might see seals.

On a clear day you can see Ailsa Craig - a mountainous island set in the sea. Alistair Hamilton who grew up here told me that the coast of Ireland (the Antrim Plateau) can be seen from Kildonan, as can Sanda Island off Kintyre, which is locally known as Spoon Island due to the fact that it looks like a spoon lying in the water.


Pladda © Mille19 | Dreamstime.com

Glen Ashdale waterfall

WHITING BAY (8 miles south of Brodick)
Several walks start here. Look for the signposts to the Glen Ashdale waterfall and the Giants' Graves.

The village has several seaside-type shops (one of which boasts the island's only candy floss machine) and a nice tearoom where you can recuperate after climbing up the nearby hills. For meals, there are several hotels and a restaurant.
The Arran Art Gallery on Shore Road showcases many local artists (tel: 01770 700250)
COAST is a cafe/bistro on Shore Road (tel: 01770 700308).
Self catering accommodation is available in Strathconon Cottage.
Boats can be hired here and there are trips over to Holy Isle a couple of miles offshore.

Tennis court, putting green, golf course and bowling green.

LAMLASH (4 miles south of Brodick)
Ferry service over to Holy Isle in a small boat (every hour during the summer, phone 01770 600 998 or mobile 07860 235 086). Sea angling trips can also be arranged. Two hotels, grocers, bank. Tennis courts, bowling green, putting green, golf course.

Lilybank Guest House offers 4 star B&B accommodation on the shores of Lamlash Bay.

You can visit the factory shop of Arran Fine Foods (at Paterson Arran Kitchen Shop) at the old mill. They specialise in mustards, preserves, dips and marmalades. Tel: 01770 600 606.

The Arran Art Store in Lamlash sells professional and student quality art and craft supplies including childrens' fun kits. There is a gallery specialising in landscape paintings of the Island by a range of artists including Pat McDonald, David Aitcheson and Demay. This is a good place to find out about art exhibitions, classes and workshops running during your visit. Tel: 01770 600 627 / 07789 035 351

At the southern end of the bay is Kings Cross Point (the nearest point to Holy Isle) where it is said Robert the Bruce embarked for the mainland when he received the assumed signal from Turnberry.

HOLY ISLE
This small island lies a mile off the Arran coast and rises a thousand feet out of the sea. It was the site of an early Christian monastery, but today it is the home of a Buddhist retreat. In 1263 before the Battle of Largs, the Norse king Haakon anchored his fleet in Lamlash Bay. The cave of Saint Molaise has Viking inscriptions which may have been made by sailors at this time.


Holy Isle © S.R.Miller | Fotolia.com

Accommodation listings:

Self catering:

Bunkhouse accommodation:

The Lochranza Centre provides accommodation, activities and outdoor education for visiting school groups, youth organisations, families and other interest groups. Tel: 01770 830 637.
Kilmory Lodge Bunkhouse is a modern, 3 star comfortable bunkhouse with dorm rooms sleeping 3, 4, 8 and 8. Budget accommodation for up to 23 people. Extra meeting rooms and games hall / auditorium available. Please ask for details. Contact the Hall Manager, Kilmory Public Hall and Lodge, Kilmory, Isle of Arran, KA27 8PQ. Tel: 01770 870345 or 870292.

Youth Hostels (see the Scottish Youth Hostels Assocation site):

Lochranza - open February to December - 70 beds - telephone 01770 830631
Whiting Bay - open March to October - 60 beds - telephone 01770 700339

For camping - visit ScottishCamping.com

Glen Rosa Campsite (2 miles from Brodick). Basic facilities (toilets and sinks with cold water only, no showers and no electric). Tel: 01770 302 380. Not suitable for large motor homes. Limited space for camper vans.
Lochranza Caravan and Camping site (by Lochranza golf course) - telephone: 01770 830 273. Open April - October. Space for 60 touring caravans, motor caravans or tents.
Middleton Caravan and Camping Park (near Lamlash) - telephone: 01770 600251/600255. Open April - October. 60 pitches for motorhomes, caravans and tents.
Seal Shore Camping and Touring Site - next to the hotel in Kildonan (12 miles south of Brodick). 20 pitches. 4 star facilities. Open April - October. Tel: 01770 820320.

There are lots of hotels, bed and breakfasts, and guest houses on the island. Here's just a sample:

Useful Books and Maps
(As an Amazon Associate I earn from qualifying purchases)
The Isle of Arran
Written by Robert McLellan and Norman S. Newton, this is a lovely colour guide with over 100 pages of photos. It covers the local heritage and culture of Arran, wildlife and landscape, history, place names, places to visit, etc. Even if you don't get chance to buy it before you go, you will certainly want a copy for a souvenir when you have visited!
To order your copy from Amazon.co.uk click here (commission link)
Ayrshire and Arran Coastal Paths
This Coastal Paths book covers 150 miles which can be achieved with 7 days in Ayrshire and 4 days to walk around Arran. Public transport means you can tackle it as day walks or weekend trips. Includes lots of local info, wildlife, history, geology, accommodation, maps and great colour photos.
To order your copy from Amazon.co.uk click here (commission link)
Arran
Super photo book featuring colour photos by Allan Wright and commentary by Tony Bonning.
Paperback. 96 pages.
Order your copy from Amazon.co.uk (commission link)
The Arran Coastal Way
One of the Rucksack Readers spiral-bound guides printed on waterproof paper. Circular 65-miles walk with detailed route descriptions, info on local history & wildlife. Practical information about public transport. 75 colour photos.
To order your copy from Amazon.co.uk click here (commission link)
Walking on the Isle of Arran: Low Level Walks to High Mountain Routes
A selection of 45 one-day walks all over the island for all abilities.
To order your copy from Amazon.co.uk click here (commission link)
The Southern Hebrides and Arran (Island Walks)
Produced by famous island-hopper Hamish Haswell-Smith and Stephen Whitehorne.
A selection of 26 graded walks (easy to strenuous) on the following islands:
Arran - Islay - Jura - Colonsay and Oronsay - Kerrera - Lismore - Mull - Iona - Tiree - Coll - Bute - Gigha - Staffa
Paperback. 192 pages.
Available from Amazon UK and Amazon.com (commission link)

Explorer Map for the Isle of Arran
Produced by the Ordnance Survey which is useful if you will be hiking or backpacking as the scale is 2.5 inches to the mile (4 km to 1 cm).

Tourist Information Centres
The Pier
Brodick
Isle of Arran
Ayrshire and Arran Tourist Board official web site

Links to other related external sites:
VisitArran.com
Arran Art Trail
VisitArran.net
arransites.co.uk
The Isle of Arran Tourism Directory
Arran's Food Journey is a useful directory of places to eat on Arran and where to shop for local food and drink produce.
Arran Makers - directory of local art and craft businesses
ArranArt (local artwork, photos & crafts)
Photos of Arran by Colin Palmer
Arran Banner - local newspaper
Voice for Arran - local news
Arran Estate Agents - properties for sale
Arran Natural History Society
Arran Access Trust
Arran Gift Box - hampers with local produce
Free tourist map of Arran (downloadable PDF courtesy of The Oban Times)