The Cairngorm Area: Strathspey & Speyside
Grantown-on-Spey, Boat of Garten, Carrbridge, Aviemore, Kingussie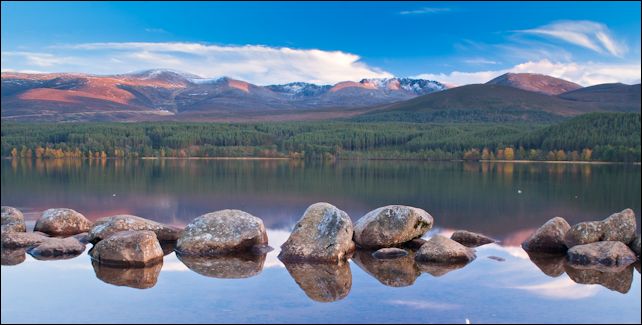 Loch Morlich & Cairngorm Mountains photo © John Braid - Fotolia.com
The main A9 road leading north from Perth to Inverness passes through the Grampian region dominated by the Cairngorm Mountains.

The Cairngorm area is the ideal place for outdoor activities. Apart from the mountains themselves, there's also the Glenmore Forest Park to explore, watersports on Loch Morlich and Loch Insh, plus fishing, skiing, cycling and golf.

The Cairngorm mountain range stretches for 50 miles with almost 50 peaks over 3000 feet and several others rising over 4000 feet high. The Cairngorm plateau is a vast featureless stoney desert which is a unique example in this country of a sub-arctic ecosystem (not the place to get lost on a misty day).

TOP 12 REASONS TO VISIT THE CAIRNGORMS & STRATHSPEY

Mountains - the Cairngorms National Park is an outdoor haven with many Munros
Wildlife - eagles, birds, deer, red squirrels, wildcats, etc.
Outdoor Activities - opportunities for hill walking, climbing, watersports, skiing, mountain biking, fishing and golf
Whisky - take a tour of one of the many whisky distilleries
Strathspey Steam Railway - take the steam train between the Boat of Garten and Aviemore
Highland Wildlife Park - see Hamish the polar bear and many other animals from tigers to monkeys
Cairngorm Reindeer Herd - unique in the Highlands
Highland Folk Museum - free admission to see how life was in the 18th century
Loch Morlich - loch with a beach in a magnificent setting
Dark Sky Park - see the stars without light pollution
Landmark Forest Adventure Park - keep the kids entertained and active for a whole day
Whisky distilleries galore!

The Cairngorms National Park was officially opened in 2003. Three of Scotland's best hill passes go through here leading to semi-permanent snow fields which can persist into the summer months, remnants of the ancient natural Caledonian Forest and features carved out by the last Ice Age. Thanks to sparse light pollution, the Glenlivet and Tomintoul area has been designated the most northerly Dark Sky Park in the world (and offers some of the darkest skies in the UK).

The Gaelic name for the Cairngorms is Am Monadh Ruadh (the Red Hills) due to the pink granite on the plateau. However the name Cairn Gorm means Blue Mountain as the peak apparently looks blue from a distance. Cairn Gorm itself is 1245 metres high (4084 feet) and can be easily visited on a fine day in summer.


Image produced from the Ordnance Survey Get-a-map service.
Image reproduced with kind permission of Ordnance Survey and Ordnance Survey of Northern Ireland.

Transport

Aviemore is about 30 miles south of Inverness on the main A9 road. Cross country roads can be taken west to Spean Bridge & Fort William and east to Nairn & Elgin.

Train
The main railway line from Edinburgh via Perth to Inverness has stations in the Cairngorm area at Dalwhinnie, Newtonmore, Kingussie, Aviemore and Carrbridge.
trainline is the official way to check timetables and book train tickets online.
Coach
Daily coaches operate between Inverness and Edinburgh with stops at various places in between such as Aviemore and Newtonmore. See the Citylink bus timetables online.
For day trips from Inverness by coach to surrounding areas - click here.
Plane
The nearest airport is 8 miles outside Inverness - see the Inverness transport page for details.

Aviemore Car & Van Hire have a variety of vehicles for hire - tel: 01479 811 700.

Car Hire

Focus offers vehicle hire from Aviemore - including 4x4, vans, minibus, etc. Tel: 01463 709517. Also available in Inverness (train station and airport).
Aviemore Car & Van Hire operates out of Station Square in Aviemore. Tel: 01479 811700.

Tours

Celia Ffitch-Stewart is a fully insured driver-guide with Mercedes limousine for your tailor-made guided tour. Based in Fortrose, near Inverness. She offers half day, full day or extended tours. Airport collection (Edinburgh, Aberdeen or Inverness). Services can include itinerary planning and accommodation reservations. Meet your clan chief, trace your roots, stay in a castle, tour the distilleries. Member of HOSTGA (Highlands of Scotland Tour Guide Association).

The North East 250 is a new circular tourist trail covering Speyside, the Cairngorms National Park, Royal Deeside, Aberdeen City & Shire, and the Moray Firth Coast. The circuit can start at Glenshee and encompasses both coastal and mountain scenery, as well as museums, castles, distilleries, and much more.

Outdoor Activities


There are lots of opportunities for skiing, rock and ice climbing, abseiling, mountain biking, etc. in the Cairngorms.

For outdoor enthusiasts in the area, visit the WalkHighlands page about Speyside and Aviemore walks.

CAIRNGORM MOUNTAIN
The road up Glen More past Loch Morlich leads to the Cairngorm Mountain resort where you can access a whole range of activities.
For those without transport, Stagecoach is running the Aviemore Adventurer 30 bus service from Aviemore to the mountain car park.
The Cairngorm Mountain Railway was opened in 2001 to replace the old chair lift. It is Scotland's only funicular railway and it is the highest in the UK (reaching 1,097m above sea level). At the top there is the Ptarmigan Restaurant with panoramic views, Gin Bar, viewing terrace, visitor exhibition and shop (but no access to the mountain summit itself).
The Cairngorm Mountain Bike Park has new trails for all levels of ability. Open 9.30am to 4.30pm. Half day or full day tickets. Bike hire available. Access via the Base Station at Cairngorm Mountain.
In winter, you can see the snow conditions via webcam and book ski passes via the CairnGorm Mountain web site (tel: 01479 861261).
The Mountain Tubing and Adventure Park for family fun is open every weekend and most days during the school holidays. Pre-booking is essential.


View from Cairn Gorm © Iain Frazer | Dreamstime.com

The Cairngorm Ranger Service offers all the information you need at the Ranger Base (located in the Mountain Railway Base Station). Guided walks are available from May to October. There are also numerous self-guided walking trails.
Weather
The weather can change quickly in mountain areas. Please take appropriate clothing, maps and equipment, tell someone where you are going and follow the advice of local people. Useful information available on the web includes:


Aviemore © Serg Zastavkin - Fotolia.com
Events for 2023:

Regular free evening talks on wildlife and nature at The Grant Arms, Grantown on Spey.

Badenoch & Strathspey Music Festival in Grantown on Spey is hoping to resume in spring 2024.

Sightseeing

CARRBRIDGE
(25 miles south of Inverness, 7 miles north of Aviemore)
This pretty village is 850 feet above sea level. It has a 9-hole golf course and a pony trekking centre. On Station Road there's a good art studio if you are interested in buying pottery or paintings. The famous picturesque bridge over the Dulnain River dates back to 1717. Carrbridge.com has further info.

The World Porridge Making Championships take place here every October.


© Gail Johnson - Fotolia.com
Here you will also find the Landmark Forest Adventure Park, offering a wide range of attractions and activities for all. You can easily spend a day here enjoying the Pinewood Nature Trail with its red squirrels feeding area, Tree Top Trail, Ant City adventure play area, Wild Watercoaster ride, Skydive 'parachute' jump , RopeworX and Tarzan Trail aerial challenge courses, Tropical Hot-House (butterflies, birds and exotic flowers), Pinnacle climbing wall, Wonderwood, Lost Labyrinth, Dinosaur Kingdom, Forest Tower, and the first Rollercoaster in the Highlands the 'Runaway Timber Train'.
Don't forget the world's first 'bamboozeleum' – a mind boggling collection of illusions, puzzles and strange visual effects. Mini jeeps, Mini Diggers and remote controlled trucks. Open all year. Family, weekly and whole season tickets available. Most areas are accessible by disabled visitors except the fire tower, Watercoaster, RopeworX, Tarzan Trail, Skydive.
There is also a family restaurant and Pinewood Grill serving takeaway food. Telephone 0800 731 3446.
Covid update: the park is open daily 10am-6pm but a few of the attractions are closed.

GRANTOWN-ON-SPEY
A planned town created by Sir James Grant of Grant in 1766. This is one of the most important centres in the area together with Aviemore. The Grantown Museum is open April to October (Monday - Saturday). As well as hosting exhibitions and a gift shop, it offers genealogy services and free WiFi, and also has the Tourist Information Point for this area (tel: 01479 870477).
The Grantown-on-Spey golf club welcomes visitors. Tel: 01479 872079.
Balmenach Distillery produces hand-crafted Carounn Gin. Guided tours and tastings available Monday - Friday. Advance booking essential. Tel: 01479 874933.

For more info about the town, visit the Grantown-on-Spey community web site.
Highland Games usually take place here on the last Saturday in August.
2015 saw the town's 250th anniverary with various celebrations with Grantown 250.

The Grantown East Highland Heritage and Cultural Centre opened in November 2018 (50 years after the railway line closed down in 1968). It includes restaurant (in 2 old carriages), gift shop, miniature steam railway and historic exhibitions.

From here you can drive the scenic route northwards 20 miles to Forres and Nairn which leads you past the entrance to Castle Grant, described by Queen Victoria as "a very plain-looking house, like a factory".

Just 14 miles from Grantown on the A95 is the very splendid Ballindalloch Castle. Home of the Macpherson-Grants since 1546. Due to Covid restrictions, the castle is currently closed (usually open Easter - September). Extensive grounds including the walled garden. Admission charge. Gift shop and tearoom. Tel: 01807 500 205.
Also on the estate is the Ballindalloch Distillery which is closed for 2020.
Ballindalloch Golf course (9 holes) is open on a Pay and Play basis.
Near there is Speyside Pottery which is open from April to October, daily 10am - 5pm (or by arrangement).

LOCHINDORB CASTLE
Lochindorb Castle is located on the bleak Dava Moor (6.5 miles north-west of Grantown-on-Spey off the road heading towards Forres). It sits on a partly man-made island in this remote loch, and is not accessible by public transport, so you will need a car or bike to get here - and then of course a boat if you want to go across! The best time to visit is when the heather is in bloom and the moor is a carpet of purple.

Lochindorb comes from the Gaelic meaning 'Loch of Trouble' and the castle has certainly had its fair share of that! Dating back to the 13th century, it was originally held by the Comyns, but later occupied by the English and was visited by Edward I in 1303 when he stayed here for 9 days, hunting out on the moor. Later it was used as a prison and also a garrison for English troops. At the end of the 14th century, it was gifted by Robert II to his third son, the notorious Wolf of Badenoch, Alexander Stewart, who rampaged around quite a bit of the local area. Lochindorb was said to be his favourite haunt. See historical details in the RCAHMS file.

When the Scottish Privy Council instructed the Thane of Cawdor to dismantle Lochindorb after it had been forfeited by the Earl of Moray in around 1455, the huge iron yett was transported to Cawdor Castle and can now be seen in the bowels of the building.

Although now in ruins, the castle was still in fairly good condition up until the end of the 18th century when its four 7-metre high round towers were intact. The main quadrangular courtyard is 48 x 38 metres in dimensions and is enclosed by a 2-metre thick wall which stands 6 metres high. A later extension to the south was made probably to give the island extra protection from assault. Apparently it was bought by the Cawdor Campbells in the 1970s.

SPEYSIDE HEATHER
Halfway between Grantown-on-Spey and the Boat of Garten is the multi-award winning Speyside Heather Garden and Visitor Centre at Skye of Curr, Dulnain Bridge. See over 300 varieties of heather in the garden, visit the exhibition on the many uses of the plant, buy some to take home, shop for crafts, jewellery, clothes, garden produce. Restaurant (the famous Scottish Clootie Dumpling pudding is a speciality here). Open daily all year (except Christmas Day). Reduced opening hours during the winter.
Damaged by fire in 2016 but still open to visitors. Telephone 01479 851 359.

BOAT OF GARTEN
Before the bridge that now crosses the River Spey, a ferry used to take people across the water - hence the name Boat of Garten. The Boat of Garten golf course, established in 1898, includes a bar, restaurant, shop, practice net and tennis courts (tel: 01479 831282).

Boat of Garten is proud of its recent title as 'Osprey Village' thanks to the stunning birds at Loch Garten where you can use the viewing hide provided by the RSPB (Royal Society for the Protection of Birds). Open daily during the summer. There is also an osprey webcam.

There are lots of activities and guided walks during the year. The Boat of Garten Winter Festival is at the end of December. It offers a wide range of concerts, activities and a Hogmanay ceilidh.
Boatofgarten.com has further info about this and the local area.

Whether you are looking for food or accommodation, visit The Boat Hotel. It has a lounge bar, public bar and award-winning restaurant. It was built in Victorian times as the station hotel for the Strathspey Railway and still retains much of its original character.
STRATHSPEY STEAM RAILWAY
The Strathspey Steam Railway runs between the Boat of Garten and Aviemore, which an extension to Broomhill ('Glenbogle' in the BBC TV series Monarch of the Glen). Morning coffee, afternoon tea and lunch can be taken on the train. Special Sunday lunch trips also available. Booking is advisable. Closed November - April (except for some holiday specials including Christmas). Telephone 01479 810725 or freephone 0800 085 7273. Timetables and details of special events on their web site.


© John Braid | Dreamstime.com
SPEYSIDE
Check out The Speyside Way which stretches from the coast at Buckie inland to Kincraig near Aviemore. There are 2 offshoots to Dufftown and Tomintoul.

For Speyside distillery listings, visit scotchwhisky.net

AVIEMORE (32 miles south of Inverness on the A9)
Extremely popular mountain resort with many facilities and lots of all-year round activities: winter skiing, dry-ski slope, theatre, Highland Cattle and deer farm, reindeer centre. Bike hire available from several places on Grampian Road. The town is situated on the main road and main railway line between Edinburgh/Perth and Inverness and also has a direct coach service.
Aviemore has free public WiFi thanks to Highland Council. Log on with your social media details or by entering your email address.
Aviemore has its own web site which has all the details.

Local events here include the following. Torchlight procession through the streets on Christmas Eve. Sled dog rally with over 250 teams competing in various races takes place in late January each year in the Glenmore Forest Park (organised by the Siberian Husky Club of Great Britain). The Aviemore Highland Half Marathon is in October.

Known as the secret distillery in Kingussie, picturesque Speyside Distillery is only open to visitors on pre-organised tours, but in June 2018 it opened The Snug at the Aviemore Retail Park. This new visitor centre features the SPEY and Beinn Dubh single malt Scotch whisky brands, plus Byron's Gin. Tel: 01540 661716

The Aviemore Gallery is 1 mile out of town on the road to Loch Morlich. Artwork, crafts, gifts, coffee shop. Tel: 01479 811987.

Alvie & Dalraddy Estates (3 miles south of Aviemore) can offer fishing, horse riding, quad bike treks, clay pigeon shooting, archery, deer stalking, grouse, hare & rough shooting, etc. Accommodation, farm shop and estate tours also available. Tel: 01540 651255.

Just south of Aviemore on the B970 past the fish farm is the Rothiemurchus Visitor Centre at Inverdruie. Coffee shop, picnic areas, toilets, etc. Open daily 9am-5.30pm throughout the year. Many activities available including bike hire, clay pigeon shooting, quad biking, fishing, birdwatching, pony trekking, archery, falconry displays, Land Rover tours of the estate. Booking essential. Free self guided walks are also an option.
The Rothiemurchus Estate also looks after Loch an Eilein (loch with tiny island which is home to the ruins of a castle). Car parking charges apply.


Loch an Eilean Castle photo © John Braid - Fotolia.com

The Cairngorm Gliding Club operates from Blackmill Airstrip, Feshie Bridge, 7 miles south of Aviemore.

Robert Pollock's guide to standing stones and cairns in North and North-East Scotland includes those at Avielochan and Delfour which are located north and south of Aviemore respectively.


Glen Avon photo © Stephen Finn - Fotolia.com

CAIRNGORM REINDEER HERD
Take the B970 road out of Aviemore and then continue east for 6 miles (heading towards the chairlift). The Reindeer Centre is situated in the Glenmore Forest. Guided visits on foot take you right to the herd and you can touch the reindeer. These leave at 11am every day (and also 2.30pm in summer). At other times of the day you can probably see other reindeer around the centre. Exhibition and shop. Open all year. Admission charge. Telephone 01479 861 228.

INSCHRIACH ALPINE PLANT NURSERY
Scotland's premier Alpine Plant Nursery is located 4 miles south of Aviemore on the B970. It is open to visitors from 9am - 5pm daily from mid February to mid November. Walk around the gardens and purchase some of the thousands of plants on display. Mail order catalogues available. More details online... Tel: 01540 651287. Holiday cottages also available.
LOCH MORLICH
10 minutes outside Aviemore.
Loch Morlich Watersports offers equipment hire, lessons, activity days and a range of courses. Take part in sailing, windsurfing, canoeing, kayaking, mountain biking and more. Award-winning beach around the loch.
Boathouse with changing rooms, toilets, lockers, etc. Cafe with balcony overlooking the loch. Tel: 01479 861 221.
Walks and mountain bike trails in Glenmore Forest Park (visitor centre with cafe). Campsite - telephone 01479 861271.
| | |
| --- | --- |
| © The Internet Guide to Scotland 2016 | © The Internet Guide to Scotland 2016 |
HIGHLAND WILDLIFE PARK
Located at Kincraig almost halfway between Aviemore and Kingussie. The park opens every day (weather permitting) at 10am. Last entry is 1 hour before closing time. April - October 5pm, June - August 6pm, November - March 4pm.
Covid update: pre-booking essential.
Owned by the Royal Zoological Society of Scotland. Includes a large drive-through reserve where you can see red deer, bison, wild horses, Highland cattle and ancient breeds of sheep. You can walk around the rest of the park (disabled access is possible) and see alsorts of creatures including red squirrels, pine martens, capercaillie, owls, wolves, reindeer, snow monkeys, camels, polar bear, lynx, snow leopard and Amur tigers. Cafeteria, gift shop, picnic area. Tel: 01540 651 270. Web site
| | |
| --- | --- |
| © The Internet Guide to Scotland 2016 | © The Internet Guide to Scotland 2016 |
LEALT WORKING SHEEPDOGS
Leault Farm at Kincraig offers a 45-minute demonstration where you can see up to 8 dogs working as a team manoeuvring sheep and ducks through various obstacles. Sheepdog demonstrations are at 4pm each day (except Saturday) from May through to October. Contact Neil Ross. Tel: 01540 651402.

KINGUSSIE (12 miles south of Aviemore and 54 miles north of Pitlochry)
The name Kingussie (pronounced King - you - sie) comes from the Gaelic equivalent of "the end of the pine wood". Located 764 feet above sea level, this is an excellent walking area. There's also a golf course.
The town has a variety of shops for groceries, gifts, etc. plus a bank, chemist, laundrette, garage, sports hall, and the Iona Gallery.

Visit the Kingussie community web site for more local information.


Ruthven Barracks © John Braid - Fotolia.com

When approaching Kingussie along the A9 from the south, you can see the impressive ruins of Ruthven Barracks to the right of the road. Built in 1719, the barracks were destroyed by the Jacobites in 1746 and are now in the care of Historic Environment Scotland. Ruthven means 'the red place'.

NEWTONMORE
Visit the official Newtonmore web site - it has absolutely everything you need to know about the town and its area. The Newtonmore Highland Games and Clan MacPherson Rally take place in August.

HIGHLAND FOLK MUSEUM
This award-winning museum is well worth a visit (not just because it's free!). The 80-acre site in Newtonmore features a wide variety of traditional buildings. Travel in time from the early 18th century Highland township to the mid-20th century working croft. Many live demonstrations can be seen in July and August featuring things such as spinning, lace-making, dyeing, weaving, pottery, blacksmith skills and music. Open daily (10.30am - 5.30pm) from 1 April to 31 August. Open daily (11.00am – 4.30pm) from 1 September to 31 October. Admission free (donations welcome). Tel: 01540 673551. Picnic area, gift shop and toilets. Visit the museum web site for full details, maps and video.

ARDVERIKIE CASTLE
If you watched the BBC TV series 'Monarch of the Glen', you may know that 'Glenbogle House' is in fact Ardverikie Castle on the shores of Loch Laggan, between Newtonmore and Spean Bridge. Please note that it is not open to the public, but self catering accommodation is available on 3 properties on the estate.
In July 2019 filming took place here for the 25th James Bond movie.
For info about the area visit the Laggan community web site.


Loch Laggan © Louise McGilviray - Fotolia.com

WHISKY DISTILLERIES:

Featured Accommodation:
Hotels

Sonia and William Marshall
Culdearn House
Woodlands Terrace
Grantown on Spey PH26 3JU
Tel: +44 (0)1479 872106
Email: enquiries@culdearn.com
Culdearn House

Formerly the country home of the Earl of Seafield's family.
Scottish Tourist Board 4 Star Small Hotel
in the heart of the Spey Valley.
Renowned for its warm hospitality.
Ideally situated by the River Spey for salmon fishing.
The hotel is also on the Speyside Way walking trail.
13 miles from Aviemore. 35 miles south of Inverness.

Personally run hotel with intimate atmosphere.
Ideal for romantic breaks or special celebrations.
Recommended in The Good Hotel Guide 2022.
Editor's choice for Fishing Hotel 2016, 2017 2019.
Good Hotel Guide Cesar award.
Scottish Field Top 10 Scottish Hotels for Whisky Lovers.
AA 'Notable Wine List' designation. RAC Fine Dining Award.
Member of Britain's Finest.
Member of the VisitScotland Welcome Schemes
for Walkers, Cyclists, Anglers, Fieldsports.

Daily changing dinner menus. AA Red Rosette. Taste Our Best award.
Recommended in Wendy Barrie's Scottish Food Guide.
Selection of 80 malt whiskies (some rare) with tasting notes. wine
Whisky Tasting weekends can be arranged.

Choice of 6 bedrooms (kingsize, double, twin, single).
All with en-suite facilities, toiletries,
Freeview TV, radio/alarm, hairdryer, refreshment tray.
Free Wi-Fi Broadband Internet access.
For special celebrations, flowers, chocolates,
champagne and/or a piper can be arranged.
1 wheelchair friendly single bedroom with large wet room
with high toilet for transfer from wheelchair, grab and support rails.
A waterproof wheelchair is available for shower use.

B&B prices from £80 - £90 per person.
Dinner, B&B £110 - £175 per person.
Discounts for stays of 7 or more nights.
Dinner, Bed and Breakfast Special offers
Spring/autumn offers with 15% - 20% discount.
Exclusive use (min 2 nights for 10 - 12 people).
Credit cards accepted.
Instant online booking.
Open all year.
No smoking.
Click here to visit web site

Bed and Breakfast Accommodation

Featured Self Catering

Contact Tim Boles
Old Clune Estate
Tomatin
Inverness-shire
Office hours: 01624 675955
SMS: 07624 205955
Email: tboles@strathnoon.co.uk

Lovely old cottage on the River Findhorn.
Tomatin 6 miles. Carrbridge 10 miles.
Aviemore 14 miles. Inverness 22 miles.
Ideal for fishing, shooting, skiing, hiking, watersports, etc.
Much local wildlife (birds of prey, deer, etc.).

2 twin bedrooms and 2 bathrooms.
Cosy sitting room with open fire and TV.
Modern fully equipped kitchen with
electric cooker, dishwasher, washing machine, etc.
Cot available. Stairgate. BBQ area.

Fly fishing for wild salmon and brown trout.
Fishing beat on the river Findhorn
with 9 challenging pools (max 3 rods per day)
Tuition with ghillie available if required.

Rental prices from £540 per week.
Includes electricity and fuel.
Instant online booking.
Discount rates for fishing breaks.
Miscellaneous accommodation listings:

Self catering links:

Hostel / Bunkhouse accommodation:

Useful Books and Maps
(As an Amazon Associate I earn from qualifying purchases)
Buy the Explorer Map for Cairn Gorm & Aviemore produced by the Ordnance Survey which is very useful if you will be hiking or backpacking as the scale is 2.5 inches to the mile (4 km to 1 cm). Even more detailed maps are available if you are going to focus on a particular place, such as Landranger Map 0035: Kingussie & Monadhliath Mountains.

Cairngorm Walks by John Brooks is available from Amazon.co.uk.

Get the Official Tourist Map for the Grampian Highlands which shows all the places of interest to visit locally if you are driving around. If you are heading further north, then there's also the Official Tourist Map for the Highlands of Scotland.

Tourist Information Centres
Inverness - Tel: 01463 252401 (open all year)
Aviemore - Grampian Road - Tel: 01479 810363 (open all year)
Request brochures from the Highlands of Scotland Tourist Board - click here

Links:
Aberdeenshire
Aviemore
Boat of Garten
Inverness & Loch Ness
Kingussie
Nethy Bridge
Newtonmore
Panoramic photos by Roy Greason
Cairngorm photos and framing by James Gordon