Isle of Tiree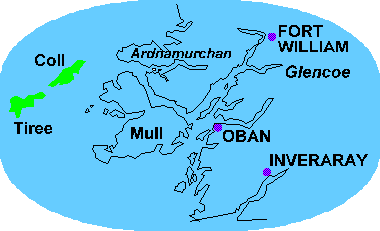 Part of Scotland's Inner Hebrides, the island of Tiree, 10 miles long and 4 miles wide in parts, home to less than 800 people, is a great place to get away from it all.
Located to the west of the Isle of Mull and just south of neighbouring Coll, it is one of the sunniest places in Britain thanks to its exposed location on the Atlantic Ocean. This also means that it is one of the most windy places too which is why its waves and white sandy beaches are popular with windsurfers.

Events in 2023:

Transport

By air
Scheduled flights by Loganair are available in light aircraft from Glasgow.
Hebridean Air Services operates between Oban, Tiree, Coll and Colonsay.
Tiree Airport online info.

By ferry
The ferry service runs operates Monday to Saturday from Oban to Coll and Tiree. Bikes are carried for a small charge.
The official Caledonian Macbrayne website lists all the current ferry timetables in detail. Winter timetables may have few sailings. Vehicle reservation required - telephone 08705 650000. CalMac also operates non-landing cruises cruises with a meal from Oban to Tiree.
On Wednesdays from June to September, you can get a Calmac combined ferry/coach tour of Tiree departing from Oban in association with Kennedy Coaches and Scarinish Hotel.

Bike Hire:

Car hire:

Taxi:
John Kennedy Taxis operate a taxi service, minibus and coach hire. Tel: 01879 220419 (must be booked at least the day before you intend you use the service). Island tours available.

Argyll and Bute Council operate a Ring 'n' Ride bus service on the island with a wheelchair accessible minibus which is available on demand from 7am to 6pm Mondays to Saturdays. Telephone 01879 220419 to book the bus. Journeys can be booked up to one week in advance and as late as up to one hour before the time of travel (subject to availability).

Maps:
Produced by the Ordnance Survey at a scale of 1.25 inches to the mile (2 km to 1 cm) is the detailed map of Coll & Tiree available to purchase from Amazon UK.

Activities:

Overnight parking & camping on Tiree
If you are taking a vehicle to Tiree or wish to go wild camping on the island, please read this leaflet (PDF).

What to see and do on Tiree

The name Tiree is familiar to many people as it is heard daily on the UK shipping forecast. Information is provided by the island's weather station which gives exact meteorological reports. Thanks to the Gulf Stream, its climate is quite mild.

In Gaelic it is known as Tir-Iodh - the land of corn. The island once had a population of almost 4500, but many crofters left during the Clearances or later, and the 2011 census recorded just under 650 people. It is quite flat with lots of farming land and has much fertile sandy soil. Few trees grow here though, due to the wind. The underlying rock, Lewisian gneiss, is thought to be 2900 million years old - half as old as the Earth itself.

The island has many beautiful empty white sandy beaches and dunes. The largest is Gott Bay which arches round for about 4km and faces east back to Mull. The machair with many varieties of wild flower displays a host of colour in the Spring and Summer. There is also much bird life on Tiree and apparently two of the best locations are Loch Bhasapoll and a cave on the coast at Kenavara.

The main township is Scarinish, where the ferry arrives. There is a supermarket, bank, post office, gift shop/cafe, garage and police station. A few miles south at Crossapol there is a general store and garage.

The Fèis Thiriodh (festival of traditional music and Gaelic song & dance) is an annual event each July.

Few places on the island are more than 15 metres above sea level. The two highest points are Ben Hynish at 462 feet (141 metres) and Beinn Hough at 390 feet (119 metres). Visibility is often excellent since there are no great peaks to precipitate rain.

Despite its flat nature, the island is easy to spot from a distance because of the golf ball-shaped communications radome that can be seen for miles around. When I went on a boat cruise to Staffa and the Treshnish Isles, it was clearly visible. Sitting on top of Beinn Hynish, apparently it belongs to the Civil Aviation Authority and tracks airliners over the Atlantic.

There are several interesting archaeological remains including a 30 foot-diameter broch at Vaul Bay, with walls 12 feet thick and, in the west at Kilkenneth, the ruins of Chapel of Saint Kenneth, one of Saint Columba's followers. Four crannogs (ancient loch dwellings) have been surveyed by Mark Holley.

Another curiosity of the island lies between Vaul and Balephetrish. This mysterious boulder, known locally as 'the Ringing Stone' because of the metallic sound it makes if you hit it, features over 50 Bronze Age cup marks and probably dates back to the Ice Age.

The Hebridean Trust also looks after the Skerryvore Lighthouse Museum where you can also see the old Signal Tower at Hynish. Tel: 01879 220 726.

An Iodhlann houses Tiree's historical archives at Scarinish (tel: 01879 220793).

The Rural Centre at Crossapol has an exhibition on Crofting and the environment on Tiree (tel: 01879 220677). Monday to Saturday 9am – 6pm. Tearoom, postcards, library, children's play area, Internet access.

Another place to visit is the Sandaig Island Life Museum which is a restored terrace of thatched buildings. Open to visitors afternoons only Monday to Friday during the summer (tel: 01879 220677). Free entry. Staffed by volunteers. You can explore the old crofter's cottage, and adjacent byre and barn to see how people used to live.

For handmade jewellery, chocolates, cards and gifts, check out Chocolates and Charms at Heylipol. Tel: 01879 220037.
The Blue Beyond Gallery at Balemartine displays paintings and pottery by resident artists.
Beachcomber at Crossapol sells crafts and clothes.

Tiree community news from An Tirisdeach, the island's fortnightly newsletter

The Cèabhar Self Catering Guesthouse & Restaurant at Sandaig is open at lunchtime and evening. Tel 01879 220 684.

TIREE LINKS


isleoftiree.com (Tiree's excellent community web site)
Gordon Scott's Tiree blog
Tiree Handmade - arts and crafts to buy from people on the island
Tiree Images - great photos by Jim Murdoch
The Hebridean Trust
Photos by Gavin Shaw (including windsurfing)
An Turas - award-winning ferry shelter (photos)
Isle of Tiree Genealogy by Keith Dash.
Pròiseact Thiriodh - 40 years of audio recordings made on Tiree
Hebridean Island Images

Accommodation

There are a variety of hotels, guest houses and B&Bs properties on the island. Here are just a few:

There are many self-catering properties on the island including:

Caravan accommodation is also available. It is possible to camp freely on Tiree but please read this leaflet (PDF).
Further self catering listings are provided on the island's community web site.
Also visit the Argyll, the Isles, Loch Lomond, Stirling & Trossachs - Official Tourist Board web site
which includes brochure request