Harris & Scalpay
Outer Hebrides (Western Isles)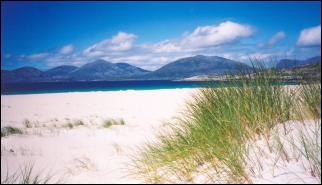 Luskentyre and the hills of North Harris
Harris is a beautiful island of contrasts with spectacular scenery and a unique unspoilt atmosphere. In the west are vast expanses of white sand whilst the north and east are rugged, rocky places which make you think you have reached the moon. There are very few trees so look out for those in Tarbert, Borve, Horgabost and Luskentyre and make the most of them. In the Bays area, the lunar landscape is indented with hundreds of little lochs and on a clear day you can see over to the Isle of Skye.

Here in the Western Isles (also known as the Outer Hebrides) the landscape and history of Harris, together with the hospitality of its people provide a wonderful escape from the pressures of modern life. With luck you may even see otters, seals, eagles or dolphins. Deer tend to keep to the high ground during the summer, but sometimes you can see them near Ardhasaig and Ardvoulie along the main road from Tarbert to Stornoway. In the summer months there are many colourful wild flowers to be seen on the machair. My grandmother was born here in Tarbert, so for me it is a very special place.
| | |
| --- | --- |
| To enjoy Harris and neighbouring Lewis at the nice slow pace they deserve, you really need 3 or 4 days. After that you will have fallen in love with the islands and will probably want to return for a week or more on your next visit! Combined with the islands of the Uists and Barra to the south, you could easily spend 2 weeks here and still not want to go home. | |
You can often see what look like patterns on the hillsides of Harris. These are the so-called Lazy Beds (and yet life was hard!) where the crofters used to grow potatoes and a few vegetables. They managed to cut strips of land between the rocks and fertilise what little soil there was with enough seaweed to provide them with a bit of something to put with the fish they caught. Today you will still see them cutting peat for fuel.

The famous Harris tweed is made all over both Harris and Lewis. It can be bought in many of the islands' shops and also direct from the weavers (at Luskentyre for example or Plocrapool). Genuine Harris tweed bears the orb symbol, the mark of the Harris Tweed Association. The wool is Scottish in origin (often from the islands, although not always), but for it to be classed as Harris Tweed, it must be spun, dyed, finished and woven in the Hebrides.

Sightseeing - Accommodation - Books

How to get to Harris

Main vehicle ferry:
A ferry runs from Uig on the Isle of Skye to Tarbert, the main village on Harris. It takes 1 hour 35 minutes to cross the Minch. Vehicle reservation required. Look out for dolphins.
The official Caledonian Macbrayne web site lists the current timetables in detail. There are fewer sailings in winter.

Vehicle ferry between Harris and North Uist / Berneray:
A ferry sails from Leverburgh on the southern coast of Harris across to the island of Berneray which is now joined by a causeway to North Uist. Numerous trips a day during the summer, but less in winter (October to Easter). Journey time: 1 hour.
The official Caledonian Macbrayne web site lists the current timetables in detail.

Although treated as two separate islands with distinct characteristics, Harris and Lewis form a single landmass. This means you can drive from one to the other. The main road between Stornoway (Lewis) and Tarbert (Harris) is 37 miles which takes about an hour by car or bus. See How to get to Lewis by air and ferry.

On Saturdays from 16 May to 5 September 2015, it's possible to take a combined ferry/coach tour from Uig on Skye to Tarbert to visit Harris and Lewis. The tour includes stops at the Callanish Stones, Dun Carloway Broch and Gearrannan Blackhouse Village, Stornoway, and an optional extra - the Harris Distillery in Tarbert. Tour details. Tel: 01470 542 219 (option 2). Operated by ferry company CalMac in association with Maclennan Transport.

Non-landing cruises from Uig (Isle of Skye) to North Uist and/or the Isle of Harris are available on certain days from April to October. Book your tickets at the Caledonian MacBrayne ferry office in Uig (tel: 01470 542219). View Calmac cruises brochure.

Buses:
There are lots of different bus routes on Harris and Lewis. Visit the local council web site for the bus timetables.
You can generally pick up free sheets with timetables for each local route from the tourist office. Buses generally run in time with the ferries and there are less in winter than in summer.

Outdoor Activities:

Fishing:
Harris has 8 fisheries throughout the island - click here for list.
Obbe Fishing near Leverburgh offers salmon, sea trout and brown trout fishing from mid April to late October. Boats and ghillies (guides) are available. Contact Tim Armstrong - tel: 01859 520466.
Boat Trips:

Kilda Cruises depart from Leverburgh and allow you to visit St Kilda in a day (weather permitting). Trips to the Shiant Isles, Flannan Isles, Rona, Monach Isles are also possible. Booking essential. Contact Angus Campbell. Tel: 01859 502060 / Mobile 07760 281804
Sea Harris - daily trips from Harris all year to St Kilda or the Shiant Isles (weather permitting). Cruises to Pabbay, Taransay, Scarp and Flannan Isles also possible. Booking is essential. Contact Seumas Morrison. Tel: 01859 502007 / Mobile: 07760 216555.
Northern Light offers private charter, wildlife cruises, bird-watching and whale-watching cruises, dive charter, island cruising and research and survey services. 2 boats based in Oban. Tel: 01680 814260. Includes trips to St Kilda.

Info: Shiant Isles - St Kilda
Various cruise ships also visit these islands

Boat trips and kayaking are also available on Lewis.


Shiants copyright the Internet Guide to Scotland 2006


St Kilda copyright the Internet Guide to Scotland 2011
Tour Guides:

Based on Lewis, Albannach Guided Tours can offer private tours and tour planning (including accommodation) throughout the Hebrides, Scotland and other Celtic countries. Les McInulty is a 'Blue Badge' Gaelic-speaking driver-guide available for hire from 1 hour to 2 weeks. Either for private car, minibus, coach or for guided walks. Lewis & Harris taxi service available. Specialises in day trips to places on the islands which are not accessible by public transport. Tel/Fax: 01851 830433. Mobile: 0774 711 7870.
Out And About Tours can offer personal guided tours of Harris & Lewis (half day, full day or longer), as well as 4-night walking and sightseeing packages with hotel accommodation for individuals and/or small groups. Contact Chris Ryan. Tel: 01851 612288.

Travellers' Tips
Petrol (gasoline) is available Monday to Saturday only at Tarbert (from the garage at the back of the Harris Hotel), at Ardhasaig (just a couple of miles north of there) and at Leverburgh. Petrol is also available on Lewis at Stornoway.
Harris Taxi - mobile: 07500450387.

Bike hire is available from:

The people of the Western Isles are well known for the warm welcome they give visitors. They will often go out of their way to help visitors. Many of the locals will pick up hitch-hikers.

Please note that the people of Lewis and Harris have strong religious beliefs and visitors should respect this during their stay. This means that Sunday is a day of rest for them and shops are usually closed. The road signs are in Gaelic here and the language is still spoken by the islanders.

Events
Local events include the Harris Mod (early June), Harris half marathon (2 July 2016), South Harris Agricultural Show at Leverburgh (late July), Harris Arts Festival (June / July), plus other festivals too.
Check the exact dates with the tourist office - telephone: 01851 703088.
The Harris Mountain Festival is usually held in September with a programme of guest speakers, films, guided walks, ceilidh, etc.

For more local events listings on Harris & Lewis, visit welovestornoway.com

Sightseeing

TARBERT
With a population over 500, Tarbert is the capital of Harris. The village only dates back to 1779 when it was established as a fishing settlement. Gradually it took over from Rodel which had always been the historical capital of Harris.

Here you will find a branch of the Bank of Scotland, two grocery stores, hardware store, post office, tourist information centre, hairdressers, 2 hotels with bars, an inn, and a filling station. One of the island's Asian families runs a shop in the main street which sells clothes, shoes, gifts, toiletries, household goods and just about everything you can think of. Mobile shops selling bakery products, fish and groceries tour the island and make regular stops in Tarbert. A mobile Royal Bank of Scotland also visits the village and other parts of Harris.

First Fruits Tearoom on the road leading down to the pier is usually open in the daytime from Monday to Saturday from April - September. Tel: 01859 50 24 39.
For lunch and dinner, you have a choice of the Harris Hotel (bar meals and restaurant), the Harris Inn (adjacent to the hotel) which serves bar meals including a takeaway menu, and the Hotel Hebrides (bar and restaurant, plus a takeaway menu).
There's also the take-away shop called AD's in Main Street (Tel: 01859 502700).

Harris Tweed Isle-of-Harris is a shop and warehouse offering clothing, gifts and lengths of tweed to buy at the head of East Loch in Tarbert (tel: 01859 502 040). Open Monday-Saturday. Just look for the cream coloured building with red roof by the road junction. This is a family business with another outlet in Drinshader.

Isle of Harris Distillers Ltd has built a new distillery in Tarbert to produce whisky which will be called The Hearach (Gaelic for an inhabitant of the island).

Tarbert has a sports centre including swimming pool, spa, sauna and fitness suite at the school.

Black Lab Photos has a photo gallery and workshop open all year Monday - Saturday, 10am till late. Located at West Loch House in West Tarbert (on the road to Stornoway). Contact John Macleod - tel: 01859 502433.

Public telephones can be found in various locations: where vehicles queue for the ferry, opposite the post office and near the school. Public toilets, luggage lockers and a cash machine (ATM) are available in the tourist information centre building near the pier.

Buses run from the car park here to other parts of Harris and up to Stornoway on Lewis. On certain days, guided coach tours are made to Lewis and also South Harris - contact Hebridean Transport (tel: 01851 705050) or ask at the tourist office.

North-West Harris

A day or half-day excursion can be made by heading out of Tarbert on the main road to Stornoway. After 3 miles, you will reach Ardhasaig with its combined grocers and petrol station. The Hebscape Gallery & Tearoom is open Tuesday to Saturday 11am - 5.30pm from April to October (01859 502363).
Near here the B887 road branches off to the west. This narrow road twists and turns up and down through the hills along a very scenic route. Here are the three main sights:

BUNAVONEADAR
Here stand the remains of the old whaling station which was built by the Norwegians in the early part of the 20th century. Closed during the First World War, it re-opened afterwards and was bought by Lord Leverhulme 1922. One of his ideas was to turn whale meat into sausages for people in Africa, but this scheme (like most of his others) was a failure. By 1925 Leverhulme was dead and a few years later the whaling station was abandoned. In 1950 it was taken over by another Norwegian who operated it for two years before it was finally closed down. Today its huge chimney stands as a reminder of more prosperous times and there is now talk that it might be turned into a visitors' attraction to explain the history of whaling in the islands. The station was mentioned by 'Peter Pan' author Sir James Barrie in the play 'Mary Rose' that he wrote in 1920 whilst staying at Amhuinnsuidhe Castle. My great-uncle, Captain Henry MacKenzie, used to tow the whale catching boats with his ocean-going tug 'Forager'.

Not far from here the island's only tennis court (built in 1998) sits on a base of 2,000 tons of rock taken from Clisham. Quite a unique location!

EAGLE OBSERVATORY
The North Harris Eagle Observatory is near Mevaig (about 4 miles along the road after the whaling station). At the head of the loch, there is a car park surrounded by a stone wall and from here you take a gated track for 2 km leading north up Glen Mevaig. The Observatory is open to the public all year round.
AMHUINNSUIDHE CASTLE
(pronounced 'avin-suey')

The road runs past the front door, so you can't miss it, but unfortunately you can't stop to admire the view because of the 'No parking' sign. However there is nothing to stop you parking your car before you reach the gates and having a stroll down the road. It is not open to the public but offers accommodation mainly for fishing and shooting on the estate. Please respect the owners' privacy.
From the foot of the hills, it looks southwards to the two Soay islands. Taransay is also visible on a clear day. You can see salmon leaping in the waterfall during the summer. My grandmother worked here as a cook when she was just a young girl.
Built by the Earl of Dunmore in 1868, it was recently owned by the Bulmer family of cider fame until its purchase by Ian Scarr-Hall in 2003 as part of a joint bid with the islanders who now own the North Harris estate.
Visit the official web site: amhuinnsuidhe.com. You can get married here or rent the castle for a week for your own house party with fishing and shooting included. Short breaks are sometimes avilable. Corporate events are also catered for.
Their new estate shop is located in The Stables (just beyond the castle) with a range of local produce, books, confectionary, ice creams and soft drinks. Honesty box when not staffed.
HUSHINISH BAY AND THE ISLE OF SCARP
Hushinish is a beautiful beach at the end of the B887 road. Park by the toilets and walk over the grass and machair on the right of the road to view the tiny island of Scarp. Scarp was the site of an odd experiment designed by German Gerhardt Zucher to persuade the British Government that mail and medical supplies could be transported to remote islands by rocket. On Saturday 28 July 1934 he sent 4800 letters at 1000 miles per hour in one of his rockets from Scarp to Hushinish, only to have the whole lot explode and scatter all over the shore. Three days later he made another unsuccessful attempt at the experiment from the grounds of Amhuinnsuidhe, then gave up. Needless to say, his idea was not pursued.
Small deposits of asbestos were once found on Scarp. There is a great coastal walk from Hushinish which will lead you to some of the bird colonies on Harris and this is on the programme of guided hikes by North-West Frontiers. You do need a head for heights to get through one of the sections though. I haven't tried it myself....


Copyright The Internet Guide to Scotland

Colin Palmer took a series of photos of Scarp.

North Harris

If you continue on the main Tarbert to Stornoway road, you will pass Clisham which at 799 metres is the highest mountain on Harris. On the right is the turn to Maaruig and Rhenigidale. The road drops steeply, then rises again to give you a roller-coaster ride by car. With the hairpin bend and blind summit, it's not the easiest road for nervous drivers. It follows the route of the old track that was used up until recently to access the village. In the days before the road, the only way to reach Rhenigidale was by boat or by one of two tracks. By this route, the village is 13 miles from Tarbert.

Just before the road finally descends to Rhenigidale (where there's a youth hostel and a few houses), you will see a small sign indicating the start of a track to Tarbert. It descends to a group of deserted old houses and winds its way up, down and around the inlet until you have a steep climb zig-zagging up the hill on the other side. Before the summit, another track branches off to the left to the deserted village of Molinginish. Don't take this track unless you want the extra walk there and back. Continue upwards to the cairn at the top of the hill. You then start to head down to Laxadale Lochs which are at the end of this 4-mile track from Rhenigidale. The picturesque Laxadale Lochs are about 2 miles south of Tarbert.

Further up the Tarbert to Stornoway road is white-washed Ardvourlie Castle (not open to the public). Just north of Ardvourlie you pass through Bowglas. The river here marks the boundary between Harris and Lewis. If you look up Loch Seaforth, you will see Seaforth Island which is half in Harris and half in Lewis. Sometimes dolphins can be seen in this sea loch.

The Scaladale Centre is a newly built residential centre near Ardvourlie Castle. Run by Lewis and Harris Youth Clubs Association (LHYCA), it offers self catering accommodation for up to 28 people in dorms of 4 to 6 people (some with en-suite facilities). It can be used by youth groups, schools or businesses and also provides outdoor activities such as kayaking, archery, guided walks and abseiling for groups. Pre-booking essential. Tel: 01859 502 502.

Just by here there is a 1000 metre track up the hillside with spectacular views over Loch Seaforth. Car park at Scaladale Centre or just along the road. This is the start of the 'Harris Walkway' which is a series of paths leading all the way to south Harris.

In 2003, the people of Harris were proud to purchase the land which is now run by them as the North Harris Trust.

South Harris

Here are some of the sights that can be found on the 50-mile circular trip around the south part of the island. If you are driving, please note that even though the west coast road is quite good, the east coast road is narrow and twisting, so it will take a couple of hours to get all the way around even if you don't stop to admire the scenery. Start by driving down the east coast with its rugged landscape and miniature fjords, then come back up the west coast and marvel at the beaches.

Take the main road heading south from Tarbert. After a few miles, it branches off to the left on what is called the Golden Road. Explanations vary as to the origin of its name. It was said at the time that it cost so much to build, it must be made of gold. I prefer the more romantic version given in a French guide book which tells of travellers seeing the way ahead paved with gold when it was just the sun shining on the scattered lochs.
| | |
| --- | --- |
| The east coast of Harris is known as The Bays for its miniature fjiords. Otters and seals can often be seen here. The road seems to go on forever up and down, round and round through a dozen townships betraying a mixture of Norse and Gaelic origins: Likisto, Geocrab, Beacravik, Manish. Mile after mile of rugged, windswept terrain surrounds you on every side. | |
Look out for the sign to Ardbuidhe Cottage Gallery at Drinishader. Run by Willie Fulton whose magnificently dramatic paintings can be seen at the Hotel Hebrides in Tarbert and at the Rodel Hotel. Open from 12 - 5pm, Monday - Saturday, April to October. You may also see his wife Moira who also paints. Tel: 01859 511218. The gallery has been awarded 5 stars by VisitScotland.

The shop for Harris Tweed and Knitwear is located in the Old School at Drinishader (tel: 01859 511189). They also have a dedicated exhibition about Harris Tweed and sometimes you can see weaving demonstrations. The owner is Catherine Campbell, daughter of Katie who used to give weaving demonstrations at her home and shop in Plocrapool.

The Bays Community Centre is worth a stop - home baking, toilets and Internet access. It is situated at Leac a' Li near the road junction where you can cut across to the west coast (along what was the old coffin route). Open summer only Tuesday - Saturday 10am - 4pm. Tel: 01859 530444.
Just a few miles to the south, Skoon Art Cafe at Geocrab offers cakes, coffees & teas, and is a showcase for oil paintings by Andrew John Craig and other artists. Scottish music CDs are also available to buy. Opening times March - October: Tuesday - Saturday (10am-5pm), and November - February Friday - Saturday (11am-4pm). Tel: 01859 530268
Holmasaig Gallery at Quidinish has paintings by Margarita Williams. Tel: 01859 530401.
The Mission House Studio (photography and ceramics) at Finsbay is open Monday - Saturday 10am - 6pm from March to October. Tel: 01859 530 227.
The Finsbay Gallery shows work from many local artists. Tel: 01859 530244.
The Mission House Studio showcases ceramics and photography by Beka and Nicholai Globe. Open Monday - Saturday 10am - 5pm during the summer. Tel: 01859 530 227.

Before finally reaching Lingarabay, you can take a detour which cuts across the south-east corner of Harris from Finsbay to Leverburgh. Here you will pass Loch Langavat which is the island's largest stretch of fresh water. In the summer you can see evidence of a lot of peat-cutting. From the road you can see peats that have been stacked up in pyramids to dry.

RODEL
If you continue on the Golden Road right to the very end, just before you turn the corner and start to head west, take a walk over to the remains of a broch about 150 metres from the road (map grid reference NG 050831). Shortly afterwards you will arrive at the village of Rodel at the south-eastern tip of Harris.

Rodel was once the historic capital, religious centre and the main port of Harris. Today it is hard to realise the importance of this windswept place, but fortunately Saint Clement's Church enables us to understand something of its former significance.

Click for my photos
Cruciform in shape, the church was built around 1500 by the Macleods of Dunvegan and Harris. In 1784 the church was rebuilt by Captain Alexander MacLeod. Three years later there was a fire and he had to repair his work. In 1873 it was restored under the orders of the Countess of Dunmore. Today it is in the care of Historic Scotland. It is thought that the sandstone used inside and around the windows might have been imported from Carsaig on Mull.

In days gone by the key used to be held at the local hotel where visitors had to go and fetch it. Nowadays, with so many visitors coming here, the key is kept attached to the door. Inside to the right of the entrance is a marble plaque noting the restoration by the Countess of Dunmore.
Today, at 20 metres long and 5 metres wide, the nave runs directly into the choir, but these might originally have been divided by a timber structure. In the north transept four graveslabs are displayed against the wall. These were moved from their original position in the choir floor to protect them. A fifth graveslab came from a caibeal outside near the tower.

The church's main point of interest are the three tombs carved in black gneiss depicting knights in armour. One of these is the tomb of Alisdair Crotach, the 8th Chief of the MacLeods of Dunvegan, who had it sculpted for himself 19 years before his death in 1547. It is decorated with well-preserved panels containing carvings of the 12 Apostles, angels, the Holy Trinity, the 4 Evangelists, a 12-rayed sun, the Virgin and Child, bishops (one is probably Saint Clement), a hunting scene (possibly representing Crotach himself) with dogs and deer, a castle and galley (MacLeod emblems) and Saint Michael and the Devil at the weighing of souls.

The square tower of the church is a unique architectural feature in these parts. Rising 20 metres above the floor of the nave, it was built on a crop of rock which makes it stand at a higher level than the rest of the church. This soon becomes apparent when you climb the dark staircase and see that the first chamber has a door leading to the outside. Continuing up the dark staircase of the tower you reach the second chamber where a wooden ladder takes you into the third chamber where yet another ladder takes you to the top.

When you go into the graveyard, take a look at this door from the outside. Above it is the carving of a bishop (possibly Saint Clement himself) who is supported by a bull's head. Panels to the left and right show various figures. One of these is the earliest known representation of a man in kilt and plaid. The graveyard contains several 'cabeil' (private burial enclosures). Many of these are for prominent local families.

Due to the large number of visitors and bus trips that come here, toilets have been built near the church. If you approach from the east, you will see them easily enough. The outside is decorated with flowers in the summer (enclosed by a fence to keep the sheep out).

Down at the harbour the Rodel Hotel was refurbished and reopened in 2001. As well as providing accommodation and food, it is also home to paintings by local artist Willie Fulton. Bar meals are available at lunchtime and evenings, and the restaurant is open in the evenings. Tel: 01859 520210. Salmon and trout fishing are available at Rodel Fishery - ask at the hotel.
LEVERBURGH
Originally known as Obbe, this village was renamed in 1923 after the soap magnate Lord Leverhulme who set up several disastrous schemes on the island. It is from here that the ferry goes over to Berneray and North Uist.
An Clachan Centre houses a grocery store, tearoom (with toilets) and craft shop. Outside you can buy petrol at the new pumps. There's also a craft shop (The Cauldron) combined with Post Office in the village.
The Anchorage Restaurant (phone 01859 520 225) is next to the pier for the Uist ferry and is a great place for meals and snacks.
Am Bothan Bunkhouse is also close by.
Next door is Kilda House - a 4 star self catering house with 3 bedrooms ideal for families.
If you wish to walk between Leverburgh and Rodel, there is a route off the main road. It is signposted and part of the way it takes you along the road through the township of Strond with views across the Sound of Harris to North Uist.
You might spot the Blacksheep House with its turf roof - this is an architect designed renovation of a traditional Hebridean Blackhouse, now used for 5 star self catering accommodation.

Harris Cycle Hire can be found at Sorrel Cottage B&B which is at Glen Kyles about a mile and a half from the ferry point in Leverburgh. Tel: 01859 520319

Obbe Fishing near Leverburgh offers salmon, sea trout and brown trout fishing from mid April to late October. Boats and ghillies (guides) are available. Contact Donnie and Dena MacDonald at Rodel Hotel - tel: 01859 520210.
| | |
| --- | --- |
| | For good quality mountain bikes and other outdoor activities, enquire at Harris Outdoor Adventure opposite the ferry. Sealwatching trips, boat and fishing trips, kayaking and archery. Families welcome. Tel: 01859 520486 / 07788425157. |
ISLE OF SGARABHAIGH (Scaravay)
This tiny uninhabited island in the Sound of Harris can be visited by charter boat. The owner is offering Associate Ownership of the island as a gift package complete with certificate, rights of access, maps, passport, DVD and even a sample of sand and peat. Visit Scaravay.com for full details about this unique gift scheme ('An Island In A Box') and the island itself.

NORTHTON
A few miles up the road from Leverburgh, you reach the turn-off to the village of Northton where the white and red painted building on the corner is Seallam!
| | |
| --- | --- |
| | It is home to an exhibition on the vast genealogical resources founded by Bill and Chris Lawson who live next door in The Old Schoolhouse. Bill is THE expert on the families of the Western Isles and will research your Hebridean ancestors for a fee. The centre sells various useful data source books specific to the Western Isles, including croft histories, books on local churches and other historical sites, the Isle of Taransay, Hebridean tales, etc. These can also be purchased online via the Bill Lawson Publications web site. You can also view some of the resources online via Bill's new site HebridesPeople.com |
The Seallam! visitor centre also contains displays about local wildlife and the formation of the landscape, the way of life of the islanders, peat, Harris Tweed, etc. There is a TV with headphones where you can sit and choose a video. Currently they have 2 special exhibitions about emigration from the Hebrides and about the island of St Kilda.
The centre also sells a selection of local books, music, videos, postcards and photos, and there is a small corner with tea, coffee and biscuits. Disabled access and toilet facilities. Admission fee for the exhibition. Open all year Monday to Saturday from 9am to 6pm. Telephone: 01859 520 258.
Look out for the sign at 13 Northton for the Harris Art Gallery by Dutch artist Suzan Visser-Offereins.
As well as painting portraits, she also has landscape and wildlife paintings inspired by the Hebrides. Tel: 01859 520315
The village of Northton is basically a group of houses strung out along a single road. At the far end of the village, the Temple Cafe (originally built as a wildlife info centre) has good food, plus a picnic area and toilets. Contact 07876 340416.
You can park here and follow the track from the end of the road for a walk to Rudh'an Teampull and the Toe Head peninsula. Neolithic pottery and bone tools were discovered here in the 1960s. In front of you, the hill called Chaipaval rises 1000 feet out of the sea.

Northton beach photo
copyright Beach View Cottages

If you follow one of the central or left-hand tracks over the grassy machair from Chapaival, you will see a nice little beach. Continue northwards along the coast, past another beach and you can visit the ruins of what is thought to be a 12th century chapel (Rudh'an Teampull) which may have been constructed by the builders of the church at Rodel. It is 6.4 metres long and 3.4 metres wide. Its location is about 2.5 km north-west of Northton. When I was here I saw seals just off the coast.
After you rejoin the main road, look for the hill called Maodal (250 metres high) which was where an RAF Shackleton aircraft crashed in April 1990, killing all 10 people onboard.

Self catering accommodation in Northton includes Beach View Cottages (4 and 5 star cottages renovated to a high standard).
SCARISTA
The road from Northton arches round alongside three-mile long Scarista beach - one of many stretches of golden sand you will see on the west coast of the island.

One of the houses in this township is the birthplace of Finlay J. MacDonald who wrote the trilogy of books including "Crowdie and Cream" about growing up on Harris in the 1930s.

The Scarista Golf Course has 9 holes overlooking the sea (no play on Sundays).
From the road you can see the remains of a standing stone arrangement (map grid reference NG 021939) - check out the guide by Robert Pollock.

Accommodation in Scarista includes Borvemor Cottages (including a traditional thatched black house which you can photograph from the road), and Scarista House (a highly acclaimed hotel with self-catering cottages).
Look out for the award-winning, turf-roofed cottages called Blue Reef Cottages (5 star luxury accommodation, each with 1 bedroom).

DUN BUIRGH
Broch, rock carvings and later shielings and corn kiln. 700 metre walk from the main road, mostly along a track (map grid reference NG 033940).

BORVE LODGE
The former home of Lord Leverhulme who built the circular walled garden. Not open to visitors.
NISABOST AND MACLEOD'S STONE - My photos
After passing lots of deserted beaches all the way up the west coast, you might care to stop at this one, Traigh Iar (or Nisabost) just before you reach Horgabost.
A sign points the way to Macleod's standing stone on the far side of the sand about 700 metres from the road. The stone is quite large and it's well worth the walk. Robert Pollock has details and diagrams.
From the cairn at the top of the hill, you will get panoramic views across to the island of Taransay, north to Luskentyre & Seilebost, and south to Scarista and Northton.
ISLE OF TARANSAY - My photos
Named after Saint Tarran, this island is home to the remains of two chapels. Ancient tradition is that if women were buried in the graveyard of St. Keith's chapel or men in St. Tarran's, the bodies would be disinterred overnight. From the west coast of Harris you can see that the island has a nice-looking stretch of golden sand at its middle.

At the turn of the century, 70 people lived here, but by 1961 this had dwindled to 5 members of the Macrae family, and later the island became uninhabited. The BBC used the island as the home for a 'social experiment' by getting 32 people to live as a community on Taransay for a year. Only 25 lasted the whole 12 months.

The genealogy centre at Northton sells a book about the island of Taransay by Bill Lawson Publications.

HORGABOST
Situated in a private garden at number 6 Horgabost is a Neolithic chambered burial cairn of which only the central setting remains. It is clearly visible from the main road at the junction with the road to Glen Horgabost (map grid reference NG 047966).
A little way inland you will see a cluster of trees - make the most of them, they are a welcome sight on Harris. From the township you can go down to Horgabost beach or walk over to Nisabost beach.
Camping (caravans and tents) is permitted.
SEILEBOST & LUSKENTYRE
There's a marvellous viewpoint from the road at the top of the hill where you can look across the Seilebost sand dunes to the sands of Luskentyre, with the hills of North Harris in the background.
If you take the track signposted to Seilebost school, you can park and walk on the beach.
Luskentyre is signposted off the main road a little further along and a single track road leads you through the village itself. Camping (caravans and tents) is permitted - look for the sign near the first house.
The road through Luskentyre village goes past the old cemetery. Families often had to bring their own soil from elsewhere on the island before they could lay their dead to rest. You will see the Luskentyre Harris Tweed Company run by weaver Donald John Mackay, MBE (who made the material for the Harris Tweed Nike shoes). Pop in and see him in action (tel: 01859 550 261).
Keep driving to the end of the road and you will find the new cemetery which has a large car park. From here you can walk into the dunes and often walk a mile along the sand before you even see anyone else.
Accommodation in Luskentyre includes: Atlantic Shore Cottages and self catering at Luskentyre Holidays.
Accommodation at Seilebost includes:
Holiday caravan at 14 Seilebost, Sandville self catering cottage and caravan, Beul na Mara B&B and Cottages, and a traditional house available as a Self Catering Cottage.

Local artists Lesley and Alisdair Wiseman have their Hebrides Art gallery and cafe at Seilebost. Great cakes and gifts. This 5-star visitor attraction is open 10.30am to 5.00pm Monday to Saturday (April to September), except Mondays in April and September. Other times by appointment. Contact mobile: 07500117832.

Walks on Harris

Harris is an excellent island for a variety of walks - hills, beaches, machair, rocky moonscape. However, this is a wild, windswept island where the weather can change very quickly. Make sure you know exactly where you are going before you set off. Warm waterproof clothing, food, water and a map are essential. Ask the locals for their advice or if you want an organised trip of guided hiking.

Halfway between the old whaling station and Amhuinnsuidhe Castle is the village of Meavaig. Just after you cross the bridge, park by the roadside near the estate hut. This is the start of the track to Loch Voshimid where J.M. Barrie got some of his inspiration for 'Mary Rose'. The track runs all the way past Loch Scourst which sits at the bottom of Sron Scourst (491 metres) to Loch Voshimid. You can walk there and back quite easily (8 km return). If you prefer tougher walking and have the necessary experience on the hills then you can continue on from Loch Voshimid to Vigidale. From Meavaig to Vigidale it is a total of 15 km (5-6 hours).

Another walk can be taken just before you reach Amhuinnsuidhe where a path leads to Loch Chliostair (4 km return). Just before the castle, you will see a salmon farm in the loch. A private road on the right of the main road leads through a locked gate and up eventually to the hydro-electric power station. You may wish to cycle this part instead of walk. From the power station, the track climbs to Chliostair dam and from there you will see the loch spread out before you surrounded by hills. A rocky path runs along its right shore and this stretches for some miles into the interior of the island.

From Tarbert take the road to Scalpay. After a couple of miles you reach Laxadale Lochs. A path leads down to the left along the side of the loch. It continues northwards for 7 km to Maaruig (which is just off the main Tarbert to Stornoway road).

Alternatively near the car park at the bottom of the Laxadale Lochs valley, just before the road bends to the right, you can take the path to Rhenigidale over the hills. It will take you about 2 hours to get there. The return journey is 13 km in total.

You can also walk from Maaruig to Rhenigidale to Tarbert which is 9 km one way.

In South Harris, there are several old roads in the east of the island. You can walk from Drinishader to Grosebay to Stockinish or between Plocrapool and Scadabay. There's also a 7-mile track over the hills from Stockinish to Seilebost on the west coast which is signposted from the road. This follows the ancient 'Coffin Track' used by islanders living on the east coast who had to carry their dead to the cemetery at Luskentyre.

Excursions

ISLE OF SCALPAY
This little island (about 2 miles long and 1 mile wide with a population of 300 people) was reached by ferry from Kyles Scalpay (5 miles east of Tarbert) up until December 1997. Now a bridge has been built there providing a permanent link with Harris. This was officially opened in 1998 by Britain's Prime Minister Tony Blair and his wife. It was the first visit of a serving Prime Minister to the Western Isles.

A much earlier famous visitor was Bonnie Prince Charlie who landed on Scalpay on 29 April 1746 when he was looking for a boat to take him over to France.
Today you can visit the North Harbour Bistro and Tearoom

On the eastern tip of the island is Eilean Glas where you can still see one of the original lighthouses that was constructed in 1788/9. The new tower was built in 1824. There are footpaths to reach the lighthouse with coloured waymarkers so you can do a circuit (however it is prudent to take a proper map, compass and good boots). The views over to Skye and along the coast are nice on a good day. You can also see the Shiant Isles from here.

Accommodation on Scalpay includes Hirta House B&B, Roineabhal self catering cottage and Stac Pollaidh self catering cottage.

NORTH UIST
Why not take the ferry from Leverburgh over to the Isle of North Uist for the day? See the Vehicle ferry from Harris to Uist paragraph at the top of this page for details.

Featured Accommodation
Hotels and Bed & Breakfast


Contact: Angus & Chirsty Macleod
Hotel Hebrides
Pier Road
Tarbert
Isle of Harris HS3 3DG
Tel: 01859502364
Email: stay@hotel-hebrides.com

Self catering also available

Hotel Hebrides

A boutique style hotel offering high quality accommodation
after an extensive refurbishment.
Winner of Scottish Island Hotel of the Year 2011.
Stylish decor with artwork by local artist Willie Fulton.
Conveniently situated near the ferry terminal in Tarbert.
Cruises and excursions can be arranged for you.
Ideal for romantic breaks and tranquil escapes.
10 minutes drive from the sandy beaches of South Harris.
Scottish Tourist Board 4 Stars. AA 4 Stars & Red Rosette.

Restaurant is open to residents & non residents
for morning coffee, lunch, afternoon teas and dinner.
Daily changing menus featuring the best local seasonal produce.
Public bar with traditional music and bistro menu.
Small weddings and functions can be catered for.

Choice of 21 elegant bedrooms
(single, double, twin, family and king size rooms).
All with en-suite shower or bath and toiletries.
Each bedroom has direct dial telephone, CD/DVD player,
Freeview flat screen TV, free wi-fi connection,
a fully stocked fridge/mini bar, tea /coffee facilities, hairdryer.
Wii, Nintendo, DVDs and board games available on request.
Room service. Laundry service available.
Deluxe rooms also feature an ipod/MP3 docking station.

B&B prices from £65 per night (2 sharing).
Single: from £50 per night.
Family rooms from £150 per night.
Dinner, B&B special offers.
Open all year including Christmas and New Year.
Check web site for packages and special offers.
Romantic breaks available with champagne & chocolates.
Instant online booking
Click here to visit web site

Contact: Alan and Panch Ross
The Old School House
Finsbay
Isle of Harris HS3 3JD
Tel: +44 (0)1859 530420
Email

Comfortable and welcoming B&B accommodation in a
refurbished and extended former schoolhouse.
Situated in The Bays area of Harris (east coast)
on a quiet side road by the shore of Loch Finsbay
with views across to the Isle of Skye.
13 miles south of Tarbert. 7 miles from Leverburgh.
Ideal for walking, fishing, wildlife, boat trips, touring.
Special green fee rates for the Harris golf course
may be available for those staying more than 2 nights.

Choice of 3 ensuite twin bedrooms
(1 on the ground floor and 2 on first floor).
Large sun lounge / dining room.
Broadband Internet connection available.

Evening meals are made with locally sourced produce
and so advance notice is required.
Prices from £20 per person.
Please advise of any special dietary requirements.
Packed lunches can be provided to guests staying more than 2 nights.

B&B price £40 per person per night (based on 2 sharing).
Discounts available for stays of 3 nights or more.
Single occupancy £50.
Open all year.
Click here to visit web site

Contact Mrs Margaret Morrison
Hirta House
Scalpay
Isle of Harris HS4 3XZ
Tel: +44 (0)1859 540394
Mobile: 07766 398139
Email: hirta.house@gmail.com

High quality B&B on the island of Scalpay.
Just 10 minutes drive from Tarbert (Harris) via the bridge.
20 minutes drive from the sandy beaches of west Harris.
Scottish Tourist Board 4 Stars.
Spacious interior and a high standard of decor.
Warm welcome from Gaelic-speaking hosts.

Choice of 3 bedrooms including
1 queensize double and 1 four-poster room,
all with ensuite shower, hairdryer, telephone,
TV, radio and magnificent sea views.
Conservatory overlooking the harbour.

B&B prices from £42.50 per person.
No smoking. No pets.
Click here to visit web site

Contact Mrs. Catherine Morrison
Beul na Mara
12 Seilebost
Isle of Harris HS3 3HP
Telephone: +44 (0)1859 550205
Mobile: 07769 923568
Email: morrison.catherine@hebrides.net

Self catering also available

Beul na Mara B&B

Panoramic views across the sands of Seilebost & Luskentyre
to the Isle of Taransay and the North Harris hills.
On the magnificent west coast. 10 miles south of Tarbert.
Ideal for touring Harris or just relaxing.
Friendly, family home with Gaelic-speaking hosts.
2007 finalist in 'Who Cares Wins' awards.

Scottish Tourist Board 4 Star B&B.
3 bedrooms with ensuite shower and tea making facilities.
2 double bedrooms and 1 twin bedroom
Guest TV lounge and conservatory overlooking the beaches.
Free Wifi.
No smoking throughout. Central heating.

B&B prices from £47.50 per person per night
Open all year. Special winter rates.
Click here to visit web site
Self Catering in Tarbert & North Harris
( Self Catering in South Harris - click here | Scalpay - click here)

Contact: Angus & Chirsty Macleod
Hotel Hebrides
Pier Road
Tarbert
Isle of Harris HS3 3DG
Tel: 01859502364
Fax: 01859502578
Email: stay@hotel-hebrides.com

Kirklea Self Catering Cottages

Charming terrace of 4 cottages in Tarbert
in a peaceful, elevated position overlooking the village
near the ferry terminal.
Within walking distance of tourist office, grocery stores,
craft shops, post office, bank, etc.
Conveniently situated for meals at the nearby Hotel Hebrides.
Ideal for walking, touring, relaxing.

Scottish Tourist Board 4 Stars.
Each cottage sleeps 4-6 people:
2 twin bedrooms plus
a double sofa bed in the living room.
Spacious shower room.
Large reception room with dining area.
Large picture windows and natural pine woodwork.
Fully equipped kitchen & utility room.
Facilities include washing machine, tumble dryer,
TV, DVD, storage heating, patio, garden.
Private parking.
Wireless broadband connection.

Rental prices from £350 - £450 per week
includes bed linen and towels.
Credit cards accepted. Open all year.
Pets by arrangement only.
Click here to visit web site


Glen Carragrich


West Tarbert

Contact: Dina Stewart
Tel: 01224 584864
Email: GlenCarragrich@aol.com

Glen Carragrich
Traditional cottage. Sleeps 4.
Situated 3 miles from Tarbert on the Scalpay road.
Wonderful views of East Loch Tarbert.

3 double bedrooms, bathroom with bath and shower.
Sitting room with satellite TV, DVD player,
radio/CD player, ipod docking station.
Free Wi-fi.
Well equipped kitchen with fridge, electric cooker,
microwave, washing machine and tumble drier.
Books, videos and games.
Electric heating throughout. No smoking.
Prices from £400 per week.
Bed linen and towels provided.
Online availability calendar.

House in West Tarbert
Sleeps 4.
Situated in a quiet road off the main Tarbert - Stornoway road.
Only 10 minutes walk from the ferry terminal.

1 double bedroom, 1 twin bedroom, 2 bathrooms.
Dining-kitchen with washing machine and tumble drier,
dishwasher, fridge/freezer, microwave.
Sitting room with electric fireplace, satellite TV,
DVD/video player, radio/CD player, ipod docking station.
Broadband Wi-fi.
Books, videos and games.
No smoking.
Prices from £400 per week.
Bed linen and towels provided.
Online availability calendar.


Creagach self catering chalet
Bedersaig
Isle of Harris HS3 3AX
Tele: 01859 560268
Email: creagachharris@gmail.com

Creagach Chalet

Beautiful self catering chalet overlooking Hushinish Beach.
Superb location with views of the ocean, sands and hills.
A scenic drive from the ferry port at Tarbert (15 miles)
with stunning mountain viewpoints.
Ideal base for walking, fishing, cycling, bird watching,
exploring the islands and remote beaches.

Sleeps up to 5 people.
3 bedrooms: 1 double, 1 twin & 1 single, bathroom,
fully fitted kitchen with all modern appliances,
cosy lounge with satellite TV, DVD player and sea views.
Outside seating is provided. Secure bike storage. BBQ.

Rental prices £535 per week.
Short breaks (minimum 2 days) are available during low season.
Open all year.
Dogs are very welcome.
Click here to visit web site

Contact:
The Harris Hotel
Tarbert
Isle of Harris HS3 3DL
Email: info@harrishotel.com
Tel: 01859502154

Ullabhal and Cleiseabhal

2 houses renovated in 2004 to a very high standard.
Located in the Main Street of Tarbert, close to shops, ferry, etc.
Scottish Tourist Board 4 Stars.
Ideal touring base for north & south Harris, Lewis, Uists.

1 house has a king-size double bedroom
and the other house has a twin bedroom.
Both have: lounge with sofa bed. Bathroom with shower.
Fully fitted kitchen with washing machine, dishwasher, etc.
Open plan living area with TV, DVD, hi-fi, etc.

Perfect for couples, small families or small groups.
Central heating throughout.
Prices from £450 per house per week.
(including electricity, linen, towels).
Short breaks subject to availability.
No smoking. No pets.
Click here to visit web site

Contact: Mr & Mrs Macaskill
Clisham Cottage
Ardhasaig
Isle of Harris HS3 3AJ
Tel: +44 (0)1859 50 2066
Email: stay@harriscottage.com

The highest peak in the Western Isles,
the 'Clisham' can be seen from the cottage.

4 star quality cottage for up to 6 people.
Freshly decorated with attractive artwork throughout.
Spectacular location overlooking Ardhasaig Bay & the North Harris hills.
Within walking distance of the village shop
and nearby restaurant at Ardhasaig House Hotel.
3 miles north of Tarbert (ferry from Skye).
Centrally located for touring both Lewis and Harris.

2 double bedrooms (one en-suite), 1 twin bedroom & bathroom.
Spacious lounge with TV, VCR, DVD player, music centre, games, books, etc.
Wi-Fi broadband connection.
Kitchen with fridge / freezer, electric cooker,
microwave and washing machine with drier.
Total control electric heating. Wooden flooring throughout.
Outdoor wooden decking with seating.
Private washing line. Ample car parking.
Out-house for storage of bicycles, etc.
1 of the bedrooms is on the ground floor
and is suitable for disabled persons.

Rental prices from £300 per week
includes linen and towels.
Pets welcome. No smoking.
Click here to visit web site

Contact:
Alice Read
3 Diracleit
Isle of Harris HS3 3DP
Tel: 01859 502338
Email: enquiries@croftcottageharris.co.uk

Croft Cottage

Luxury self catering Hebridean style house.
Set away from the road in a recently wooded 26-acre croft
at Diracleit 2 minutes drive from Tarbert.
Stunning views across East Loch Tarbert to Scalpay & Skye.
10 minutes drive from the west coast sandy beaches.
Guests have free access to Harris Golf Club.

Scottish Tourist Board 5 Stars.
Accommodation for 6 people in 3 bedrooms:
2 ensuite bedrooms upstairs (1 twin & 1 kingsize).
1 ground floor double room (with disabled access).
1 luxury bathroom with sauna and deep spa bath.
Open plan living/dining/kitchen area & upstairs play area.

Facilities include satellite TV with sports channels,
DVD, hi-fi, computer with free broadband internet access,
telephone with up to £15 usage per week.
Washing machine, tumble drier, freezer, fridge, dishwasher,
microwave, ceramic hob, electric oven, etc.
Central heating.
Extra z-bed and cot available for young children.
Category 2 assisted wheelchair access.
Green Tourism Business Scheme - Silver award.

Rental prices from £920 - £1460 per week
includes electricity, linen, towels, bath robes.
Short breaks available off peak from £500 for 3 days.
Credit cards accepted. No pets. No smoking.
Online availability calendar.
Click here to visit web site
Self Catering on Scalpay
Contact Mrs Margaret Morrison
Hirta House
Scalpay
Isle of Harris HS4 3XZ
Tel: +44 (0)1859 540394
Mobile: 07766 398139
Email: hirta.house@gmail.com

Stac Pollaidh

Self catering house on the Isle of Scalpay.
10 minutes drive from Tarbert (Harris) via the bridge.
Brown trout fishing just 5 minutes walk from the house.
20 minutes drive from the sandy beaches of west Harris.

Recently refurbished and decorated to a high standard.
Sleeps up to 4:
1 bathroom, 1 double bedroom,
1 bedroom with bunk beds (suitable for 2 children).
Lounge with widescreen TV, DVD, books.
Kitchen with electric oven, microwave, fridge,
washing machine/dryer, etc.
Scottish Tourist Board 4 Stars.

Prices from £320 - £350 per week.
Electricity, towels and bed linen included.
No smoking throughout. No pets.
Click here to visit web site

Self Catering in South Harris

Contact:
Mrs Mary Ann MacSween
6 Scaristavore
Isle of Harris HS3 3HX
Telephone: +44 (0)1859 550212
Email: sandview-house@fsmail.net

Sandview Cottage

Bungalow overlooking Scarista golf course
and the sandy beaches of south Harris.
Spectacular sea and mountain views.
3 star quality self catering.
Leverburgh 6 miles. Rodel 9 miles. Tarbert 15 miles.

Sleeps 6: 3 bedrooms (1 twin & 2 double),
bathroom with shower.
Lounge with TV, VCR/DVD, CD player.
Kitchen with electric cooker, microwave, fridge-freezer,
washing machine and dishwasher.
Central heating. No pets.

Rental prices: £450 per week
Click here to visit web site

Contact Donnie & Jen
Sandville
Seilebost
Isle of Harris HS3 3HP
Tel: 01859 550444
Mobile 07766 305416
Email: sandvilleharris@aol.com

Sandville Cottage & Caravan

Family-friendly self catering options
right next to Seilebost sandy beach in South Harris.
With open sea views across to Luskentyre, Taransay & the North Harris hills.
Pets welcome (small charge).
Bed linen & towels provided. Utility bills included in the price.
15 minutes drive from Tarbert and Leverburgh ferry terminals.

Traditional croft cottage (sleeps 7)
Refurbished to a high standard, with central heating,
modern oak kitchen, open fire in the lounge, toys, DVDs,
4 bedrooms: 2 double, 1 twin & 1 single.

Well-equipped, 35'x12' luxury caravan (sleeps 6)
3 bedrooms (1 double and 2 twin).
Double sofa-bed conversion available in the lounge,
Sky TV (Freesat), DVD player.
Open plan kitchen/diner.
Facilities: gas hob/grill/oven, fridge, microwave oven,
toaster, kettle and sink with hot water on-tap.
Shower room with a full size shower cubicle
with constant hot water and a heated towel rail.
All bedrooms have electric heaters, wardrobes and mirrors.
The double bedroom also has a small dressing table/drawer unit.
Washing machine available in the garden shed.
Fenced garden.

Contact Angus Morrison
Telephone: 01978 710156

Cottage at Seilebost

Idyllic location at Seilebost on the west coast of Harris.
Well appointed modernised cottage (sleeps up to 6).
In an elevated location overlooking Luskentyre bay and beaches.
3 Star quality accommodation.
Free Wi Fi.

Accommodation comprises lounge, large kitchen/diner,
1 double bedroom with ensuite toilet,
2 twin bedrooms, 1 bathroom with shower.
Facilities include Sky TV, electric cooker,
washing machine, tumble drier, etc.
Oil fired central heating.
Enclosed garden.

Open all year.
Prices from £400 - £650 per week
(including bedlinen but excluding electricity).
Please bring your own towels.
Click here to visit web site

Contact: Katie Morrison
14 Seilebost
Isle of Harris HS3 3HP
Email: ka.morrison@talk21.com
Tel: 01859 550233
Mobile: 07909750037

Caravan at 14 Seilebost

Modern, spacious 2-bedroom holiday caravan
situated on a croft at Seilebost
close to the sandy beaches of West Harris.
Equipped to a very high standard.
Tarbert 10 miles. Leverburgh 13 miles. Stornoway 45 miles.

Spacious 10ft wide double bedroom and 1 twin bedroom
plus double sofa bed in the lounge area.
Kitchen area with a full size gas cooker, full size fridge with ice box.
Shower & toilet.
Satellite TV, CD player, DVD player.
Heating throughout. Garden.

Prices from £350 to £420 per week.
Bed linen provided. Open all year.
Children welcome. No smoking.
Click here to visit web site

Blacksheep House
Strond
Leverburgh

Contact: Dinaz & David Williams
Tel: 01732 870501
Email: dinaz.williams@btinternet.com

Blacksheep House

Unique architect designed contemporary renovation
of a traditional Hebridean Blackhouse in South Harris.
Situated near Strond overlooking the Sound of Harris
with fantastic views. Only metres from the shore.
1 mile from Leverburgh (ferry, restaurant & shop).
20 miles south of Tarbert.
Ideal location for walking, birdwatching, boat trips, etc.

Scottish Tourist Board 5 Stars.
Sleeps up to 4 (not suitable for children).
Winner of Channel 4's Grand Designs 2008.
Finalist in the Grand Designs magazine award - best restoration project 2007.
Design features include a turf roof, metre thick stone walls,
an exposed timber frame, slate floors with underfloor heating.

Spacious open plan living area with vast panoramic windows.
Flat screen TV with DVD & full Sky package.
High quality hi-fi, computer with broadband, telephone.
Selection of DVDs, CDs, maps & books.
Fully equipped kitchen with breakfast bar and dining area.
Electric hob and oven, microwave, large fridge freezer,
washer / dryer, filtered water on tap.

Master bedroom with kingsize bed, CD/radio, hairdryer.
Additional kingsize bed upstairs.
Luxury tiled bathroom with shower
and 2-person Japanese style soak tub.

Prices from £980 per week
includes electricity, towels, bed linen & welcome pack.
No smoking. No pets.
Online availability calendar.
Click here to visit web site

Bayhead
Lingerbay
Isle of Harris HS3 3JD

Contact Mrs Mairi Ann Macdonald
Tel: 01876 510233
Mobile: 07780 660790
Email: macbayhead@aol.com

Bayhead

Large, well-equipped bungalow in a peaceful setting beside the sea.
Can be let as a 5-bedroom house or as 3-bedroom house and 2-bedroom flat.
All self-contained.
Situated in the Bays area of South Harris
in Lingerbay Township, 3 miles from Rodel.
Set in an area with otters and golden eagles.
Ideal retreat for walking, cycling, fishing, bird watching.

Whole house option:
5 bedrooms: 2 double (1 en-suite), 1 twin, 2 single,
bathroom with shower, lounge with open fire, dining room,
kitchen, utility room, toilet,
additional kitchen/living room with own patio door.

Original house option:
3 bedrooms (1 double, 1 twin, 1 single), bathroom with shower,
lounge with open fire, dining room, kitchen, utility room, toilet.

Extension flat:
1 double bedroom with ensuite shower, 1 single bedroom,
kitchen/dining/living area with patio door.
Sofa bed is also available in living area.

Facilities available:
Free Wireless Broadband access.
Washing machine, tumble drier, fridge freezer, cooker,
microwave, Freeview satellite TV, DVD, VCR, hi-fi,
books, CDs, DVDs, videos & games, telephone, hairdryer, etc.
Garden furniture, barbecue, parking.
Central heating. Cot.
The kitchen in the main house also has a dishwasher.

Prices from £325 - £750 per week.
Electricity, oil, gas, towels & bed linen included.
Short breaks (minimum 3 nights).
Open all year.
Special rates & short breaks sometimes available.
Online availability calendars.
Click here to visit web site

Contact Mrs Margaret Bennett
9 Scaristavore
Isle of Harris HS3 3HX
Tel: +44 (0)1859 550222
Email: info@borvemorcottages.co.uk

Borvemor Cottages

Choice of properties just a short walk from sandy beaches
on 30-acre working croft with Highland Cattle & Blackface Sheep.
1 mile from Scarista golf course.
Trout loch 15 minutes away (hill walk).
14 miles south of Tarbert. 6 miles north of Leverburgh.
Free Wifi.
Short breaks sometimes available.
Online booking & availability calendars

Traditional thatched Black House (Tigh Dubh)
with modern comforts and pine-lined walls.
1 double bedroom and feature box bed.
Living room with open plan kitchen.
A hot tub is available for exclusive use of Black House guests.
5 star quality self catering (sleeps 2).
Prices from £695 - £895 per week.

Vallay House (for 5 or 6 people)
Modern 4 star quality accommodation ideal for families.
3 bedrooms and 2 bathrooms,
living room, kitchen, dining area, patio.
Prices from £675 - £875 per week.

2 adjoining steading cottages.
Stable Cottage (sleeps 6):
1 double room and 2 twin rooms with bunk beds
Byre Cottage (sleeps 5):
1 double/family bedroom, 1 double bunk room.
Both have modern fitted kitchen and living room.
3 star quality self catering.
Prices from £450 - £625 per week.

Beach Studio Apartment (sleeps 6-8):
3 / 4 bedrooms (double / twin).
Kitchen and spacious sitting room.
200 metres from the beach.
Prices from £600 - £825 per week.
Kennel Studio Apartment adjoining Beach Studio
sleeps 2 people, prices from £60 per night.

Contact Mrs. Catherine Morrison
Beul na Mara
12 Seilebost
Isle of Harris HS3 3HP
Telephone: +44 (0)1859 550205
Mobile: 07769 923568
Email: morrison.catherine@hebrides.net

Beul na Mara Cottages
Choice of 2 cottages on the magnificent west coast.
Panoramic views across the sands of Seilebost & Luskentyre
to the Isle of Taransay and the North Harris hills.
Ideal for touring Harris or just relaxing.
10 miles south of Tarbert.
2007 finalist in 'Who Cares Wins' awards.

1 Cottage (sleeps 5 people):
2 double rooms, 1 single room, bathroom,
lounge/dining room, kitchen.

1 Cottage (sleeps 7 people):
2 family bedrooms, 1 twin room, bathroom,
kitchen, lounge, dining room.

Both cottages have microwave, dish washer,
washing machine, tumble dryer,
Sky satellite TV and DVD player. BBQ.
Private parking. Enclosed child-friendly gardens.
Both graded Scottish Tourist Board 4 Stars.
Prices £660 - £850 (April to October) per cottage per week.
Ask about off season rates.

The Beach House
5 Star luxury new house with 3 bedrooms (sleeping 6 people).
Set overlooking Seilebost sands
Spectacular views of Luskentyre, Taransay and the North Harris hills.

2 very spacious king size bedrooms (one en-suite)
and 1 twin bedroom
Furnished to a high standard with modern contemporary furnishings.
DVD, Sky Digital with full package and music centre with ipod dock.
Free wireless broadband.
Electric cooker, microwave, washing machine, tumble dryer,
dishwasher, fridge, freezer, etc.
Books, games and DVDs.
Modern wood burning stove in the lounge.
Spacious timber deck overlooking the beach.

Prices from £750 per week
including bedlinen, towels, electricity and fuel.
Off season short breaks.
No pets. No smoking.

Contact Mrs Isobel MacKay
5 Luskentyre
Isle of Harris HS3 3HL
Tel: 01859 550 219
Email: atlanticshore@hebrides.net

Atlantic Shore Cottages

Choice of 2 new cottages overlooking the sands of Luskentyre
on the west coast of Harris. 10 miles from Tarbert.
Beautiful views across the sea to Seilebost and Horgabost beaches.

Spacious and very well equipped for the comfort of guests in mind.
No smoking. Sorry no pets. Disabled access.
Linen, towels and electricity included in the price.
Short breaks in low season.
Online availability calendars.

Shore Cottage (sleeps 5):
Scottish Tourist Board 4 Stars.
3 bedrooms: 1 double, 1 twin, 1 single.
Modern kitchen, bathroom with bath/shower, lounge.
Hairdryers, TV, VCR, hi-fi, barbecue, picnic table, etc.
Wi-fi broadband access and iPod docking station.
Prices from £320 per week.

Atlantic Cottage (sleeps 4):
Scottish Tourist Board 5 Stars.
1 double bedroom with ensuite shower room and sleigh bed.
1 twin bedroom. Bathroom with Spa bath and shower.
Modern kitchen/dining area & utility room.
Lounge with patio doors leading to decking
Hairdryers, TV, DVD, hi-fi, barbecue, etc.
Wi-fi broadband access and iPod docking station.
Prices from £480 per week.
Click here to visit web site

Serviced Accommodation

Amhuinnsuidhe Castle

Accommodation for up to 18 people (fully catered).
Conference Facilities and Catering for up to 40.
Spectacular location.
Fishing - Stalking - Golf
Weddings
Click here to visit web site
There is a range of hotels, B&B and self-catering accommodation available on Harris and Lewis. The ones in the tourist brochure are now listed on the official Western Isles Tourist Board web site.

Hotel / Guest House / B&B accommodation includes:

Self catering:

Hostel Accommodation:

Camping:
Caravans and tents are permitted on grasslands at Horgabost (toilet block) and Luskentyre.

There's a free car park with toilet block in Tarbert near the ferry and at the ferry car park at Leverburgh. Huishnish beach has a toilet block and so does Luskentyre beach (the toilets are at the very end of the road in the new car park). Please follow the Scottish Outdoor Access Code.

At Seilebost in the old school grounds (West Harris), there are 4 electric hook ups for campervans/motorhomes only. These are managed by the West Harris Trust. Tel: 01859 550457.

Lickisto Blackhouse Camping (featured on TV in 'Build a New Life in the Country') is a small campsite in the Bays area (7 miles south of Tarbert). Tent pitches, campervan hook-up, showers, toilets, kitchen, tent hire. Yurts for hire with woodburner, running water, futons (with duvets and linen), gas stove, carpets and candles. Tel: 01859 530 485.

Flodabay Farm has a family-run caravan park on the east coast of Harris in the Bays area. Small site for up to 5 campervans or caravans provides a hard standing base with electricity and water. Set in 30 acres of peaceful croft land with 2 secluded fresh water lochs (wild brown trout). 11 miles from Tarbert, 8 miles from Leverburgh. Contact Tony & Sharon Marrow. Tel: 01859 530353. B&B also available.

Books & Maps

The Outer Hebrides Leisure and Tourist Map is ideal for most holidays.
If you intend to go hiking, particularly in the hills, you will need the scale of maps provided by the Landranger series. Harris and Lewis are covered by several slightly overlapping maps in this series, all produced by the Ordnance Survey which is the official map agency of the UK: Tarbert & Loch Seaforth - West Lewis & North Harris - Stornoway & North Lewis.
Lewis and Harris
Lovely colour guide book (second edition published in 2007) with over 100 pages of photos. Written by Francis Thompson, covering the local heritage and culture of the islands, nature, the landscape, place names, history, crofting, Gaelic, places to visit, etc. Even if you don't get chance to buy it before you go, you will certainly want a copy for a souvenir when you have visited!
Available from Amazon.co.uk
Seasons on Harris: A Year in Scotland's Outer Hebrides
David Yeadon's lyrical account of his time on Harris featuring insights into island life. The book also includes Yeadon's trips to Barra, the Shiants and St Kilda. Evocative line drawings. Hardback. 384 pages.
Available from Amazon.co.uk or Amazon.com
Finlay J. Macdonald Omnibus
An omnibus edition of Finlay J. Macdonald's nostalgic and often comic accounts of growing up on the Hebridean island of Harris between the wars. They were first published individually in the 1980s as 'Crowdie and Cream', 'Crotal and White' and 'The Corncrake and the Lysander'.
As a child I remember hearing these stories narrated on the radio and would highly recommend them for a flavour of the islands.
Paperback. 544 pages.
Order your copy from Amazon.co.uk
Hebridean Island: Memories of Scarp
The author, Angus Duncan, born in South Harris in 1888, was brought up in Scarp, where his grandfather was an influential schoolmaster. Having written of his boyhood on the island, he describes an island community and a way of life now all but forgotten.
One of his sons has now edited the completed manuscript and added, as an appendix, notes on a number of the chapters, some being contributed by distinguished experts on their own fields.
Order your copy from Amazon.co.uk
A House by the Shore & Scarista Style
Two books in one. The first book documents Alison and Andrew Johnson's retreat from urban life to the beautiful rugged landscape of the island of Harris. They make their home in the old manse at Scarista, turning a rat-infested near-ruin into a major hotel boasting the Prince of Wales among its guests and consistent listing in good food guides.
The second book is a collection of Alison's recipes, with asides on the Good Food scene. Containing an assortment of vegetarian, fish and meat dishes, this is a guide for transforming natural ingredients into award-winning cuisine.'
Scarista House is now in new hands (see accommodation section above).
Order your copy from Amazon.co.uk
The Islands Book Trust has numerous publications about the Hebridean islands.

The genealogy centre at Northon has a variety of Hebridean historical books for sale - click here to purchase online.

Another book of interest (only available privately from the author) is Voyage to St Kilda, by photographer Monica Weller - click here for details.

Monica Weller also sells high quality postcards & posters
of her St Kilda photos and Hebridean snapshots.

Tourist Information Centres
Pier Road - Tarbert - Isle of Harris
Telephone: 01859 502011
Open Easter to October only.
26 Cromwell Street - Stornoway - Isle of Lewis HS1 2DD
Telephone: 01851 703088 / Fax: 01851 705244
Open all year.
Click here to request the Western Isles official tourist brochure

Pages on the islands:
Isle of Lewis - St Kilda - Isle of Skye
Uist Introduction - Uist Travel Tips
South Uist - Benbecula - Isle of Barra

Links to External sites:
The Virtual Hebrides
Official tourist board web site: www.VisitHebrides.com
Explore Harris
West Harris Trust
North Harris Trust
Winter in Harris by the Outer Hebrides Tourism Industry Association
thewesternisles.co.uk Western Isles local site - wildlife, events, photos, etc.
Bill Lawson: Genealogy & Books and HebridesPeople.com
for family tree research in the Western Isles
Hebridean Connections (online archives, genealogy, heritage)
Photos of the Hebrides by Colin Palmer - includes Harris, Lewis, Berneray, Scarp, St Kilda
James Smith - photos for sale
Charles Tait - photos/postcards/calendars for sale
Black Lab Photos - based in Tarbert
Western Isles Photography by David Fleet who sells photos of Harris & Lewis
Virtual Hebrides - photos of Harris & Lewis
Scotland on Film - archive clips of video and radio broadcasts to download
The Islands Book Trust (local books, archives, lectures, conferences)
Heb Magazine
Harris Tweed Authority
scottish elements - contemporary cushions and gifts using Harris Tweed
Hebrides Art - Harris artists Alisdair and Lesley Wiseman
Hillcraft of Harris - tweed gifts made on the island
Harris Disability Access Panel
Cycle routes in the Hebrides
Western Isles Wildlife (sightings, photos and guided tours)
Outer Hebrides Biological Recording Project
Curracag: Outer Hebrides Natural History Society