Ullapool and Wester Ross


© Merlindo | Fotolia.com
Ullapool is full of souvenir/craft shops, guest houses and hotels, it bustles all day long in summertime with people arriving off the ferry from Stornoway on Lewis or waiting for the next one. The town has the Lochbroom leisure centre with sports facilities and swimming pool (open daily - tel: 01854 612884), library, grocery shop, bank, butcher's shop, chemist (pharmacy/drug store), supermarket, post office and petrol stations. Boat trips are available to the nearby Summer Isles (see below).
Internet access is available at the Ullapool Book Shop near Lochbroom Hardware and The Captain's Cabin (crafts & gifts) which are all situated close to the ferry terminal.

Ullapool is a great centre for hillwalking (see below) and it's an ideal base for touring the beautiful landscape of the north-west Highlands. You might be able to spot some deer around here. Golf course - 9 holes split over the shores of Loch Broom and Ullapool River (telephone 01854 613 323). Tennis courts too.

Ullapool has free public WiFi thanks to Highland Council. Log on with your social media details or by entering your email address.


© The Internet Guide to Scotland

Founded by the British Fisheries Society in 1788, the town now sees more Eastern European factory ships than Scottish herring boats.

© The Internet Guide to Scotland

The Ullapool Museum in the old church in West Argyle Street won the Scottish Museum of the Year award for 1996. The church was restored in 1995 and now has an audio-visual display about the local area and people with a commentary available in several languages. Some of the historical material which illustrates all aspects of Highland life came from the exhibition organised for the town's bicentenary in 1988. This includes old books, ships ledgers and records detailing the emigrants who set off for Canada and New Zealand. Henry Beer has written a fascinating article on the Hector which left Loch Broom in 1773 with 179 people bound for Nova Scotia.

Opposite the museum is the North West Outdoors shop.
Highland Stoneware on North Road in Ullapool is open weekdays 9am-6pm (all year) and 9am-5pm on Saturdays from Easter to October. They produce hand-painted pottery (gifts and table/cookware).
Travel Tips

By road Ullapool is 60 miles from Inverness (probably about 90 minutes by car/bus).


Image produced from the Ordnance Survey Get-a-map service.
Image reproduced with kind permission of Ordnance Survey
and Ordnance Survey of Northern Ireland.

Transport

Ewen's of Ullapool offer Taxi Services, Mini-Bus and Coach Hire, Coach Tours throughout the North West Highlands. Fleet of 4, 7, 16 and 22 seater vehicles. Tel: 01854 612966.

Lochbroom Filling Station (on Garve Road, Ullapool) offers car hire. Tel: 01854 612 298.

For national car hire companies and other transport details - see the travel tips page.

Celia Ffitch-Stewart is a fully insured driver-guide with Mercedes limousine for your tailor-made guided tour. Based in Fortrose, near Inverness. She offers half day, full day or extended tours. Airport collection (Edinburgh, Aberdeen or Inverness). Services can include itinerary planning and accommodation reservations. Meet your clan chief, trace your roots, stay in a castle, tour the distilleries. Member of HOSTGA (Highlands of Scotland Tour Guide Association).


© The Internet Guide to Scotland

Shearwater Cruises on the Summer Queen - telephone 01854 612472 / 07713257219. Wildlife cruises (2 hours 15 mins approx) to the Summer Isles - morning and afternoon during the summer season.
Seascape operate high speed RIB tours of the Summer Isles, Isle Martin, Seal Island and Loch Broom. Departures from the small jetty at Ullapool harbour. Booking recommended. Tel: 07511 290081.
From late June to the end of August, the ferry timetables allow you to take the morning ferry to the Isle of Lewis and return in the evening on either a 'non-landing cruise' across the Minch or on a 'landing cruise' with time ashore (coach tours available on certain days). See the timetables on the Caledonian Macbrayne web site.
Walking / Activity Holidays

Based in Ullapool, North-West Frontiers organises guided walking holidays in Caithness, Sutherland and other areas of the Highlands and Islands.

Wild Rose Escapes offer specialised holidays near Ullapool. Activities can include hill walking, kayaking with a local guide, yoga with an experienced teacher, holistic massage, wild food foraging and cookery (depending on season), bird watching walks with a specialised guide, dry stone walling with a local waller, felting workshop with a local artist. Tailor-made holidays can be arranged for groups.

For outdoor enthusiasts in the area, visit the WalkHighlands page about Ullapool walks.


View from Ullapool harbour

What to see around Ullapool
NORTH OF ULLAPOOL (brief outline):

The Summer Isles can be visited by boat from Ullapool or Achiltibuie. Tanera Mòr is famous for its private post office and unique stamps. The island has facilities for art courses, watersports and self catering.
Ardmair: pebble beach, campsite, watersports. Opposite the shore, Isle Martin sits out in the bay (ruins of chapel and fish curing station), abandoned after WW2, taken over by the Royal Society for the Protection of Birds, but handed over to a trust of local communities in 1999. Dominated by the hulk of the mountain Coigach (743 metres).
Achiltibuie: beaches, smokehouse, garden, good food. Boat cruises to the Summer Isles.
Inverpolly Nature Reserve (12 miles north of Ullapool): Visitor Centre at Knockan and nearby nature trails. Mountain scenery including Stac Pollaidh (see photo above).
Assynt coastal road including the Falls of Kirkaig, Lochinver, Stoer Lighthouse and Old Man of Stoer.
Ruins of Ardvreck Castle.
Waterfall boat trips from Kylesku. Handa Island boat trips from Scourie.
Kinlochbervie, Sandwood Bay, Cape Wrath and the sands of Durness (2 hour drive from Ullapool).

Assynt and Sutherland is one of the most spectacular scenic regions of Scotland for its variety and panoramic views. I highly recommend it for lovers of mountains and wilderness. Full details on my separate page.
WESTER ROSS (mainly South of Ullapool):

Leckmelm Shrubbery and Arboretum has 10 acres of grounds and a walled garden, 3 miles from Ullapool on the main road. No parking for buses or large vehicles. Originally laid out in the 1870s by Mr. Pirie of Aberdeen, it was redeveloped in 1985. Tel: 01845 612662.
Lael Forest Garden: 17 acres of forest, 10 miles south of Ullapool.
Corrieshalloch Gorge and Falls of Measach (12 miles south of Ullapool). This gorge is 1 mile long and 200 feet deep. From the suspension bridge you can stand above the 150-foot waterfall. Along the path, there's also a viewing point from which you can take photos. If you suffer from vertigo - be careful! Large carpark with public toilets situated on the opposite side of the road.


The old conservatory
at Leckmelm Shrubbery
At Braemore Junction, you can either head across Dirrie More towards Garve and Inverness, or take the much recommended scenic road along the Wester Ross Coastal Trail where you will see An Teallach looming at you. You can also embark on the North Coast 500 route (a 500-mile circuit around the northern Highlands which includes Ross-shire, Caithness & Sutherland).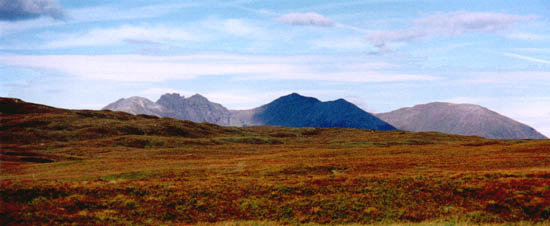 This is just a brief mention of local sights:
Inverewe Garden: colourful sub-tropical garden created by Osgood Mackenzie and now owned by the National Trust for Scotland. Open daily April to October. Its location is further north than Moscow.
Guided walks and boat trips during the summer season. Telephone 01445 712952.


Photo © The Internet Guide to Scotland
Ardessie Falls between Dundonnell and Badcaul.
Sandy beaches at Gruinard and Mellon Udrigle
Poolewe: popular tourist spot, swimming pool, church built by Thomas Telford. Craft and produce markets on Tuesdays and Thursdays.
Gairloch: youth hostel, beach, golf course, craft shops, cycle hire, campsite. Check out The Mountain Restaurant in the square at Strath, also the craft and book shop. Gairloch community market on Mondays in the GALE centre. The award-winning Gairloch Heritage Museum is open 10am - 5pm Monday to Saturday from April to mid-October. The new building was opened in summer 2019 (near the Shieling restaurant and GALE centre tourist info). It includes a cafe, gift shop, library, archives, as well as Pictish carved stone, reconstructed croft-house room, schoolroom, lighthouse interior and lots of displays on local heritage and history.
Sealife Glass Bottom Boat - daily cruises from Gairloch harbour with registered safe wildlife operators. Tel: 01445 712540 / Mobile 0773 324 0621.
Gairloch Marine Wildlife Centre & Cruises - daily boat trips between March and October where you may see porpoises, whales, seals and dolphins, plus a huge variety of seabirds. Tel: 1445 712636.
Hebridean Whale Cruises have 2 boats offering 1 hour, 2 hour or 3 hour trips from Gairloch to see whales, dolphins and wildlife between April and October. Freephone: 0800 008 6833. Tel: 01445 712 458.
Gairloch Canoe and Kayak Centre offers half day and full day trips out to see or on Loch Maree. Biek hire is available from their at Shieldaig Lodge Hotel (Gairloch). Guided walks and foraging. Tel: 01445 741738 / 07787 526299.
Hiking around Loch Maree and the Beinn Eighe Nature Reserve (excellent visitor centre with nest cameras), as well as the Torridon Mountains.


Loch Maree © David Head | Dreamstime.com

The web site for the Visit Wester Ross has details of Gruinard Bay, Little Loch Broom, Mellon Udrigle, Gruinard, Dundonnell, Gairloch, Loch Maree, Kinlochewe, Shieldaig, Torridon, Lochcarron, Applecross, Achnasheen and Garve. Full details on accommodation, sightseeing, hiking, boat trips, etc.

If you continue all the way down the west coast, you will end up at the scenic village of Plockton and then Kyle of Lochalsh which has the bridge over to the Isle of Skye. Ideally you would need at least 2 days to explore from Ullapool down as far as Kyle, but it would be quite possible to spend a week in this area of western Scotland.

Wester Ross Accommodation
Featured B&Bs
Waterside House
6 West Shore Street
Ullapool IV26 2UR
Tel: +44 (0)1854 612803
E-mail: watersidehouseullapool@gmail.com

Waterside House B&B

Friendly B&B overlooking Ullapool harbour.
Recommended in The Rough Guide to Scotland.
Ideal if you are on the Stornoway ferry
or wish to tour Wester Ross & NW Highlands.

3 ensuite double bedrooms.
All with panoramic sea views, flat screen TV, tea/coffee.
Free WiFi.

B&B prices from £45 per person.
Minimum 2 nights in peak season.
No smoking. Open all year.
Click here to visit web site

Mrs Annabell MacIver
The Sheiling
Achgarve
Laide
Wester Ross IV22 2NS
Tel: +44 (0)1445 731487
Email: stay@thesheilingholidays.com

Near Poolewe
The Sheiling B&B

Modern bungalow with views across open fields to Gruinard Bay.
Genuine Scottish hospitality.
1.5 miles from Laide village. Aultbea 4 miles.
Close to sandy beach at Mellon Udrigle.
Poolewe 10 miles. Gairloch 20 miles. Ullapool 44 miles.

2 bedrooms with TV, hair dryer, tea & coffee, etc.
1 ensuite twin room, and
1 double with private shower room and own lounge/dining area.

B&B prices from £47.50 per person
including Continental breakfast.
No smoking. No pets.
Self catering caravan also available.

Stephen Love & Janis Burke
13 Sand Passage
Laide
Wester Ross IV22 2ND
Tel: +44 (0)1445 731 048
Email: lovecroftlaide@yahoo.co.uk

Between Ullapool and Gairloch
The Love Croft Guest House

Traditional Scottish croft house set in 7 acres.
Ullapool: 45 minutes. Inverewe Garden: 9 miles.
Views of the Summer Isles and An Teallach.
Relax in the dining room by the log fire and watch the sunset.
Guest lounge with TV.
High standard of accommodation.
Holders of the 'Good to Go' certificate (Covid prepared).

3 spacious luxurious bedrooms with ensuite facilities:
1 twin/family room and 2 double rooms.
(1 double room is on the ground floor with wheelchair access)
B&B from £45 pounds per person.
Children from £25.
All rooms have hairdryer, tea/coffee, wi-fi broadband.

10% discounts for stays of 4 nights or more.
Breakfast with mostly organic home-grown food.
Click here to visit web site

Scotland's Best B&Bs is an organisation
with members throughout the Scottish Highlands.
All graded 4 or 5 Stars by Visit Scotland (the Scottish Tourist Board).

To see members of Scotland's Best B&Bs
please click here to visit their web site
Wester Ross Self Catering Accommodation
Struan Cottage
Annat
Torridon
Wester Ross IV22 2EU

Contact: Eleanor Harris
Email: eleanorharris@hotmail.com
Tel: 07884236168

Torridon
Struan Cottage

Stone-built cottage - sleeps 2 people.
Set on the shore of Upper Loch Torridon
in the hamlet of Annat, next to Torridon village.
Stunning views across the loch to Beinn Alligin and Liathach.
Ideal for boat trips, beaches, mountain biking, hill walking, etc.

Recently refurbished with 1 double bedroom,
bathroom with bath, electric shower, wash basin and toilet.
Cosy living room with log burner & comfy seating.
Well equipped kitchen, electric hob, oven, fridge freezer, washing machine.
Fully enclosed garden with BBQ.
Free WiFi.

Rental tariff from £600 per week
Short breaks.
Online availability calendar.
Pets welcome by arrangement.
No smoking.
Bed linen, towels and electricity included.
Click here to visit web site

Midwest Cottage
10 Wester Alligin
Wester Ross IV22 2HD
Email: midwestcottagebookings@gmail.com
Tel: 07802 709809

Near Torridon
Midwest Cottage

Traditional stone built croft cottage.
Renovated and extended. Central heating.
In Wester Alligin, 4 miles west of the village of Torridon.
Panoramic views south across Loch Torridon.
10 minutes walk from shingle beach.

Accommodation for 5 in 1 ensuite double bedroom,
1 twin room, 1 single room, 1 bathroom.
Spacious open plan living/dining/kitchen area with patio windows,
satellite TV, DVD, VCR, CD player, telephone.
Terrace, barbecue, deck chairs, midge machine.
No pets. No smoking.

Rental tariff £600 per week
incluing electricity, heating, bed linen & towels.
Click here to visit web site

Ronald & Sheina MacKenzie
'Valhalla'
Inverkirkaig
Lochinver
Sutherland IV27 4LR
Tel: 01292 312291
Email: ronaldmackenzie@btinternet.com

Assynt
Linga Holiday Chalet

Timber-built chalet in a secluded position overlooking Inverkirkaig Bay.
3 miles south of Lochinver. 38 miles north of Ullapool.
Sandy beaches nearby. Unspoilt coastal and mountain scenery.
Ideal base for exploring Assynt, NW Sutherland and Wester Ross.

Accommodation for 4 people:
2 bedrooms (1 double and 1 twin).
Bathroom with electric shower over a bath.
Large open-plan living area which looks down on the bay and beach, just yards away.
Kitchen with electric cooker, microwave oven, fridge freezer and washing machine.
Digital TV. Wi-fi access.
Double glazing throughout.

Rental prices from £350 per week
including electricy, bed linen and towels.
Strictly No Smoking. No pets.

near Gairloch
Rona & Raasay

Choice of 2 modern detached bungalows.
80 yards from the seashore with private beach access
in the quiet crofting community of Melvaig, near Gairloch.
The houses overlook the sea, with views of Skye, Harris and Lewis.
20 minutes from Gairloch. Torridon 40 miles. Ullapool 65 miles.

Scottish Tourist Board 4 Stars.
Each property sleeps 4 and has:
1 double bedroom & 1 twin bedroom.
Lounge with magnificent views,
digital TV, DVD, CD player. Broadband.
Kitchen with electric cooker, microwave,
fridge, freezer, washing machine, tumble dryer.
Ramp access and wide doorways for wheelchairs.
Double glazing & central heating.

Rental prices from £395 per week
including electricity, bedlinen and towels.
Pets by arrangement.
Free WiFi.
Click here to visit web site


Elna and Hamish Lawrie
The Moorings
Badachro
Gairloch IV21 2AA
Tel: +44 (0)1445 741 274
Email: hamish.lawrie130@btinternet.com
Near Gairloch
Badachro Self Catering Properties

2 semi-detached houses on the waterfront
at Badachro Bay (6 miles from Gairloch).
Shore House One: 1 double, 2 twin bedrooms, 2 bathrooms.
Shore House Two: 1 double, 1 twin, 1 single, 2 bathrooms.
Both comfortably furnished and fully equipped.
Free Wifi.

Open all year.
Prices from £700 per week.
Special off-season short breaks:
£100 per night (minimum stay of 3 nights).
Online availability calendar.

Mrs Annabell MacIver
The Sheiling
Achgarve
Laide
Wester Ross IV22 2NS
Tel: +44 (0)1445 731487
Email: stay@thesheilingholidays.com

Near Poolewe
Caravan

Extended caravan with 2 bedrooms (1 double & 1 twin).
Extension with full size bathroom connected to the mains.
Well equipped kitchen with an L.P.G. cooker,
electric fridge, microwave, kettle & toaster.
Living area has an electric heater, TV & DVD.
Well insulated.
Inspected by the Scottish Tourist Board.

Panoramic views across open fields to Gruinard Bay and the hills beyond.
Adjacent to B&B.
1.5 miles from Laide village. Aultbea 4 miles.
Close to sandy beach at Mellon Udrigle.
Poolewe 10 miles. Gairloch 20 miles. Ullapool 44 miles.

Prices from £250 per week.
Electricity by coin meter.
Children over 12 welcome.
No smoking. No pets.
Open March - November.
Click here to visit web site

For a wide selection of B&Bs, guest houses, and hotels, plus self-catering cottages and caravans,
visit the Accommodation Directories on the local web site for:
VISIT WESTER ROSS (Applecross, Lochcarron, Torridon, Kinlochewe, Gairloch, Poolewe, etc.)

There are lots of guest houses and hotels in Ullapool, plus a youth hostel and campsite.
UllapoolLastMinute.com has details of local accommodation vacancies.

Miscellaneous accommodation listings:

Self catering:

Camping:
Gairloch Holiday Park has a 6-bedroom self catering cottage, 2 static holiday caravans and an 80-pitch camping & caravan holiday park. Tel: 01445 712 373.

Hostel Accommodation:

The Ullapool SYHA hostel is situated in Shore Street. Telephone 01854 612 254. Open April - October. 57 beds. Details on Web site.
There's a simple SYHA youth hostel at Achinver, Achiltibuie (tel: 01854 622254) with 20 beds which is open mid May - end August. Approach via a rough track. Map Ref: O.S.15 (GR 042056). Details on Web site.

For additional local accommodation listings,
see the Caithness/Sutherland page & Wester Ross page.

Where to Eat

The hotels in Ullapool all serve good meals, plus there are a couple of fish and chip shops near the harbour.
The Frigate is a nice deli / cafe / bistro on Shore Street.
The Ceilidh Place in West Argyll Street has an excellent reputation for food (including vegetarian dishes) and live entertainment. It also has a bookshop.
The Arch Inn on Shore Street has a good reputation, and also serves bar meals.
The Seaforth Bar and Restaurant on Quay Street offers a variety of good food (including takeaways) and drink. Live music.

Maggie's Tea Room and Craft Shop at Camusnagaul (28 miles south of Ullapool). Open from April to the end of September from 10am to 4.30pm (closed on Sundays). Evening meals can be arranged in advance.Tel: 01854 633326

Books - Maps - Videos
If you are touring the area, you may find it useful to have the Official Tourist Map for the Highlands of Scotland.
If you intend to go hiking, particularly in the hills, you will need the scale of maps provided by the Landranger series produced by the Ordnance Survey which is the official map agency of the UK: Gairloch & Ullapool, Loch Maree - Raasay & Applecross, Loch Torridon & Plockton.
The Cape Wrath Trail
Full of gorgeous photos, this book is a guide to the long distance trail which stretches 200 miles through the remote and spectacular north-west Highlands. Perhaps more for the armchair traveller to enjoy since this is a difficult route to achieve in its entirety in real life. Published in April 2000 by David Paterson. In the same series as his book entitled A Long Walk on the Isle of Skye.
Order your copy from Amazon.co.uk (commission link)

Tourist Information Centres
Ullapool - Telephone: 01854 612486
Highlands of Scotland Tourist Board

External Links
Ullapool Tourism and Business Association
Ullapool Harbour Trust
Angus Bruce Photography - landscape photos around Ullapool & Wester Ross
Also tune in to 102.2 FM when near Ullapool to check out the local radio station Loch Broom FM.
Other links:
North-West Frontiers guided walking holidays