Isle of Islay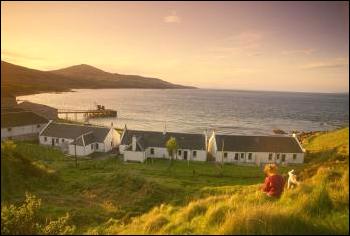 Photo of Bunnahabhain Copyright © 1994 Corel,
The Internet Guide to Scotland and its licensors.
All rights reserved. Not to be downloaded or reproduced.
Famous for its numerous whisky distilleries and large populations of birds, Islay is a beautiful island with a dozen beaches and many historical sites. On a clear day you can see over to Ireland.

Leisure facilities include a swimming pool in Bowmore, tennis courts in Port Ellen, a golf course at Machrie and diving around some of the many local wrecks.

By the way, Islay is pronounced 'eye-la' (you don't sound the letter y).

TOP 6 REASONS TO VISIT ISLAY

Here are just some of the things to see and do while visiting the Isle of Islay:

Whisky distilleries - tours and tastings available for 9 different malts made on the island.
Birds - Islay is a great place to go bird spotting, especially with the RSPB Nature Reserve at Gruinart.
Beaches - there are dozens of beautiful beaches around Islay's 130-mile coastline.
Outdoor activities - kayaking, cycling, walking, pony trekking, golf, fishing, etc.
History - Celtic crosses, unique round church, Finlaggan (ancient stronghold of the Lords of the Isles)
Festivals - this small island has festivals for whisky, music and books.

How to get to Islay


Image produced from the Ordnance Survey Get-a-map service.
Image reproduced with kind permission of Ordnance Survey and Ordnance Survey of Northern Ireland.

By ferry:
There are two ports on Islay: Port Ellen (tel: 01496 302209) in the east and Port Askaig in the north. Both are served by vehicle ferries from Kennacraig (tel: 01880 730253) which is located on the Kintyre Peninsula (100 miles north of Glasgow) and is served by the CityLink bus service from Glasgow

The official Caledonian Macbrayne web site lists the current ferry timetables and fares. Crossing time is approximately 2 hours. Vehicle reservation is required in advance.

By air:
Scheduled flights by Loganair are available in light aircraft from Glasgow (35 minutes). Charters also possible. The airstrip is at Glenegedale near Machrie Bay, 4 or 5 miles from Port Ellen. Prince Charles almost crashed his plane here in 1994. For facilities, etc. visit the Islay Airport web site (telephone number: 01496 302022).

Bus
Public transport on the island is good. There's a coach and minibus service run by B. Mundell Ltd - tel: 01496840273 - bus timetables.

Car Hire

Taxi services

Bike Hire

Activities

Tours and Excursions

Islay Sea Adventures offer wildlife boat trips from Port Ellen Marina. Fishing, diving and private charters are also available. Tel: 01496 300129.

Based on Islay, Christine Logan is a private tour guide.

Northern Light offers private charter, wildlife cruises, bird-watching and whale-watching cruises, dive charter, island cruising and research and survey services. 2 boats based in Oban. Tel: 01680 814260.

My travellers' tips file may also be useful if you are planning a trip to Scotland. It covers airlines, national car hire, train information, maps, etc.
Free tourist map of Islay (downloadable PDF courtesy of The Oban Times).

Isle of Islay Events for 2023:

Islay's local newspaper - The Ileach has useful information.

Sightseeing

BOWMORE
Islay's capital has a variety of shops including: supermarket, post office, garage, banks, pharmacy, gift shops, hair dressing salon. In the main square, you will find public toilets and the tourist information centre. Cycle hire available is available from the Post Office (telephone 01496 810 366).

An excellent craft/book shop called The Celtic House is in Shore Street. Look out for the Spirited Soaps shop and their whisky soaps. The Mactaggart leisure centre (tel 01496 810 767) has a swimming pool, fitness studio and sauna. Next to it, you can take a tour of the Bowmore distillery which was founded in 1779 and is the oldest on the island.


Bowmore distillery © Jaime Pharr | Dreamstime.com

The main street leads from the square up the hill to the famous Round Church, one of only two in Scotland. Legend has it that it was designed so there would be no corners for the devil to hide in. Constructed from 1767 to 1769, the white body of the church is almost twenty metres in diameter with a rectangular tower at the front. The Latin inscription above the door tells us that it was built by Daniel Campbell "to promote truth and honour". The gallery was added in around 1830 and the organ added in 1890.
Photos of the Round Church - copyright 2011 The Internet Guide to Scotland
It was Daniel Campbell of Shawfield and Islay who founded Bowmore in 1768. With the streets laid out in a grid pattern, it was the first planned village in Scotland and was part of a resettlement scheme involving people from the old village of Killarow near Islay House (Bridgend).

The Columba Centre (Ionad Chaluim Chille Ile) is the Gaelic Language and Heritage Centre just outside Bowmore.

BRIDGEND
The main junction on the island connecting Port Ellen in the south, Port Askaig in the east and Port Charlotte to the west.
Look out for Islay House Square which includes the Islay Whisky Vault selling old and rare Islay whiskies, Islay Gin shop, Islay Quilters, Islay Studios (photography), MA Mackinnon's Marmalade shop, craft workshops, coffee shop, local gifts, etc.

If you take the road from Bridgend towards Port Askaig (see below), you will see the Islay Woollen Mill. The Mill shop is open from Monday to Saturday (tel: 01496 810563).

Heading in the other direction, halfway between Bridgend and Port Charlotte, you can turn off the main road and drive to Kilchoman (ruined church and a large carved cross). You can walk from here to pretty Machir Bay.
Also on the west coast of the 'Rhinns of Islay' you can see the ruins of historic Kilchiaran Chapel near Kilchiaran Bay. You'll need to take a tiny road from Port Charlotte or Portnahaven to get there.
If you are on the Portnahaven to Kilchiaran road, look out for Cultoon Stone Circle on the moorland (near Coultoon Farm) and Tormisdale Croft Crafts (carved shepherds' crooks, hand spun wool, knitwear, etc.).

PORT CHARLOTTE
A picturesque coastal village of whitewashed houses where the street names are still in Gaelic. It was founded in 1828 by Walter Frederick Campbell who named the village after his mother.

The Port Mor Centre includes a cafe, toilets, showers, laundry, Internet access, meeting rooms and a large children's playground. There is also a campsite for tents and camper vans. Tel: 01496 850441.

The Islay Natural History Trust field centre contains a nature library, laboratory, lecture room and exhibitions, housed in the old warehouses of Lochindaal distillery which closed in the 1920s. Ask the staff about any wildlife you may have seen. Open Monday to Friday from April to September, 10am to 4pm. Tel: 01496 850288.

The Port Charlotte Museum of Islay Life is worth a visit if you are interested in the history of the island. Open 10.30am to 4.30pm Monday to Friday from April to October, plus weekends from May to September. Tel: 01496 850358.
Housed in what used to be the Free Church of Port Charlotte, it contains an extensive library of papers and documents relating to Islay. This museum opened in 1977 and has won several awards. Displays include an illicit still, a farm's medicine box, photos of farming and fishing in years gone by, a selection of toys and exhibits showing life on a croft in the 19th century with numerous old farming implements, tools and kitchen utensils.

Also on view are the clockworks from the Rhinns lighthouse. A section is devoted to all the shipwrecks there have been around the island's coast. It mentions the American Memorial, a lighthouse-shaped monument to the 266 servicemen who drowned here in 1918. One troop ship was sunk by a U-boat and a second went down after a collision off the west coast of the Rhinns. The memorial is located on the Oa peninsula (see below).


Port Charlotte Lighthouse © Fionaleask | Dreamstime.com

Ili Distillery is being constructed at Gearach Farm near Port Charlotte and is likely to be Islay's smallest distillery.

NERABUS - 2 miles south of Port Charlotte
Situated on the east side of the Rhinns in the parish of Kilchoman. Today there are just a few farmhouses at Nerabus. In 1850 there were 14 dwellings and a chapel thought to have been dedicated to St. Columba. In the old cemetery ancient carved gravestones dating from the 14th and 15th centuries were recently discovered under a row of turnips. Also by the sea, sit the ruins of an old mill.

PORTNAHAVEN - 5 miles south of Nerabus
A picturesque little village with white cottages sitting around the harbour and a tiny stretch of beach. The ideal spot for seeing seals. There's a general store and Post Office here. Bus terminus. An Tigh Seinnse pub serves good food.


Portnahaven © Olikli | Dreamstime.com

A few hundred metres offshore, a couple of low-lying islands form a natural harbour wall. Orsay is the larger of the two. On its grassy top, the ruins of a chapel are dwarfed by the Rinns lighthouse built in 1825 to a design by Robert Stevenson. In the museum at Port Charlotte I believe there is an early Christian carved stone dating from the 6-8th century which was found here.

To the left of the harbour, behind the houses, a road runs around to Port Wemyss. Directly overlooked by Orsay, it appears to be more like an extension of Portnahaven, a sort of little sister. In fact both were planned 19th century villages.

Robert Pollock has produced an excellent guide covering the stone circle 6km north of Portnahaven.

PORT ELLEN
This is a small ferry port on the eastern side of the island with a few shops, a restaurant and a cafe. Bowling, tennis, putting also available.
Mactaggart Community Cybercafe (closed Sundays) and The Corner Kitchen (open 7 days a week) can be found at 30 Mansefield Place.

It was founded in 1821 by Walter F. Campbell who originally named it after his wife as Port Ellinor or Eleanor. Later this was shortened to Port Ellen.

The Laphroaig Distillery near Port Ellen offers tours and tastings (booked recommended - tel 01496 302418). It has a visitor Centre with Lounge Bar overlooking the sea.
Diaego have plans to re-open the Port Ellen distillery.
Construction started in 2020 on the Portintruan distillery (pronounced Port-nah-truan and meaning 'place of the stream') just outside Port Ellen. It should be operational in 2024.


Arriving into Port Ellen - copyright 2011 The Internet Guide to Scotland

Other attractions nearby include the ruins of Dunyvaig Castle which are situated in Lagavulin Bay, not far from Lagavulin Distillery. Emergency repairs were carried out in 1998 by the castle's owners (United Distillers) with a grant from Historic Environment Scotland. Care should be taken when visiting. Once a stonghold and naval base of the MacDonald Lords of the Isles, the castle had a turbulent history - belonging at various times to the MacIans of Ardnamurchan, MacDonalds and Campbells.

Robert Pollock has produced an excellent guide with diagrams covering the standing stone just outside Port Ellen and another one close to the town at Kilbride.

If you take the road out of Port Ellen towards the Mull of Oa, look out for a left turn to Kilnaughton beach and from there you can walk on a signposted track to the 'Singing Sands' and Carraig Fhada lighthouse.


Mull of Oa © David Woods | Fotolia.com

THE OA (the 'a' is silent)
This peninsula to the south of Port Ellen is a peaceful escape with sandy beaches, a solar-powered lighthouse, deserted villages and an Iron Age hill fort.
The Mull of Oa is home to the American Memorial (see description above in the Port Charlotte museum section). Big Strand (7 miles long) is the longest stretch of sand on Islay. The RSPB bird reserve helps to encourage the rare chough.
For more info visit IslayInfo.
Why not stay here at Coillabus Cottage which is available for self-catering holidays. Ideal for families as it sleeps up to 6.

KILDALTON CHAPEL AND HIGH CROSS
Located 7 miles north of Port Ellen, the chapel has one of the best examples of an early Christian cross in Britain (dating from the late 8th century).

PORT ASKAIG
This small village on the northern side of the island is where you catch the ferries to Jura and the mainland. There's not much here except the hotel, lifeboat station and a post office in the general store where you can also buy petrol. Boat trips are operated between April and November by Islay Marine (tel: 01496 850436).
Just outside Port Askaig (near the road to Bunnahabhain distillery) is a farm which is home to Persabus Pottery (tel: 01496 840243).

FINLAGGAN
Located a few miles south of Port Askaig. Archaeological dig around what was the ancient seat of the Lord of the Isles in the 14th and 15th centuries. There are 2 islands on this site - Eilean Mor (Big Isle) and Eilean na Comhairle (Council Isle). On the so-called Big Isle there are two main ruins (a chapel dedicated to Saint Finlaggan and a service building), plus the remains of over 20 buildings one of which was a great hall. Carved gravestones were found near the chapel.
The visitors' Information Centre is open during the summer months (closed November - March). Tel: 01496 840 644. Visit The Finlaggan Trust web site for more details.


Finlaggan © Jaime Pharr | Dreamstime.com

CRANNOGS
Ten crannogs (ancient loch dwellings) have been surveyed by Mark Holley.

ROYAL SOCIETY FOR THE PROTECTION OF BIRDS RESERVE (at Gruinart)
The Gruinart Nature Reserve occupies most of the north-west quadrant of the island and has a Visitors' Centre situated in the middle of a farmyard. Several of the barns have been converted to house video cameras which you can operate by remote control from the first floor of the Centre. It also had some high-power binoculars and a register of all the birds seen by visitors. Further down the road is a wooden hide overlooking the tidal Loch Gruinart. Tel: 01496 850505.

Islay is particularly famous for the large numbers of geese that come here. You are also likely to see oyster-catchers around Islay's coastline. They are black and white, with long orange beaks and make a lot of noise.


Laphroaig Distillery © Jaime Pharr | Dreamstime.com

ISLAY'S WHISKY DISTILLERIES

EXCURSION TO THE ISLAND OF COLONSAY
Colonsay is a beautiful little island with many sandy beaches. It's well worth a trip from Islay if you have a day to spare.

On Saturdays during the summmer, it was possible to spend 6 hours on Colonsay by taking advantage of the Caledonian Macbrayne ferry from Port Askaig to Colonsay.

The journey over there on the Cal Mac ferry is quite interesting. When I went I'm sure I saw an otter and what I think were porpoises or possibly dolphins. So keep your eyes on the sea's surface.

If you want to stay on the island (you have to plan your time around the ferry schedules), full information is provided on the official Colonsay web site.

DAY EXCURSION TO THE ISLAND OF JURA
Jura is a wild, scarcely-populated island. George Orwell wrote his novel 1984 here. You can take the 5-minute ferry from Port Askaig. For information on Jura, click here.


Isle of Jura © Robert Dallas Gray | Dreamstime.com

Featured Self Catering Accommodation

Ellister Lodge
Port Charlotte
Isle of Islay PA48 7UE
Contact: Ian Storey
Tel: 01799 543411
Mobile: 07768 421472
Email: Ian@ellisterlodge.co.uk

Modern house with superb sea views over Loch Indaal.
Well equipped to 5 star standards.
Sleeps up to 8 people in 4 bedrooms. Ideal for families.
Set on the 300-acre Easter Ellister estate on the Rinns of Islay
in a designated Special Protection Area
near the pretty seaside village of Port Charlotte.
Facilities include WiFi broadband, 3 flat screen TVs,
2 Amazon Alexas, Audiophile audio system. Central heating.
'Good To Go' Covid certificate from VisitScotland/VisitBritain.

3 ensuite double bedrooms
plus a study with 2 single beds.
Large family kitchen/dining room & utility room
(electric cooker, Esse wood-burning range, microwave, dishwasher,
fridge freezer, washing machine, tumble dryer).
Spacious sitting room with big windows and woodburner.
Extensive decking with seating and viewing platforms.
Gas BBQ, telescope, binoculars, games, books, maps.
Man's and woman's adult bikes.
Large shed to store your own bikes, kayaks, etc.
The property is fully accessible with access ramps.
Car parking for 4 cars.
Travel cot and highchair.

Prices from £750 - £1290 per week.
including towels and bedding.
Changeovers are on Fridays.
Open all year.
Well-behaved pets are welcome (but not allowed in bedrooms)
with a £25 cleaning charge and a security deposit.


Contact: Hester Ross
Tel: 01852 200 565
Mobile: 07824 567 435
Email: stay@coillabus.com

Also available Coillabus Cottage
(3 bedrooms)

2 separate ecoluxury guest lodges for 2-4 guests.
Scottish Tourist Board 5 Stars.
Architect designed, turf-roofed, stone-clad cottages.
Situated on the Mull of Oa.
4 miles from the village of Port Ellen.
Panoramic views across the island and RSPB bird reserve.
Stylish base for a honeymoon or romantic retreat.
Ideal for golf, whisky or wildlife breaks.
Unspoilt scenery, birdlife and flora.
Shortlisted in the Highlands & Islands Tourism Awards 2015.

Each lodge has its own sauna and outdoor hot tub.
Spacious accommodation in 2 bedrooms (kingsize / twin)
each with ensuite bathroom (double ended bath & walk-in shower).
Fully equipped kitchen and open plan living area
with ceiling-high galleried windows and wood-burning stove.
Facilities include WiFi broadband, satellite TV,
American fridge freezer with icemaker, dishwasher, etc.
Stylish interiors with original Scottish artworks, bespoke furniture,
hand-made soft furnishings, fair trade organic linen,
light spun wool duvets and top quality goose down pillows.
Caithness slab and real oak floors heated by air source technology.
Holistic Therapies and a Chef Service also available.

Prices from £1100 - £2000 per week.
Short breaks available (minimum 4 nights).
Availability calendar & online booking.
1 well-behaved dog welcome at An Cnocan Dubh lodge.


Contact: Hester Ross
Tel: 01852 200 565
Mobile: 07824 567 435
Email: holiday@islay-cottage.co.uk

Located on a working hill farm on the Mull of Oa.
4 miles from the village of Port Ellen.
Sea views and peaceful surroundings.

Close to beaches, distilleries, nature reserves and Celtic sites.
Ideal for walkers & cyclists.
Fishing permit available on nearby freshwater lochs.
Drawing / painting outings can be arranged with a local artist.
Birdwatching tours available with local expert.
10 minutes from Machrie Golf course.
Sleeps up to 6 maximum in 3 bedrooms:
1 double, 1 twin and 1 family room. 1 bathroom.
Sitting room with log fire, vintage record collection,
board games and bookcase (no TV).
Well equipped kitchen / dining area with
electric cooker, fridge, freezer, microwave, washing machine.
Small garden room leading onto pebble terrace.
Free broadband WiFi.

Prices from £867 per week
includes electricity, bedlinen, towels and a supply of logs.
Online availability & booking.
Two person discount may apply.
No pets.
Off season short breaks sometimes available.
Other accommodation includes:

Camping:

Port Mor is a community-run campsite next to the beach within a easy walk to the village of Port Charlotte. Open all year for both tents and camper vans. Port Mor has ample parking, a cafe, toilets, showers, laundry, Internet access, meeting rooms and a large children's playground. Tel: 01496 850441.
Kintra Farm - camping and caravanning pitches available from April to September. Tel: 01496 302051.

Hostel:
Port Charlotte Youth Hostel has 30 beds in a variety of rooms (sleeping from 2 - 7). Open April - October. Tel: 01496 850 385. Map Ref: O.S.60 (GR 259584).

Hotels / B&Bs / Guest Houses:

Ayen Cottage is a small family-run B&B by Ballygrant, 5 miles from Port Askaig. Contact Barry and Carole Jurd. Tel: 01496 840270.
Bridgend Hotel - situated in the centre of the island - offers 11 ensuite bedrooms (single, double, twin, family). Lunch and dinner are available in the dining room. Bar meals are also served in the bar and lounge in the evening. Tel: 01496 810212.
Burnside Lodge at Port Wemyss is a converted fishing house offering B&B accommodation, nature tours and shooting trips on a bespoke basis throughout the year. 4 bedrooms (1 single, 1 twin and 2 double). Contact Kate Skinner. Tel: 01496 860296
Kentraw Farmhouse offers luxury B&B accommodation near Bruichladdich with views over Loch Indaal and the hills. Tel: 01496 850643.
The Islay Hotel in Port Ellen re-opened in late 2011 after being completely rebuilt and refurbished. Tel: 01496 300109
Lyrabus Croft House is a B&B with ensuite rooms at Gruinart, 3 miles from the villages of Bridgend and Bruichladdich. Tel: 01496 850 374.
Octofad farm guest house between Port Charlotte and Portnahaven.
The Old Excise House (in the former home of the Excise Officer for Laphroaig distillery) offers luxury B&B in 2 ensuite bedrooms. Golf tuition is available from your host. Tel: 01496 302567.
Oystercatcher B&B in Port Ellen can offer double / twin / family bedrooms. Scottish Tourist Board 3 Stars. Self catering apartment also available. Tel: 01496 300409.
Port Askaig Hotel - a family-run hotel with 8 bedrooms, restaurant and bar overlooking the pier.
Sornbank in Bridgend has 3 bedrooms for B&B.
Tigh na Sui is a B&B in Lagavulin. Contact Dot & Don Bowness. Tel: 01496 302483.
The White Hart Hotel in Port Ellen.

Self catering:
Useful Books and Maps
(As an Amazon Associate I earn from qualifying purchases)
The Isle of Islay
Written by Norman S. Newton this is a lovely glossy colour guide with over 100 pages of photos. It covers the local heritage and culture of Islay, distilleries, birds, landscape, history of settlement, Lords of the Isles, ancient monuments, place names, places to visit, etc. Even if you don't get chance to buy it before you go, you will certainly want a copy for a souvenir when you have visited!
To order your copy from Amazon.co.uk click here (commission link)
Islay, Jura and Colonsay: a Historical Guide
Publisher Birlinn writes: 'The story of Islay, Jura and Colonsay is one of the most fascinating amongst all the Hebrides. They have had substantial human occupation since earliest times and man has left many relics across the islands, from tools and artefacts of mesolithic times to the modern-day distilleries of Islay and Jura. From the period between survive chambered cairns, iron age forts, magnificent early crosses, enigmatic carvings, early monasteries, relics of the Lordship of the Isles, deserted townships and shielings, planned villages, corn mills, kelp kilns and lead mines and much else besides.'
This 246-page paperback guide book lists all the places of interest on the 3 islands with detailed location maps and sketches. Published in June 2001.
Available from Amazon.co.uk (commission link) and Amazon.com (commission link)
The Southern Hebrides and Arran (Island Walks)
Produced by famous island-hopper Hamish Haswell-Smith and Stephen Whitehorne.
A selection of 26 graded walks (easy to strenuous) on the following islands:
Arran - Islay - Jura - Colonsay and Oronsay - Kerrera - Lismore - Mull - Iona - Tiree - Coll - Bute - Gigha - Staffa
Paperback. 192 pages. Published February 2003.
Available from Amazon UK and Amazon.com (commission link)
The Landranger Map for Islay is produced by the official Ordnance Survey and is *the* map to have if you are walking, looking for the site of monuments, etc. Excellent scale at 1.25 inches to the mile (2 km to 1 cm).

Tourist Information Centre
Bowmore - Telephone: 01496 810254

Links to External sites:
Official Tourist Board - free brochure request
Free tourist map of Islay (downloadable PDF courtesy of The Oban Times)
Islay and Jura Marketing Group
The Ileach - Islay's local newspaper online
IslayInfo.com - travel guide with photos
Islay Beaches Guide
IslayInfo blog - news, photos, video, local info
SouthernHebrides.com Islay page
Getting Married on Islay and Wedding Venues
Islay webcams
The Carved Stones of Islay
Islay Blog by Armin Grewe
Islay Guide by Armin Grewe - info, photos, walks, blog, links, etc.
Also a printable PDF guide
Islay Studios - photos by Mark Unsworth
Photos of Islay by Colin Palmer (part of his Scottish collection)