South Uist & Eriskay
Sightseeing - Accommodation - Books & Maps
TRANSPORT & TOURS
Local transport includes planes, buses, ferries, car hire. All sorts of tours are available whether you want to go hiking or cycling (alone, with friends or in a group), or travel on a guided coach trip. Click here for local travel details and info on how to reach the islands.

There is a tourist information welcome point located in Uists Gifts and Information, Pier Road, Lochboisdale, South Uist.

Bike hire is available from Rothan Cycles at 9 Howmore, Isle of South Uist, HS8 5SH. Tel: 01870 620283.

SPECIAL EVENT
The Heb - Race on the Edge (an accessible multi-discipline Adventure Race Solos and Pairs) is due to be held in September 2023. Participants will be biking, running and kayaking up and down North Uist, Benbecula and South Uist. See photos and latest info on Facebook.

Travelling south down the island from North Uist and Benbecula are the following places of interest:

Loch Duart Artisan Smokehouse with a range of salmon products to buy is at Lochcarnan. Open Monday to Friday from 8.30am to 4.30pm. Tel: 01870 610324

RUEVAL
Where religion meets radar: the hill is the site of both the Catholic statue of "Our Lady of the Isles" and the tracking equipment for the Army missile range. Overlooks Loch Bee and the causeway to Benbecula in the distance. This is more or less the dividing line in the Western Isles between the Catholic south and the Protestant north. (Not to be confused with the hill also called Rueval on Benbecula.)

CAISTEAL BHEAGRAM
Late medieval tower and enclosure located on an island in Loch an Eilean (map grid reference NF 761371), not far from Howmore. Now in ruins, the castle had internal measurements of 3.1 x 3.9 metres, with walls ranging from 1.1 to 1.4 metres thick. Given its size, it was probably used more as a refuge or vantage point or could have been just a status symbol, rather than an actual residence. Owned by Ranald Alansoun of Ylandbigrim who also possessed Dun Skaith Castle and other land on Skye around 1505.

HOWMORE
Ruined chapels dating from 12/13th centuries and burial ground, plus old thatched cottages.

ORMACLEIT CASTLE
The guide books relate that Ormacleit (or Ormaclete) Castle was built for Ailean, chief of the Clan Ranald, over a period of 7 years at the beginning of the 18th century. Unfortunately, it burned down to a shell in 1715 when a side of venison caught fire in the kitchen on the eve of the Battle of Sherriffmuir when the clan chief was killed. Today, quite a lot of the structure remains and it appears to have been a two-storey house with a T-shaped layout rather than a fortification. Over the doorway you can see an armorial panel apparently.

DUN BHULAN
About halfway down South Uist, you will see a turn to Bornish (Bornais in Gaelic). Dun Bhulan (on a spur of land overlooking the beach) is an Iron Age broch and settlement (map grid reference NF 714297). There's also a track south from Bornish leading to a standing stone.

CLADH HALLAN
A team of archaeologists has found a 3000 year old Bronze Age settlement which includes the remains of two human bodies which were buried under the roundhouse floor several hundred years after their death. Could these be mummies? More details from Sheffield University.


Haystacks near Bornish, looking east to Hecla mountain

KILDONAN MUSEUM
Local history displays, crafts, cards and cafe. Well worth a visit. Open April to end September. Monday to Saturday 10am - 5pm and Sundays 2pm - 5pm. Tel: 01878 710343. See web site.

FLORA MACDONALD'S BIRTHPLACE (3 miles north of Daliburgh)
Half a mile north of Milton, follow the farm track about 200 yards to a cairn on top of a small hill. Flora was born here in 1722. She famously helped Bonnie Prince Charlie in the Jacobite Rebellion.

ASKERNISH
The Askernish golf course was originally laid out in the 19th century by Tom Morris (one of the world's greatest golf course designers). It was expanded from 9 holes to 18 holes in 2008.
The William Neill Studio Gallery is worth a visit (tel: 01878 700237). He is a Hebridean wildlife and landscape artist.
From here you can access about 20 miles of sandy beach which stretch up the west coast of the island in complete contrast to the hilly east. If you are lucky, you might see seals popping their heads out the water. You are quite likely to see noisy oyster-catchers (black and white birds with long orange beaks).
For self catering holidays here, visit 8 Askernish.
The South Uist Games are held at Askernish in July.

DALIBURGH (3 miles from Lochboisdale)
Medical centre, supermarket, post office, pub/restaurant & hotel, fish & chips, petrol pumps. Various events take place throughout the year at the community halls.

LOCHBOISDALE
Terminal for the CalMac vehicle ferries from Oban and Mallaig, this is a small village with post office, garage, grocers, public toilets, telephone booth. It is the 'capital' of South Uist. Cycle hire available.
The newly improved Lochboisdale Harbour has pontoons and facilities for visiting yachts. Tel: 01878 708012.
You can get WiFi / Internet access, home baking and light snacks at the Lochboisdale Cafe & Post Office on Kenneth Drive. Tel: 01878 700313

Beneath the ferry pier are the remains of Stornoway Castle which was the stronghold of the MacLeods of Lewis early in the 16th century. It was destroyed by Cromwell's troops in 1653.

CASTLE CALVAY
Sits on a rocky islet in Loch Boisdale (the sea loch from which the village takes its name). Accessible only by boat. You might see it from the vehicle ferry if you are travelling that way.

POLOCHAR (on the southern coast of the island)
Small standing stone close to the shore near the Polochar Inn.

CILLE BHRIGHDE
The Hebridean Woolshed is usually open to visitors most of the time from March to October but check with Denise first by phone 01878 700828. She also runs the Big Garden (the islands' only historic high-walled kitchen garden) where you can buy local produce.

WILDLIFE
The Western Isles Wildlife web site includes the latest sightings and photos of birds, mammals, insects and flora of the Hebrides.
Steve Duffield offers guided tours throughout the year. These can be 6-night all inclusive tours including accommodation, or simply book him for a day tour or a half day tour (mob: 07867 555971 / tel: 01876 580619).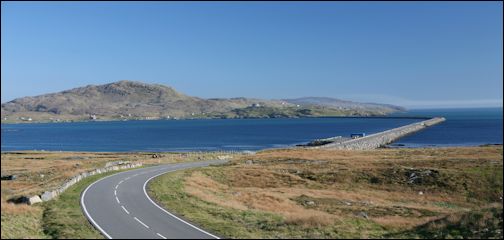 Causeway between South Uist and Eriskay © Joseph Gough | Dreamstime.com

Photo copyright June 2007 The Internet Guide to Scotland

ISLE OF ERISKAY
A stone causeway from Ludag now links South Uist to the beautiful little island of Eriskay (population approx. 140). Bonnie Prince Charlie's Bay is a gorgeous sandy beach. There are plans to build a heritage centre about the famous Eriskay Pony.

The S.S. Politician sank in the Sound of Eriskay in 1941 and its cargo of whisky bottles was 'rescued' by the islanders This true story was later turned into a book by Compton MacKenzie 'Whisky Galore' and a film which was shot mainly on Barra. For more stories, visit Am Politician - Eriskay's only pub.
Links to more information about Eriskay:
Eriskay - local council web site
Photos of Eriskay by Colin Palmer
Eriskay - Undiscovered Scotland
Carrick - self catering cottage sleeping 4 - 5

Caledonian Macbrayne operates a small vehicle ferry on the 40-minute crossing between Eriskay and Barra. There are several sailings every day throughout the year. Check timetable online.

Books & Maps

If you are looking for Hebridean genealogy research material or historical books, visit the web site for Bill Lawson Publications (specialist in Hebridean family tree research).

If you intend to go hiking, particularly in the hills, you will need the scale of maps provided by the Landranger series produced by the Ordnance Survey which is the official map agency of the UK. These can be purchased via Amazon in the UK:

Uists and Barra
Lovely colour guide published in 1999 with over 100 pages of photos devoted to these islands. Covers local heritage and culture, nature, the landscape, places to visit, etc. Written by Francis Thompson. Even if you don't get chance to buy it before you go, you will certainly want a copy for a souvenir when you have visited! Very nice additions to my bookshelf.
Amazon.co.uk (commission link)
This is one of the Pevensey island guide series which also includes a similar book on Lewis and Harris.
Stories from South Uist
This collection of 42 stories comprises every type of tale found on the island of South Uist, including heroic Fingalian stories, international folk tales, ghost stories and local historical and humorous anecdotes.
John Lorne Campbell`s translations were made directly from tape recordings, and they perfectly convey the terse and vivid expression and of the original Gaelic without losing the natural rhythms of idiomatic English.
Paperback. 284 pages.
Available from Amazon.com (commission link) or Amazon.co.uk (commission link)
A School in South Uist
In the 1890s this island was one of the poorest districts in the Outer Hebrides. Roads were no more than rough tracks. Gaelic was the majority language, although children had to learn their lessons in English and few allowances were made for bilingual teaching. Epidemics were frequent and the school had to close its doors because of outbreaks of smallpox, whooping-cough, scarlet fever, mumps and measels.
Rea's memoirs show how he strove to meet these difficulties. Rea went on to become a respected and beloved teacher, and the excitement and wonder of his experiences on the remote island is described in this fascinating book. His pupils recall him as a sincere, hard-working man and an excellent teacher, while he treasured his memories of South Uist for the rest of his life.
Paperback. 214 pages.
Available from Amazon.co.uk (commission link)
North Uist in History and Legend
North Uist has a fascinating history, and a landscape scattered with historic sites, from Neolithic burial chambers and Iron Age forts, though medieval churches and battle-sites, to townships forged in the days of kelp trade, and the subsequent traumas of clearance and emigration.
Of all the Western Isles, none has closer links with the turbulent history of Clan Donald than North Uist, and stories of their chiefs and battles are linked with sites all through the island, all set in a landscape which is one of the most varied and beautiful in the Hebrides.
Bill Lawson has woven a tapestry of stories about the island and its people, drawing on formal recorded history and also the rich tradition of story and song in which the informal history of the people was passed down, but also incorporating many of his personal reminiscences of his travels through the island, to give a unique insight into North Uist and the life of its people through the ages.
Paperback. 224 pages. Available from Amazon.co.uk (commission link)

Accommodation

There is a range of hotels, B&B and self-catering accommodation available on the islands. The ones listed in the tourist brochure are given on the official Western Isles Tourist Board web site.

Kilbride Campsite is at Cille Bhrìghde by the beach. Open April to September - reservation recommended. November to March by prior arrangement. Contact D-J MacIsaac. Tel: 01878 700568 / mob: 07751 251522.

322 North Boisdale is newly refurbished cottage 5 minutes walk from sandy beaches and the island of Orasay. Sleeps 4 - 6 in 2 bedrooms (1 double & 1 twin).
5 Askernish offers self catering for up to 7 people. 4 bedrooms (2 double, 1 twin, 1 single), bathroom, lounge, dining room, kitchen. Close to the Askernish golf course. 3 miles north of Lochboisdale. Tel: 01878 700413.
8 Askernish is a traditional cottage sleeping 4 in 2 bedrooms (1 double, 1 twin). 5 miles from Lochboisdale ferry terminal.
Family house in North Boisdale available for self catering with 2 bedrooms (1 double and 1 single), bathroom, modern kitchen, and large living room. Broadband access provided. 6 miles from Lochboisdale (fery terminal).
Carrick is a cottage sleeping 5 in 3 bedrooms on the isle of Eriskay.
The Gatliffe Trust hostel at Howmore on South Uist has 13 beds and is open all year. No advance bookings accepted.
Grogarry Lodge is a sporting lodge let weekly, on an exclusive use and fully inclusive basis, for groups of up to 16 people. Sporting activities on the estate include fishing, stalking, shooting.
The Polochar Inn is at the south-west tip of South Uist. 11 en-suite bedrooms with sea views. Tel: 01878 700215
Seann Taigh is a 2 bedroom thatched cottage originally built around 1875, and now renovated inside to provide self catering accommodation.
South Uist Cottages - choice of 3 self catering properties at North Boisdale.
Wireless Cottage B&B is near the ferry terminal in Lochboisdale. 2 bedrooms. Contact Mary Jefferson. Tel: 01878 700660.

Hebrides:

North Uist - Benbecula
Uist Introduction - Uist Travel Tips
Isle of Barra - Local books
Isle of Harris - Isle of Lewis - Isle of Skye

Links to External sites:

South Uist community site
Outer Hebrides Biological Recording Project
Curracag: Outer Hebrides Natural History Society
Cycle routes in the Hebrides

Community ownership of South Uist Estates

Hebridean Connections (online archives, genealogy, heritage)

Bill Lawson: Genealogy & Books to buy plus online archive at hebridespeople.com
for family tree research in the Western Isles

The Islands Book Trust (local books, archives, lectures, conferences)

James Smith - photos

Charles Tait - photos/postcards/calendars